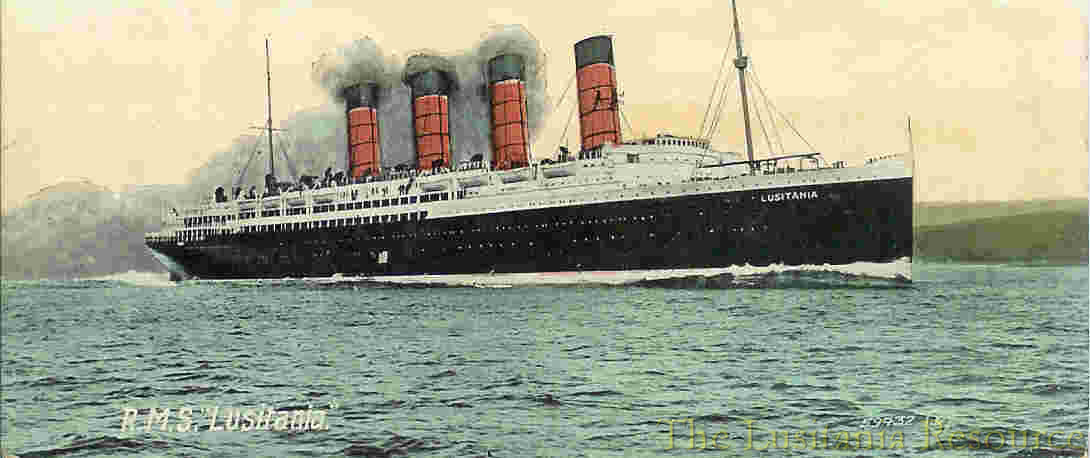 Alexei Monreal Collection
On board RMS Lusitania, Thursday, 6 May 1915:
Saloon passengers
Charles
and
Mary Plamondon
celebrate their 36th wedding anniversary. Recollection of second cabin passenger
Jane MacFarquhar
:
On Thursday morning I felt rather uneasy when I discovered that the lifeboats were hung over the side of the ship. On inquiry, I was informed that it was essential that they should be so - according to law.... I noticed the other passengers did not seem to bother, so I also began to forget the lifeboats.
Letter from second cabin passenger
Nellie Huston
:
This morning we have all the lifeboats swung out ready for emergencies. It's awful to think about but I guess there is some danger. We expect some [escorts?] coming to meet us today.... there are quite a lot of distinguished people in the 1st class but of course you couldn't touch them with a soft pole! There is a Vanderbilt, one or two bankers. I have made lots of friends and if it wasn't for the worry I could say we've had a lovely trip.
Charles Frohman
and
George Kessler
hold parties in their saloon class cabins, and Kessler grills Staff
Captain Anderson
on why no lifeboat drills have been held. Vanderbilt buys a concert program for $5 from
Phoebe Amory
. In her words:
he could not resist my good natured smile...I met with similar success in nearly all of the cabins and on the decks and soon had realized well on my programmes.
Seaman's Charities Concert is held that night.
Hilda Stones
sings "Rosary."
Captain Turner
reminds passengers that they are in the war zone and not to light cigars/cigarettes on deck. That night, third class passengers
Gerda Neilson
and
John Welsh
become engaged.
On board German submarine U-20:
8:00 am
-
U-20
chases after and guns down the 5,000 ton steamer
Candidate
. The ship is evacuated, and one lifeboat spills. Candidate refuses to sink after one torpedo, so the U-20 opens guns on the ship until the vessel sinks at 10:30 a.m.
1:00 pm
-
U-20
attacks the British freighter
Centurion
, 6,000 tons. He uses two torpedoes to sink the ship. Kapitanleutnant Schwieger orders his submarine to submerge at 2:15 p.m.
Sources
Jim Kalafus, USA Michael Poirier, USA Geoff Whitfield, UK Hickey, Des and Gus Smith.
Seven Days to Disaster
. G.P. Putnam's Sons, 1981. Hoehling, A. A. and Mary Hoehling.
The Last Voyage of the Lusitania
. Madison Books, 1956. Kalafus, Jim, Michael Poirier, Cliff Barry and Peter Kelly (2013) "Lest We Forget : The
Lusitania
." 
Gare Maritime
(ref: #10962, accessed 27th April 2015 03:24:39 PM) URL :
http://www.encyclopedia-titanica.org/lest-we-forget-the-lusitania.html
Larson, Erik.
Dead Wake: The Last Crossing of the Lusitania
, pages 196-9. Crown Publishers, New York, 2015.