Lusitania
, a position where one redistributes the weight of the coal as the ship uses it up, in order to maintain the "trim" of the ship.  McCann died in the disaster.  His body was either unidentified or not recovered. Owen was born or baptized on 24 December 1884 in Dundalk, County Louth, Ireland.  His father was Patrick McCann and his mother was Catherine Hanlon, who was also known as Kate Small, from Lislea, near Omeath, County Louth.  The McCann family had nine children, and they were brought up on a farm in Glenmore in the Cooley peninsula, County Louth, Ireland.  The names of the other siblings in the family were Mary, Thomas, Bernard, James, Rose, Stephen, Patrick, and Katie, many of whom later emigrated to New York and Long Island. In 1915, Owen lived in was Carlingford, County Louth. McCann died in the
Lusitania
sinking.  His body was either unidentified or not recovered, but the family headstone in Newtown Cemetery lists his name.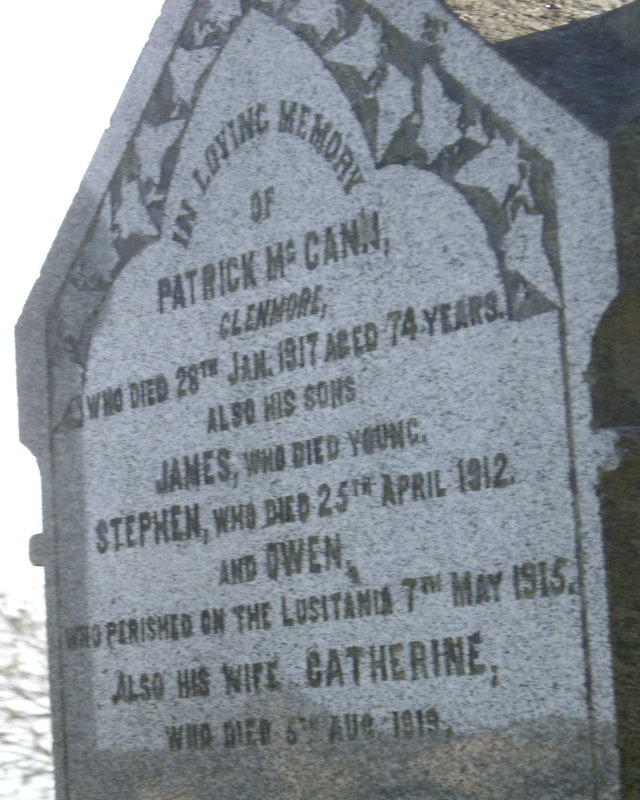 The McCann gravestone in Newtown Cemetry listing Owen, "who perished on the Lusitania."  Also on the gravestone are the names of his father, mother, and two brothers.  Image courtesy Kevin Donnelly.
Contributors:
Kevin Donnelly (great-grandson of Mary McCann, aunt of Owen McCann) Patrick J. McCann (relative of Owen McCann) Liam McCann (relative of Owen McCann) Senan Molony
References:
Molony, Senan.
Lusitania: An Irish Tragedy
, pg. 95. Mercier Press, 2004.