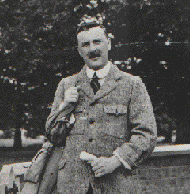 Image:  Christopher Richards Collection
Alexander Campbell (1871 – 1915), 43, of London, England, United Kingdom but originally from Perthshire, Scotland, was general manager of John Dewar and Sons. He did not believe that Lusitania would be torpedoed. He was lost in the Lusitania disaster.
Campbell was born on 9 May 1915 in Perthshire, Scotland. He had a brother who was a solicitor. Alexander Campbell was general manager of John Dewar and Sons, whiskey distillers at 50 Rank Street, London, England.  He was married to Maud Esther Friend and together they had three children, Malcolm, Kenneth, and Janet.  Alexander was also a keen golfer.
As Campbell boarded the Lusitania he made this statement to the press concerning the German warning that appeared in newspapers that morning:
"I think it's a lot of tommyrot for any government to do such a thing and it is hard to believe the German Ambassador dictated the advertisement.  The Lusitania can run away from any submarine the Germans have got and the British Admiralty will see the ship is looked after when she arrives in striking distance of the Irish coast."  (Hoehling/Hoehling, 35)
His ticket number for Lusitania was 46116 and his cabin was D-31.
From The New York Times, Sunday, 9 May 1915, page 5:
"F. J. Saunders, manager of John Dewar & Sons at 50 Rank Street, spent the morning in the [Cunard] office anxiously waiting for news of Alexander Campbell, general manager of the company. Mr. Campbell was on his way home from a voyage through India and Australia. Mr. Saunders was accompanied by Miss Friend, Mr. Campbell's sister-in-law, who lives at the Studio Club. On his journey through India, Mr. Campbell contracted jungle fever, and this followed by a mild attack of typhoid in China.

'He was not very robust physically and could not swim, so I am very much afraid that his chances of being alive are very slim.' [quoting Mr. Saunders.]"
Alexander Campbell did not survive the sinking and his body, if recovered, was not identified.  He died two days before his 44th birthday.
Link of interest
---
Richards Family Tree:  Alexander Campbell
---
Contributors
Christopher Richards, UK
Michael Poirier, USA
Judith Tavares
References
Hoehling, A. A. and Mary Hoehling.  The Last Voyage of the Lusitania.  Madison Books, 1956.
The New York Times.  Sunday, 9 May 1915, page 5.
Richards, Christopher.  Alexander Campbell.  Online.  <http://homepages.rootsweb.com/~cmricha/id6.htm>