Amy Pearl Saloon Passenger Saved
image:  

Cleveland Plain Dealer

, Tuesday 11 May 1915, Page 2.
Born
Amy Lea Duncan 1880 New York City, New York, United States
Died
1 February 1964 (age 83) London, England, United Kingdom
Age on Lusitania
34
Ticket number
46071
Cabin number
E 51
Traveling with
- Warren Pearl (husband) - Stuart Pearl (son) - Amy Whitewright Pearl (daughter) - Susan Pearl (daughter) - Audrey Pearl (daughter) - Alice Lines (nurse) - Greta Lorenson (nurse)
Rescued by
tramp steamer
Occupation
- Housewife - Society hostess
Citizenship
United States
Residence
New York City, New York, United States and London, England
Other name(s)
none
Spouse(s)
Frederic Warren Pearl (1909 - 1952, his death)
Amy Lea Pearl (née Duncan) (1880 - 1964), 34, was traveling with her husband
Surgeon-Major F. Warren Pearl
, children
Stuart
,
Amy Whitewright
,
Susan
,
Audrey
, and the children's nurses
Alice Lines
and
Greta Lorenson
. During the sinking, Amy and Warren became separated from their children and their nurses, and spent much time looking for their children until the ship sank from beneath them. Of their party, she, Warren, Stuart, Audrey, and Alice survived the
Lusitania
sinking.
Early life
---
Amy Lea Duncan was born in 1880 in New York City, New York, United States, to John Paterson Duncan and Susan Whitewright Duncan (née Stuart).  Amy had a brother named Stuart Duncan, and their mother lived at the Plaza Hotel in New York City, New York, United States.  Amy's family had the franchise rights to Lea & Perrins Worcestershire Sauce in the United States. She was also a personal friend of composer John Philip Sousa. Amy married Surgeon-Major Frederic Warren Pearl on 15 April 1909. By 1915 they were living at 123 East 36th Street, New York City with their children Stuart, Amy, Susan, and Audrey. In the spring of 1914, Warren and his family were vacationing through Europe.  Their daughter Susan was born in Folkestone, England, and there they recruited Nurse Alice Lines.  When war broke out in August, the Pearls were in Stockholm, Sweden and Warren secured passports for Petrograd, Russia (formerly St. Petersburg and later Leningrad) in hopes of applying his military experience there.  Their plans had to change in Helsingfors, Denmark under threats of bombardment.
Trouble in Europe
---
As Stuart was getting to be that age where he was to start school, Warren left for England hoping to enroll Stuart at Eton.  Pearl was returning to Denmark via Belgium when two German officers arrested him in Lübeck under suspicion for being an English spy.  Warren sent a telegram to his wife Amy, in Skager, Denmark, saying:  "COME AT ONCE.  IN TROUBLE.  WARREN." Amy had to demand to see the American Consul before she was allowed to see Warren.  Warren told Amy that the Germans thought his reasons for traveling through Germany were unlikely and asked Amy to plead with the American Ambassador in Denmark for his freedom.  Two weeks later Warren Pearl was released and ordered to leave for Copenhagen by steamer.  He was reunited with his wife and children.  In the absences of both Warren and Amy, Alice Lines had hired Danish girl Greta Lorenson to help look after the children. Amy was expecting another child.  As she wanted the baby born in the United States the Pearls arrived home on a Scandinavian-American Liner, 
Frederik VIII
, in early December of that year.  The baby was born in New York and christened Audrey. In the spring of 1915, Warren was instructed to report to the American Embassy in London, England.  He thus booked passage on the 
Lusitania
 with his wife, children, and nurses.  At the time, Amy was pregnant with a fifth child, a son to be named Vivian.  The night before sailing they had a farewell dinner party in a private room at the Plaza Hotel.
Lusitania
---
Aboard 
Lusitania
, the Pearl's stateroom was assigned staterooms E 51, 59, and 67 on the starboard side
*, close to that of 
Lindon Bates, Jr.
, and they were friends.  The Pearls attended Sunday services and before Thursday's concert were at cocktails. Throughout the voyage Warren had drilled his wife and nurses with what to do in case of an emergency. At about 2:15 p.m. on Friday, Amy was on deck with Lindon Bates when the torpedo hit.  The force of the explosion was such that it propelled Amy backwards and fractured her wrist on the bulkhead behind her. Warren was in the stateroom.  Warren headed up the stairs and met Amy as she was coming down.  They sent Greta, Alice, and the children up to the Boat Deck and followed.  They put on their lifejackets.  They claimed that there was no panic on the Boat Deck.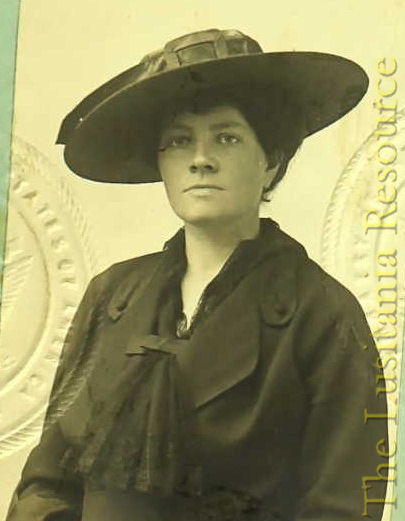 Michael Poirier Collection/National Archives
In the crowd, the nurses and children were separated from Warren and Amy.  They did not know that Stuart, Audrey, and Alice had escaped safely in lifeboat 13. Some time later Warren and Amy spotted Greta and Susan standing by a boat swung out and ready to be launched. A stewardess had taken little Amy and placed her in a lifeboat that presumably upset, and the young girl was lost. The ship was listing to starboard and soon righted herself.  The Pearls and Lindon Bates separated to continue to look for the missing children.  Warren saw two boats were lowered on the starboard side and a third boat suspended perpendicularly in mid air, but there was still no confusion thus far.  He met back with Amy and word came to "lower no more boats," "everything all right," and "aid coming." Warren and Amy split again to to find the children.  Not finding them, Warren went back to see if Amy had found them.  They were not with her, so Amy asked Warren to try again to find them.  The 
Lusitania
 was on a fairly even keel by that time and a boat filled with people crashed inboard, crushing people on deck.  Just then the 
Lusitania
 made a plunge to starboard and water rushed over the forecastle. The missing children were still not found and Warren found two planks for him, Amy, Greta, and Susan. The sea came charging at them, throwing everyone on deck into the sea as the ship plunged underneath.  Amy was swept into the sea by the wave and pulled onto the bottom of an overturned boat that had about 50 people. Discipline was excellent, and an engineer took charge of the boat and controlled those who were excited.  After about two and a half hours on this boat, Amy was hoisted on board a tramp steamer, where she "received every possible kindness and tendance." Upon landing in Queenstown, Amy was taken to Admiralty House, where Admiral Sir Charles Coke, K.C.. V.O. and his family took care of her. Amy was reunited with Warren and later found someone matching Alice Lines' description.  Warren and Amy found Alice, Stuart, and Audrey all safe, but could not find any trace of Greta, young Amy, or Susan. Young Amy and Susan's death notice was published in the Monday, 17 May  1915, issue of The New York Times, page 9. The family recuperated in Suffolk, England. Warren, Amy, and Alice attended the open sessions of the Mersey Inquiry.
After Lusitania
---
A sixth child, Amy Susan Pearl, was named in rememberance of the daughters they had lost. Amy Lea Duncan Pearl became a popular hostess and organizer of charitable events. She remained active in raising money for lifeboats, that is, rescue craft that saves lives at sea and on selected inland waterways, not just escape vessels on large ships. Warren Pearl died on 2 January 1952, and Amy Pearl on 1 February 1964. In 2004, her daughter Audrey, who has also been active in raising money for lifeboats, dedicated one such craft for the Royal National Lifeboat Institute (RNLI) in honor of her mother - a IB1-type D class lifeboat, D-616, christened
Amy Lea
.
Related pages
---
Warren and Amy Pearl at the Mixed Claims Commission
Links of interest
---
Royal National Lifeboat Institution
Notes
---
*
Warren Pearl's testimony says that he was in a portside room when the explosion occured so here are number of possibilities of what he actually meant: 1) The Pearls moved into port side cabins after the Cromptons moved out and onto D deck. 2) Warren was visiting 
Dr. James Houghton
at the time, whose cabin was on the port side. 3) Warren was in the men's lavatory, on the port side. 4) The port side notation is an error and he really meant starboard.  If smoke and flames blew into the room from the torpedo impact and the torpedo struck the starboard side, it's only logical that the Pearls' staterooms would be on the same side.
Contributors:
George Larson II Paul Latimer Michael Poirier Judith Tavares
References:
Deposition of Major F. Warren Pearl. Hickey, Des and Gus Smith.  
Seven Days to Disaster
.  G. P. Putnam's Sons, 1981. The New York Times, Monday, 17 May 1915, page 9. Preston, Diana.  
Lusitania:  An Epic Tragedy
.  Berkley Books, 2002.