Elbridge Blish Thompson Saloon Passenger Lost
image:

Chicago Tribune

, 9 May 1915, pg 3.
Born
Elbridge Blish Thompson 2 August 1882 Seymour, Indiana, United States
Died
7 May 1915 (age 32) At sea
Age on Lusitania
32
Ticket number
46157
Cabin number
B 68 and bath
Traveling with
Maude Thompson (wife)
Body number
Not recovered
Occupation
Sales manager
Citizenship
United States
Residence
Seymour, Indiana, United States
Other name(s)
- Blish Thompson - Bush Thompson - "Tommie"
Spouse(s)
Maude Robinson (1904 - 1915, his death)
Elbridge Blish Thompson, 32, was the secretary and sales manager of the Blish Milling Company and director of the Seymour Water Company in Seymour, Indiana, United States.  He was traveling with his wife 
Maude
on 
Lusitania
in May 1915 to see about selling flour for a Dutch company.  He was lost in the sinking; his wife was saved.  His body, if found, was never identified.
Youth and education
---
Elbridge Blish Thompson was born on 2 August 1882 in Seymour, Indiana to Elbridge Gerry Thompson and Emma Blish.  His Yale class book from 1904 said that he "followed a show into Seymour" that night and "got a front row seat in the Theater of Life."  At that time, his parents lived in Houston, Texas, and later in St. Louis, Missouri.  Blish's father held important positions in railroad management in both cities.  Blish's father died in 1889, and soon afterwards, Emma took Blish with her to her family home of Seymour, Indiana, for permanent residence. Blish attended the local public schools before taking an academic course at Lake Forest Academy in Illinois, and then moved to Phillips Academy in Andover.  He entered Yale and studied metallurgy at Sheffield Scientific School, graduating with a Ph.B. in 1904.  His 1904 class book described him with the quote, "never play a system."  The book also stated that metallurgy had taken up most of his time at school, as proven by "a scar on the top of the head."  At Yale, Blish was known as "Bush" and "Tommie," and known to sing or whistle wherever he went.  Proud of his home state, he also taught his classmates that "a man from Indiana can do no wrong."  As president of his state club, his motto was, "Long life to Indiana and the Prince of Pilsen!"
Married life and career
---
Also in 1904, Blish married Maude Robinson, the daughter of Frank A. Robinson and Ella West, on 31 March in New York City. Following his graduation, Blish spent one year in Breckenridge, Colorado, working as a mining metallurgist.  His uncles wanted Blish to return to Seymour, Indiana to work at the family flour milling business, and he did so in 1905.  Blish started as a secretary at the Blish Milling Company, and became sales manager in 1910, having "met with great success."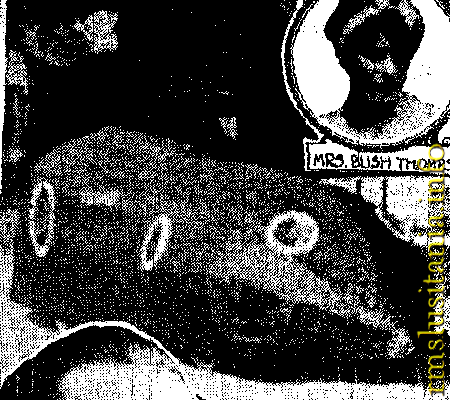 Blish's submarine float. Image:

Chicago Tribune

, 9 May 1915, pg 3.
Blish was also director of the Seymour Water Company and served as chairman of the Republican town committee.  He was also a member of the First Presbyterian Church of Seymour.  The Thompsons took part in community affairs such as "The Festival," where Blish drove his roadster, which was decorated as a battleship, with Maude by his side. Blish was an avid reader, and had a large collection of books consisting of a "varied range of his interests."  He was particularly interested in polar exploration.
Lusitania
---
Blish and Maude booked passage on 
Lusitania
in May 1915 to see about selling flour for a Dutch company.  They also decided to make a holiday of the trip as well, and they would tour England, Scotland, and Ireland for three months.  Their cabin was originally A-21, but then they upgraded to B-68, a suite with a private bath, the other half of which was booked by
Elbert
and
Alice Hubbard
. On board 
Lusitania
, the Thompsons befriended
Harry
and
Mary Keser
, the 
Hodges
family, and the
Luck
family.  On 7 May, the Thompsons had decided to wake up early, about 4:30 or 5 a.m., to watch the sun rise.  They were standing on A deck when they saw a battleship off on the port side, traveling eastwards.  The battleship was close enough for the Thompsons to see the battleship's features clearly.  Soon after their early morning stroll,
Lusitania
entered fog. The Thompsons were in the first class dining saloon when the ship was torpedoed.  To them, the impact did not feel like an explosion, but more of a "jamming noise."   The torpedo impact had also thrown water into the dining saloon, and both Blish and Maude jumped up from their table, with Blish exclaiming, "We are torpedoed." As everyone in the dining saloon poured towards the staircase, an officer told all the people to take their time and keep calm.  Maude would recall later that this was the only time during the sinking that she ever saw the ship's stewards or officers.  The Thompsons also assisted the Hodges in getting the Hodge boys up the stairs through the human traffic jam.  The Thompsons parted with the Hodges upon reaching B deck and Blish went back to B 68 to get lifebelts.  He came back to Maude with two lifebelts and sweaters, which they put on.  Blish then went back to the cabin to gather his passports and money, and then he and Maude went up to A deck.  Maude recalled that the starboard list of the ship made climbing the stairs difficult. Out on the boat deck, the Thompsons saw the Kesers and the Lucks.  As Charlotte Luck did not have a lifebelt, Blish gave his lifebelt to her.  A crewman told people on deck that the ship was safe and everything was going to be all right.  Maude also heard the order from the bridge to "lower no more boats."  They waited for ten minutes and were surprised that no officers and crew were to be seen on deck.
Lusitania
plunged suddenly and Blish tried to reassure Maud, saying, "Let us take what offers, and take it without a fuss." The ship turned "almost perpendicular," Maude recalled, sweeping everyone hundreds of feet down the length of the ship and into the water.  Blish and Maude were holding hands and the suction of the sinking liner forced them apart, even ripping off part of Maude's lifebelt. Blish's life was lost on the disaster on 7 May; Maude was saved.  Unfortunately, Maude's telegram back to Indiana, "Maudie safe" was mistakenly transcribed as "Maude safe I also," giving false hopes to the Blish family in Indiana.  Blish and Maude had no children. Blish's memorial service was held on 18 June at the First Presbyterian Church in Seymour.  Reverend Lewis Brown conducted the ceremony and delivered a short address on "Immortality."  People including workers from Blish Milling to Blish's Yale classmates attended the service.  Maude endowed Yale with a scholarship of $600 annually in the Sheffield Scientific School and was to be awarded to graduates of Shields High School in Seymour, Indiana.
Related pages
---
Maude Thompson at the Mixed Claims Commission
Links of interest
---
Lest We Forget:  Part 1
---
Contributors:
Christine Connolly, Yale University Archives Jim Kalafus Michael Poirier Judith Tavares
References:
Kalafus, Jim and Michael Poirier.  
ET Research:  Lest We Forget:  Part 1
.  <
http://www.encyclopedia-titanica.org/lusitania-lest-we-forget.html
> Class Book 1904 S. of Yale University. Obituary record of Graduates of Yale University deceased during the year ending July 1, 1915.