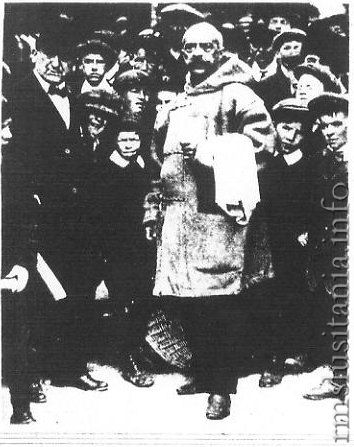 image: 
New York Times
, Sunday, 30 May 1915. Caption below the picture reads: "Julian de Ayala, the Cuban Consul-General at Liverpool, a Lusitania Survivor Surrounded by Admirers at Queenstown." Mr. Julian de Ayala was from Cuba and was the Cuban Consul General at Liverpool. His ticket for
Lusitania
was 46077 and he stayed in cabin A-21. He was ill in his bunk when the torpedo struck
Lusitania
. He entered a lifeboat that upset and was thrown into the water. He was subsequently rescued. Julian married Maria Julia Saaverio. The couple had three children, Olga, Rene, and Hector. Hector would later become Cuban Ambassador to France. From the 
New York Times
, 9 May 1915:
LIVERPOOL, May 8. - Julian de Ayala, Consul General for Cuba at Liverpool, in an interview given to The Liverpool Echo's correspondent at Queenstown, said that he was ill in his berth when the Lusitania was torpedoed. He was thrown against the partition of his berth by the explosion, and suffered an injury to his head and had flesh torn off one of his legs. The boat which Mr. de Ayala got into capsized, and he was thrown into the water, but later was picked up. The Lusitania, Mr. de Ayala said, had a heavy list to port [sic, actually starboard] before she sank, and great difficulty was experienced in getting out the lifeboats. Captain Turner thought he could bring the crippled vessel into Queenstown, but she began to sink rapidly by the head. "Her stern went up so high," Mr. de Ayala added, "that we could see all of her propellers, and she went down with a headlong plunge, volumes of steam hissing from her funnels."
Fellow passenger
Thomas Home
saw de Ayala in the water and recalled this:
I struck out on two spars and presently found the Cuban counsel in two lifebelts, one in front of him. I asked him if he could spare it, but the poor fellow could not swim and was acting frantically. I suppose at that moment if the ship had come up under him again, he would still think he had to struggle. I did not think he would last long but he is still alive and without a bruise.
From the 
Toronto Star
, 8 May 1915, pg. 1:
Wrapped in a blanket and without clothing, Julian Ayala, the Cuban consul at Liverpool, was most cheerful, although he was suffering from a great gash in his leg from which the blood streamed. "I boarded three boats before I finally got off in safety," he said.  "The only reason that I was saved was that I remained quiet and trusted in the Lord.  I prayed that I might be spared for the sake of my three children, who are in the convent in Liverpool.  I believe that there were many on board who made no effort to get into the boats believing that the steamer could not sink."
Julian de Ayala was alive as of 1927.
Contributors
Gerardo Munoz (great-grandson of Julian de Ayala) Paul Latimer Marika Pirie, Canada Eric Sauder, USA
References:
New York Times
, Sunday, 9 May 1915. Web. <
http://query.nytimes.com/mem/archive-free/pdf?res=F1081FFF345A12738FDDA00894DD405B858DF1D3
>.
New York Times
, Sunday, 30 May 1915.
Toronto Star
, 8 May 1915, pg. 1.