Laura Ryerson Saloon Passenger Saved
image credit:  Phyllis Ryerse
Born
Laura Mary Ryerson 1892
Died
21 December 1943 (age 52) York Mills, Ontario, Canada
Age on Lusitania
23
Ticket number
46106
Cabin number
D 55
Traveling with
Mary Amelia Ryerson (mother)
Lifeboat
14
Rescued by
Unknown
Citizenship
British (Canada)
Residence
Toronto, Ontario, Canada
Other name(s)
Laura Galbraith (after marriage)
Spouse(s)
John Stupart Galbraith (? - 1943, her death)
Laura Ryerson (1892 - 1943), 23, and her mother 
Mary Amelia Ryerson
were wealthy Canadians from Toronto, Ontario.  Laura's father George was the founder of the Canadian Red Cross and was cousin of Arthur L. Ryerson of Haverford, Pennsylvania, who died on the 
Titanic
. Laura and her mother were on the 
Lusitania
to attend to the death of a brother who was killed in battle and to help the other brother recover from being shelled.  They were booked into cabin D-55, paid $310 on 27 April.  George Ryerson was already overseas, having taken the 
Lusitania
in April. Mary and Laura were in the lounge taking coffee with
Leonard McMurray
and
Reginald Lockhart
when the ship was struck with a "jarring noise."  The men then escorted the ladies to the port side to wait for the boats. They were lowered  in lifeboat 14, but the boat capsized as it tried to pull away from the ship. Mary was lost.  Laura did not bother to get back into the swamped lifeboat and swam for a raft.  She found Reginald Lockhart there and they were rescued hours later. The following is her account:
My mother and myself had finished lunch and were taking coffee when there was a jarring noise not loud. Almost immediately the ship began to list. We went to the upper deck, but several boats could not be lowered because of the list of the ship. Mother and I got into the last boat which was lowered safely, but just then the ship went down and our boat was overturned. [I] am a good swimmer and although there was a crowd struggling together I got clear, and came up against a raft on which were Leonard McMurray and Mr. Lockhart, of Toronto. The raft was sinking with so many on it so I and others swam to a lifeboat floating near and got into it. There was a hole in one end, but by clinging to the other end we kept the hole out of water. We were in the water up to our knees for three hours when we were picked up by a destroyer and taken to Queenstown. The commander of the destroyer took me to his house, where I remained three days hoping to find mother.
Her testimony shows her modesty, as she does not talk about how she helped many on to their raft, and how on that destroyer she undressed the rescued women of their wet clothes and wrapped them in blankets to keep them warm. Laura also provided them nourishment and stimulants. Her father later wrote proudly, "She was the only woman who kept her wits and was able to help others." Laura continued to live with her father until she married John Galbraith.  She had three children and died on 21 December 1943 at York Mills, Ontario at age 52.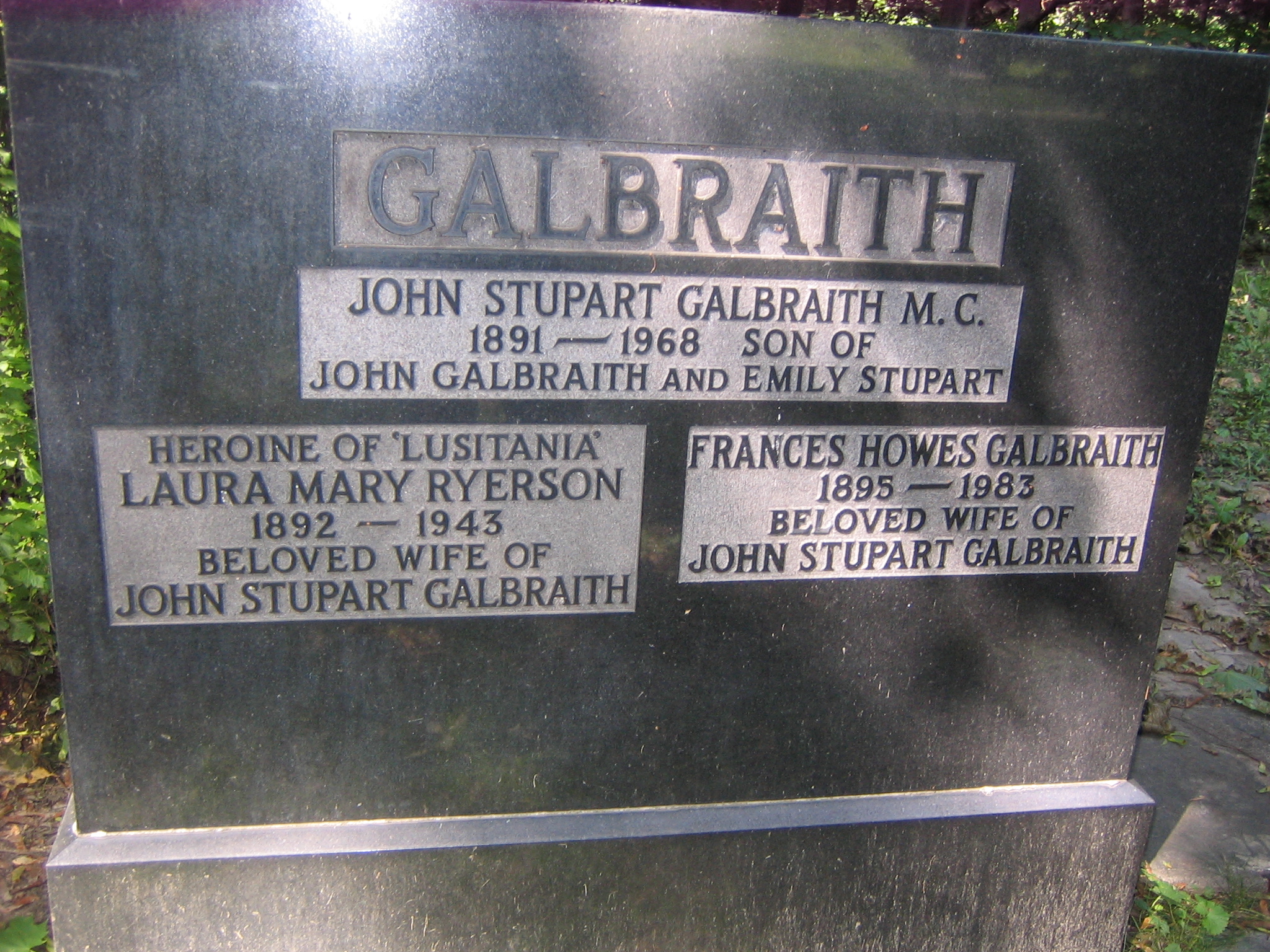 Laura's tombstone in St. James Cemetery, Toronto, Ontario.  Photo courtesy Erin Carroll.
Links of interest
---
George Ryerson recounts the Great War
---
Contributors:
Erin Carroll Paul Latimer Michael Poirier Phyllis Ryerse
References:
Ryerson, George Sterling Ansel. "The Great War." Old and Sold. Web. 13 July 2011. <
http://www.oldandsold.com/articles11/looking-backward-21.shtml
>.