Millie Baker Saloon Passenger Lost

Duluth News Tribune

, 1 September 1912/David Ouse,

Forgotten Duluthians

Born
Amelia Anne Baker 23 December 1887 Duluth (?), Minnesota, United States
Died
7 May 1915 (age 27) At sea
Age on Lusitania
27
Ticket number
46059
Cabin number
B 38
Traveling with
- Charles Williamson (fiancé)
Body number
Not recovered
Occupation
- Opera singer - Actress
Citizenship
United States
Residence
New York, New York, United States and Paris, France
Other name(s)
None
Spouse(s)
- Alexander Oliver Lynch (1907 - ?, divorced) - Charles Williamson (engaged)
Millie Baker (1887 - 1915), 27, was an American opera singer from Duluth, Minnesota, who had been training her voice in France and Spain since 1909. She was hoping to make her stage debut with the Opera Comique. Millie was traveling aboard
Lusitania
with
Charles Williamson
, in cabins facing each other. Her ticket was 46059 and she stayed in cabin B-38. Williamson, on the same ticket, was in B-34. Both she and Williamson were lost in sinking of the
Lusitania
on 7 May 1915.
Life
---
The girl to be Millie Baker was born in Minnesota, United States, on 23 December 1887. In February 1889, Millie was adopted by Alfred George Baker and Mary Ann Baker. They christened their new daughter Amelia (or Margaret?) Anne Baker. Alfred was an Englishman, born in the 1840s, who immigrated to the United States and fought in the American Civil War for the Union side. He moved to Duluth, Minnesota around 1880. Mary Ann Baker was an Irish immigrant born in 1862 and arrived in the United States in 1874. The Bakers made their home in Duluth at 2209 Minnesota Avenue on Park Point. Millie grew up in Duluth, where she studied music under local singer and voice teacher George L. Tyler. She performed in many shows around town and locals saw her as a promising singer and actress. In March 1904, she sang the contralto role of Frederic in a Duluth production of Ambroise Thomas'
Mignon
at the Lyceum Theater. In Duluth, Millie attended Central High School. She was last listed in the 1904 Central yearbook as member of the class of 1907. She did not finish high school as she left Duluth in the fall of 1904 to study music in Chicago. She moved on to performing in New York by April 1905 and joined the Weber Musical Company that July.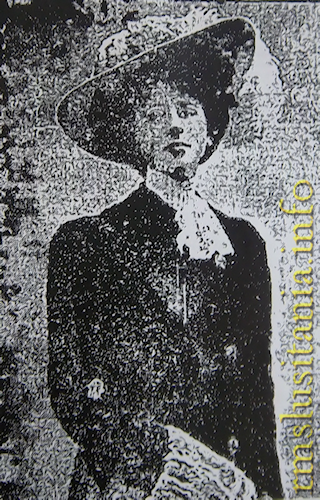 Image:  

Duluth News Tribune

, 6 August 1908, page 4/David Ouse
Millie Baker married Alexander Oliver Lynch on 23 April 1907 in New York City. Lynch worked in the advertising business. Lynch did not like Millie performing on stage, as an article from the
Duluth News Tribune
of August 1908 states:
"Of course I love the stage . . . I hope to go back to it, although my husband is opposed to it." She says, "Maybe I can do something to make dear old Duluth proud of me."
This interview occurred while Millie was visiting her parents in August of 1908. Alfred Baker died in June 1909. Both Millie and Mary Ann were at his side at his death. Millie made contributions to her foster mother's support. While not much of the family relationship has survived, the evidence points to Millie being grateful to her foster mother for the care, maintenance, and early education, and that from time to time Millie make relatively substantial contributions toward her foster mother's support. In 1909, Millie moved to Paris, France to continue her voice studies for the operatic stage. She hoped to make and early debut with the Opera Comique. Around this time, she divorced Lynch. As of 1912, she had been studying voice in Europe for three years and was being coached in Paris and Spain by the famous voice instructor, Marquis de Trabadelo. She was mentioned in an article in the 17 August 1912, issue of
Musical America
, where Millie "bids fair to become a singer of world-wide repute." Millie visited the United States in the Christmas season of 1914 where she visited Duluth. She left Duluth on 3 January 1915, for New York, where that spring she studied with Madame Giulia Valda.
Lusitania
---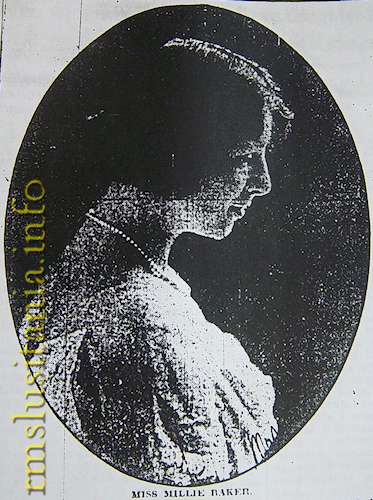 Image:  

Duluth News Tribune

, 8 May 1915/David Ouse
Millie took return passage to Paris on the
Lusitania
to resume her studies with de Trabadelo. She was traveling with art dealer Charles Williamson, who also lived in Paris. Millie and Charles booked
Lusitania
on the same ticket and had cabins facing each other. On board the ship, she had made acquaintance with
George Kessler
, Williamson's old friend
Alfred Vanderbilt
,
Edgar Gorer
, and
Thomas Slidell
. Millie and Williamson's whereabouts during the sinking of the
Lusitania
are not known, and both died in the disaster. It was later revealed that Millie and Williamson were to announce their engagement that fall. After Millie's death, her mother Mary Ann received a note in the mail, sent on 1 May 1915, signed, "Love always, your Millie." Upon Millie's death, Mary Ann was left destitute. In her old age had to support herself as a nurse. Millie's life insurance provided her mother with $2,000. She filed a case with the Mixed Claims Commission and was awarded $15,000 for the loss of her daughter. The posthumous revelation that Charles Williamson may have been a charlatan or a blackmailer of the wealthy, combined with George Kessler's surviving record lacking
how
Millie was "a lady known to us all," leaves one wondering just how much Millie knew about Williamson and the nature of their relationship.
Related pages
---
Millie Baker at the Mixed Claims Commission
Links of interest
---
Millie Baker, Opera Singer, at Duluth Public Library
Encyclopedia Titanica: Lest We Forget - Part 2
---
Contributors
Jim Kalafus David Ouse Michael Poirier
References
Kalafus, Jim and Michael Poirier (2005) 
Lest We Forget Part 2:  As the Lusitania Went Down
 ET Research. <
http://www.encyclopedia-titanica.org/lusitania-lest-we-forget-2.html
>
Mixed Claims Commission
, Docket No. 225. "Millie Baker, 1887-1915, Opera Singer."
Reference @ Duluth
. Duluth Public Library (MN) Reference News and Resources.  Web. 9 August 2011. <
http://dplreference.wordpress.com/2011/02/09/millie-baker-1887-1915-opera-singer/
>. Ouse, David.
Forgotten Duluthians
. Duluth Public Library, 2011.