Major F. Warren Pearl Saloon Passenger Saved
Image credit:  US National Archives/Michael Poirier.
Born
Frederic Warren Pearl 26 August 1869 Bradford, Massachusetts, United States
Died
2 January 1952 (age 82) London, England, United Kingdom
Age on Lusitania
45
Ticket number
46071
Cabin number
E 51
Traveling with
- Amy Lea Duncan Pearl (wife) - Stuart Pearl (son) - Amy Whitewright Pearl (daughter) - Susan Pearl (daughter) - Audrey Pearl (daughter) - Alice Lines (nurse) - Greta Lorenson (nurse)
Rescued by
Westborough (Katrina)
Occupation
Surgeon
Citizenship
United States
Residence
New York City, New York, United States and London, England
Other name(s)
Frank Warren Pearl
Spouse(s)
Amy Lea Duncan (1909 - 1952, his death)
Surgeon-Major Frederic Warren Pearl (1869 - 1952), 45, was a surgeon-major traveling with his wife 
Amy Lea
, children
Stuart
,
Amy Whitewright
,
Susan
,
Audrey
, and the children's nurses 
Alice Lines
and
Greta Lorenson
.  During the sinking, Warren and his wife became separated from their children and their nurses, and spent much time looking for their children until the ship sank from beneath them.  Of their party, he, his wife, Stuart, Audrey, and Alice survived the 
Lusitania
sinking.
Early life and education
---
Warren Pearl was born on 26 August 1869 in Bradford, Massachusetts, United States to Everett (Peter?) Pearl and Fidelia Jane Day.  Warren was educated at Harvard and became a surgeon, graduating with his M.D. in 1894.  He was a member of the Harvard Medical Society of New York City.  In his 1913 alumni book, he wrote that his occupation was "Medicine (not Dental Med.)"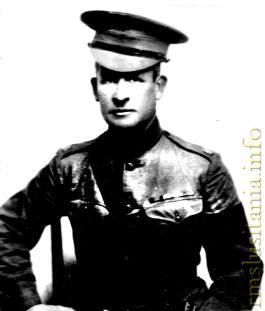 Warren Pearl in uniform. Image:  US National Archives/Michael Poirier
Military service
---
During the Spanish-American War, Warren served in the United States Army in the Philippines campaign and was part of the Major American Medical Corps.  There, he gained the title "surgeon-major."  He was also awarded the Companion Naval and Military Order of the Spanish-American War, Military Order of Foreign Wars, Military Order of Campaign In Philippines. Pearl was a service member of the American Legion and member of the U.S. Navy League.
Family life
---
Warren Pearl married Amy Lea Duncan in New York City on 15 April 1909.  Pearl retired from the armed forces and the married couple settled down in New York City.  Their first child, Stuart Duncan Day, was born to them on 30 January 1910 in New York City.  A daughter, Amy Whitewright Warren, followed on 14 March 1912, also born in New York City.  The family lived at 123 East 36th Street, New York City, New York, United States. Warren was president of the Pearson Engineering Corporation, Ltd., at 115 Broadway, New York City, where 
Fred Pearson
was also a work colleague.  Pearl associated with Percival Farquahar in some of his business deals.  Recreationally, Warren enjoyed tennis, golf, yachting, and hunting. He was also a member of the New York City University and Adventurers Club. In the spring of 1914, Warren and his family were vacationing through Europe, when another daughter, Susan Whitewright, was born in London, England on 26 February 1914.  There, they recruited Nurse Alice Lines.  When war broke out in August, the Pearls were in Stockholm, Sweden and Warren secured passports for Petrograd, Russia (formerly St. Petersburg and later Leningrad) in hopes of applying his military experience there.  Their plans had to change in Helsingfors, Denmark under threats of bombardment.
Accusations of espionage
---
As Stuart was getting to be the age where he was to start school, Warren left for England hoping to enroll Stuart at Eton.  Pearl was returning to Denmark via Belgium when two German officers arrested him in Lübeck under suspicion for being an English spy.  After all, he was wearing English tweeds and carrying a copy of the 
London Times
.  Warren sent a telegram to his wife Amy, in Skager, Denmark, saying:  "COME AT ONCE.  IN TROUBLE.  WARREN." Warren was only allowed to see Amy after she demanded to see the American Consul.  Warren told his wife that the Germans thought his reasons for traveling through Germany were unlikely and asked Amy to plead with the American Ambassador in Denmark for his freedom.  Two weeks later Warren Pearl was released and ordered to leave for Copenhagen by steamer.  He was reunited with his wife and children.  In the absences of both Warren and Amy, Alice Lines had hired Danish girl Greta Lorenson to help look after the children. Amy was expecting another child and wanted it born in the United States.  The Pearls arrived home on a Scandinavian-American Liner, 
Frederik VIII
, in early December of that year.  The baby girl was born on 6 February 1915 in New York and christened Audrey Warren.
Lusitania
---
In the spring of 1915, Warren was instructed to report to the American Embassy in London, England.  His and his family's new address would be 1 Cockspur Street, London, S.W.  He thus booked passage on the 
Lusitania
with his wife, children, and nurses.  At the time, Amy was pregnant with a fifth child, a son that would be later named Vivian.  The night before sailing they had a farewell dinner party in a private room at the Plaza Hotel. On the Lusitania, the Pearls' staterooms were E 51, 59, and 67
*
, close to that of 
Lindon Bates, Jr.
, with whom they were friends.  The Pearls attended Sunday services and before Thursday's concert were at cocktails.  Throughout the voyage he had drilled his wife and nurses with what to do in case of an emergency. At about 2:15 p.m. on Friday, Warren was in his stateroom when he heard an explosion coming from the opposite side of the ship.  Shortly thereafter flames, smoke, and splintering glass from the ports blew into the stateroom.  At that time, Amy was on deck with Lindon Bates.  Warren headed up the stairs and met Amy as she was coming down.  They sent Greta, Alice, and the children up to the Boat Deck and followed.  They put on their lifejackets.  They claimed that there was no panic on the Boat Deck.  In the crowd the nurses and children were separated from Warren and Amy.  Warren noted that the ship's wake showed that the 
Lusitania
had made a semi-circular swing to port.  Some time later Warren and Amy spotted Greta and Susan standing by a boat swung out and ready to be launched. The ship was listing to starboard and soon righted herself.  The Pearls and Lindon Bates separated to continue to look for the missing children.  Warren saw two boats were lowered on the starboard side and a third boat suspended perpendicularly in mid air, but there was still no confusion thus far.  He met back with Amy and word came to "lower no more boats," "everything all right," and "aid coming."  Warren and Amy split again to to find the children.  Not finding them, Warren went back to see if Amy had found them.  They were not with her, so Amy asked Warren to try again to find them.  The 
Lusitania
was on a fairly even keel by that time and a boat filled with people crashed inboard, crushing people on deck.  Just then the 
Lusitania
made a plunge to starboard and water rushed over the forecastle.  The missing children were still not found and Warren found two planks for him, Amy, Greta, and Susan. The sea came charging at them, throwing everyone on deck into the sea as the ship plunged underneath.  Warren was pulled down five or six times by suction and eddies.  Surfacing, Warren grabbed hold of a plank, and later swam to a floating box with five or six others clinging to it.  The box overturned, and Warren grabbed onto a deck chair, and later swam with it to a floating tin can.  He clung onto this for about three hours.  Three boats passed him by as they were full, and after three hours he was picked up by men in a collapsible boat half full of water which was being bailed out.  Warren recalled that discipline in the boat was "excellent," picking up about 35 persons in all, several women. About one hour later, those in the collapsible were taken off by steam trawler, the 
Westborough
, which went about rescuing many others.  They finally landed at Queenstown about eight hours after the sinking of ship.  Warren was then reunited with his wife Amy and later found someone matching Alice Lines' description.  Warren and Amy found Alice, Stuart, and Audrey all safe, but could not find any trace of Greta, young Amy, or Susan. After the disaster, the family recuperated in Suffolk. Warren, Amy, and Alice attended the open sessions of the Mersey Inquiry.  Two of Warren's six sessions were held
in camera
because the publication of Admiralty instructions on how to avoid or combat submarines might prove useful to the enemy.
After Lusitania
---
A son, Vivian Whitewright Pearl, was born after the disaster.  A sixth child, Amy Susan Pearl, was named in rememberance of the daughters they had lost. Pearl was attached to Belgian, British and French Armies and American Ambulance Corps during World War I, and was Major and surgeon for the American Ambulance Corps in France.  He also became a colonel.  The Pearl family would stay in England for many years, with Warren occasionally returning to the United States every few years. Warren Pearl died on 2 January 1952, and Amy Pearl on 1 February 1964.
Related pages
---
Warren and Amy Pearl at the Mixed Claims Commission
Notes
---
*
Warren Pearl's testimony says that he was in a portside room when the explosion occured so here are number of possibilities of what he actually meant: 1) The Pearls moved into port side cabins after the Cromptons moved out and onto D deck. 2) Warren was visiting 
Dr. James Houghton
at the time, whose cabin was on the port side. 3) Warren was in the men's lavatory, on the port side. 4) The port side notation is an error and he really meant starboard.  If smoke and flames blew into the room from the torpedo impact and the torpedo struck the starboard side, it's only logical that the Pearls' staterooms would be on the starboard side.
Contributors:
Paul Latimer Michael Poirier Judith Tavares
References:
Deposition of Major F. Warren Pearl.
Hickey, Des and Gus Smith.  
Seven Days to Disaster
.  G. P. Putnam's Sons, 1981. Preston, Diana.  
Lusitania:  An Epic Tragedy
.  Berkley Books, 2002.