Charles Frohman
. He was a British subject and lived in New York City, New York.  He traveled on the same ticket as Frohman, 46052, but stayed in a separate cabin, B-61. He was on the C deck level of the dining room with
George Slingsby
, 
Emily Davis
, and 
Annie Walker
 when the torpedo hit. William Stainton was lost in the
Lusitania
disaster, just one month before his 38th birthday.  His body was recovered, #199.
Life
---
William Stainton was born in June 1877 in the village of Etton near Beverley, Yorkshire, England. However, on shipping records, Stainton stated that he was born in Pontefract, Yorkshire. William went into service with a local family in the High Hall, Etton. He later became a valet and later took a post in Hampshire with Lt Colonel Arthur Jones CB, the equerry to Princess Louise, the fourth daughter of Queen Victoria. Jones had many friends and connections in the theater world, so when Jones died in 1911, William found work with Charles Frohman, taking over the post previously occupied for ten years by Henry Tasker, of whom few details have been found. William's name first appears with Charles Frohman on a shipping record in July 1912. Perhaps Frohman, being an Anglophile, had been impressed by William's recent employer.
Lusitania
---
On the last voyage of the
Lusitania
, Stainton traveled on the same ticket as Frohman, 46052, but stayed in a separate cabin, B-61. Stainton dined in the first class dining saloon with
George Slingsby
(valet to
Frederick Orr-Lewis
), 
Emily Davis
, and 
Annie Walker
 (maids to
Marguerite, Lady Allan
).  Their table was on C deck of the first class dining room on the starboard side facing the open deck through the window. On Tuesday, 4 May, Frohman asked Stainton to call for 
Dr. James McDermott
, as Frohman had leg pain from a bad fall some years previous. On the day of the
Lusitania
disaster, 7 May, Stainton and Slingsby were running late and joined Emily and Annie at their table in the saloon.  They listened to the band play "Tipperary" when Slingsby looked out the window and saw the wake of the torpedo as it approached the ship. Slingsby called everyone's attention to the torpedo, including Inspector William Pierpont at the table next to theirs, who also saw the wake.  As the torpedo impacted, Slingsby ran to find his employer. William Stainton was lost in the
Lusitania
disaster.
Burial and memorial
---
William's death was reported in local Yorkshire newspapers. On 11 May, the
Hull Daily Mail
reported him as a missing Beverley resident. On 15 May,
The Beverley Guardian
reported him as still missing. His body was recovered, #199, seven days after the sinking. He may have been identified by Haddon Chambers, a close friend of Frohman's, and William Lestoq, Frohman's London Business Manager who traveled to Queenstown to identify Frohman and take charge of his body. Like the others, William's body would have been placed in a lead lined coffin. It was then transported to his family in Etton, where he was buried in St Mary's Churchyard.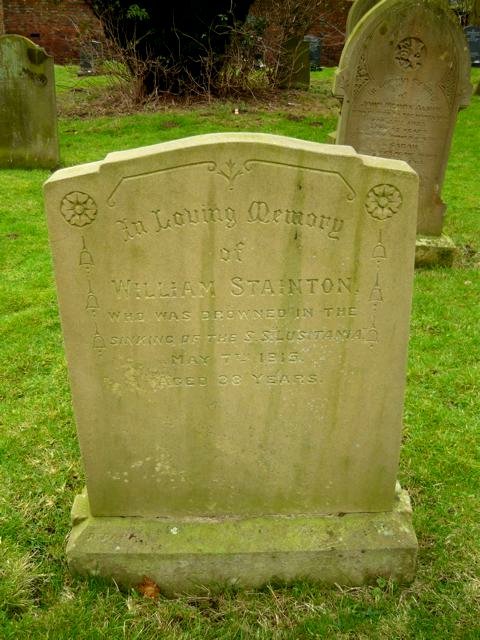 William Stainton's headstone. Image courtesy Peter Scott.
William was listed in the Beverley Roll of Honour in the Beverley Recorder on 15th November 1918. His name is listed on the War Memorial in Beverley as a victim of the War.
Contributors:
Randy Bryan Bigham Michael Poirier, USA Peter Scott, UK
References:
Barnes, Barrie.
Known Unto God
. Limited edition book and record of Beverley, Yorkshire men lost in World War I. Shipping Records, Ellis Island.org.