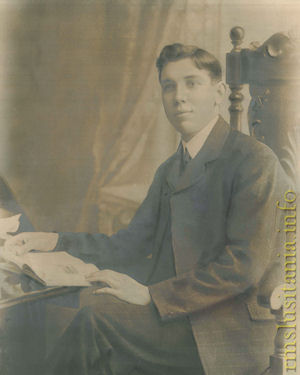 Image credit: Steven Thompson Albert Thompson, 37, was a British national from Toronto, Ontario, Canada.  was traveling aboard
Lusitania
with his friend
William Dale
. Both men lived in Toronto, Ontario, Canada, and were Irish. Both Thompson and Dale were lost in the
Lusitania
disaster. Thompson was reported to be an invalid. Thompson was originally from Clogher, County Antrim. He was reported as being a Donacloney man. Thompson's body was recovered on Tuesday, 11 May 1915, as body #141.  His body was found floating with wreckage near the coast.  Per the list of interments at Queenstown (now Cobh), Ireland, Albert Thompson was body #141, Common grave B.
Contributor:
Senan Molony, Ireland Judith Tavares Steven Thompson (great-great nephew of Albert Thompson)
References:
Molony, Senan.
Lusitania: An Irish Tragedy
, pgs. 29, 74. Mercier Press, 2004.