Alice Middleton Second Cabin Passenger Saved
[No Picture Provided]
Born
Alice Middleton c. 1890
Died
8 September 1964 (age 74) Livonia, Michigan, United States
Age on

Lusitania

25
Occupation
Nurse
Citizenship
British
Residence
Seattle, Washington, United States
Other name(s)
Alice McDougall (after marriage)
Spouse(s)
George McDougall (1917 - ?) Please provide dates
Alice Middleton, 25, was a British national who was traveling aboard
Lusitania
to go home to Britain after having spent years in the United States.  During the
Lusitania
sinking, Alice was saved by a man who is believed to be
Alfred Vanderbilt
.
Family and background
---
Alice was born the daughter of John Middleton and Georgana Hardingham.  Alice was one of five children, the others being Chas, John, William, and Grace.  Grace died at the age of five.  By 1915, Alice was working as a baby's nurse.  Although she was British, she had spent much of the past several years in the United States "for her health."
Lusitania
---
When Alice left for home on the last voyage of the
Lusitania
, she departed from Seattle, Washington.  Alice had originally booked third class on the
Lusitania
but was able to obtain an upgrade to second.  On the day of the disaster, she recalled being in the dining room with three Irish girls when one of them saw land through the porthole.  Alice recalled that the girls started singing "There Is a Green Hill [Not?] Far Away " when the ship was struck by the torpedo. When the ship was sinking, she was on the lower promenade deck, apparently at the point of losing her reason, when she was calmed and directed by
Richard Preston Prichard
whom she had noticed and smiled at at various points in the voyage but never spoken to until that moment. Alice also accepted a lifebelt from a man who may have been
Alfred Vanderbilt
, even though at the time she had no idea who was assisting her.  He helped her put the lifebelt on, but before he could finish securing it, they were both washed off the deck. Underwater, Alice had her head stuck in an open porthole.  The pressure hurt her ears so much she was not sure how she could endure the pain, much less survive the sinking.  She did not know how she managed to come back to the surface, but reaching the open air was no relief.  All around her were dead bodies, several of them children.  To her, they looked like "drowned dolls." Next to her, Alice looked on with horror as a woman gave birth in the water, who may have been
Marguerita Kay
.  The scene made her feel sick, and unable to do anything for the woman, Alice soon lost consciousness.
"Marvel"
---
When she was pulled out of the water, Alice was mistaken for dead.  She regained consciousness at a Queenstown nursing home.  Doctors thought her recovery from her coma so miraculous that they dubbed her "Marvel."   The stress and shock of the disaster had caused her hair to fall out and she was not able to leave the hospital for some days.  Nevertheless, as of 9 May she was listed as "out of danger; progressing favorably." In a 1915 letter, Alice mentions that her brother was lost at sea during the time she was aboard the
Lusitania
(although she spares in details at to which ship he was lost off) and their mother was notified of his loss on the morning of 7 May, then of her loss that evening.  Due to Alice's semi-coma it was not until Sunday that her mother was informed that she had, in fact, survived.
Post-Lusitania
---
Alice spent a few years of post-
Lusitania
recovery in Birkenhead, England.  She also designed bobby capes and was awarded the Freedom of London.  In 1917, she married George McDougall of Detroit and moved to the United States with him.  Alice worked as a seamstress and had two children, Hector and Jacqueline.  Jacqueline died at the age of 13.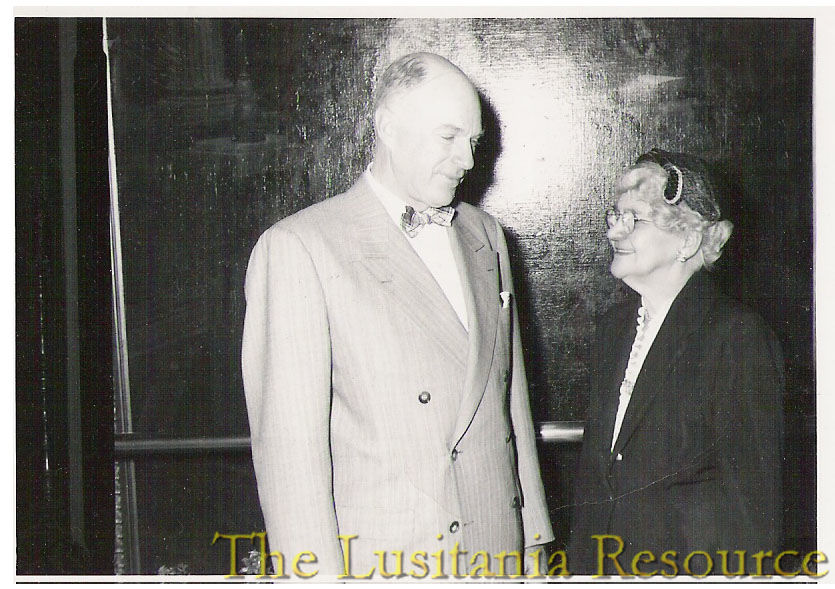 Alice Middleton in her later years, here pictured with Dr. John D. Craig.  Click on image for full size.  image credit:  Nanette McDougall LaChance.
Later life
---
Alice would not know that her savior was possibly Alfred Vanderbilt until the 1930s.  Former
Lusitania
steward
Robert Chisholm
met her years later during the early days of salvage operation of which he was part and mentioned the story of Vanderbilt giving away his lifebelt. He showed her a picture of Vanderbilt and she was convinced it was him. Living out the rest of her life in the United States, Alice died on 8 September 1964 in Livonia, Michigan.
Media portrayal
---
Alice Middleton is a major character in David Butler's 1983 novel
Lusitania
.  Unlike in actual history, the novel establishes Alice as having a shipboard romance with Vanderbilt, which leads up to his final gesture of saving her life.
---
Contributors:
Jim Kalafus Nanette McDougall LaChance (granddaughter of Alice Middleton) Michael Poirier Judith Tavares
References:
Butler, David.  
Lusitania
.  Ballantine Books, 1983. Hickey, Des and Gus Smith.  
Seven Days to Disaster
.  G. P. Putnam's Sons, 1981. Hoehling, A. A. and Mary Hoehling.  
The Last Voyage of the Lusitania
.  Madison Books, 1956.