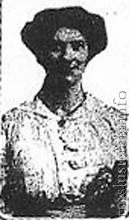 image:  
Cleveland Plain Dealer
, Saturday, 8 May 1915, page 2. Janet Stevenson was born in Aberdeen, Scotland, near the city of Glasgow.  Eighteen months previous to her fateful voyage on the 
Lusitania
, she married William Stevenson, who had also been born near Glasgow.  William was a molder and came to the United States several years before 1915. The Stevensons made their home at 7618 Vineyard Avenue in Cleveland, Ohio, United States.  Not long after their marriage, their daughter
Elizabeth
was born. As Janet suffered from ill health, she hoped that a return to her native Aberdeen would improve her condition.  She booked passage on the 
Lusitania
for her daughter and herself at J. C. Wagner and Son at 409 Superior Avenue.  William would remain in Cleveland. Three weeks prior to the sailing, Janet and Elizabeth left Cleveland to visit relatives in Brooklyn, New York.  While in Brooklyn, Janet mailed postcards to several Cleveland friends of the family, including Thomas Scott of Scott-Ullman Company who lived at 3857 West 43rd Street. Janet and Elizabeth did not survive the disaster.  Similarities of names in printed lists had led to false hope for William on Sunday, 9 May. In the Mixed Claims Commission, her name is spelled "Janet Stevenson," but her name in the
Cleveland Plain Dealer
is spelled "Janet Stephenson." As a legal document, the spelling in the Mixed Claims Commission should take precedence, but the Mixed Claims Commission also has misspellings of names as well. If anyone knows which spelling is correct, please
contact us
.
Related pages
---
Janet and Elizabeth Stevenson at the Mixed Claims Commission
---
References:
Cleveland Plain Dealer
.  Saturday, 8 May 1915, page 2.
Cleveland Plain Dealer
.  Monday, 10 May 1915, page 4.