Lusitania
with her husband
Walter Dawson Mitchell
, their son, also named
Walter Dawson
, and her brother, 
John Moore
.  Before boarding, they had made friends with fellow Ulster passenger,
Mary Agnes Hume
. Jeanette and John were saved, but both her husband and son, and her friend Mary Agnes Hume, were lost in the sinking.
Biography
---
Jeanette was from Ballylesson, County Down, Ireland.  She was one of six children.  As of 1915, her brothers Bobby and Archie had enlisted to fight in the war. Walter Dawson Mitchell had been Jeanette's sweetheart since childhood.  Walter was the second son of Reverend G. P. Mitchell, rector of Drumbo, Lisburn, County Antrim, Ireland, and grand-nephew of Canon Pounden of Lisburn.  Walter had been an apprentice at the Island Spinning Company in Lisburn and was offered a job as the assistant manager of the Marshall Mills in Kearny, New Jersey, United States in December of 1912.  Taking this opportunity, Walter proposed to Jeanette.  They married and lived with Mrs. R.M. Crozier of 177 Broad Street, Newark, New Jersey.  Walter junior was born to them in August 1914.  Jeanette and Walter regularly sent photographs of their child back to Ireland. In the spring of 1915, the Mitchells decided to return to Ireland to visit their parents in Lisburn. Walter had been asked to return,and the Mitchells were "discouraged by conditions caused here [in the United States] by the war." Also traveling with the Mitchells would be Jeanette's brother, John Moore, who had been living in Connecticut since 1911 and planned to enlist for the war effort once he reached Ireland. In Kearny, New Jersey, the Mitchells met
Mary Agnes Hume
, also from Ulster, Ireland, and promised to keep an eye out for Mary Agnes, who was traveling alone. Walter, Jeanette, their ten-month-old son, and John sailed on 
Lusitania
on 1 May 1915.  Jeanette recalled that when the ship passed by where 
Titanic
sank in 1912, some passengers threw wreaths into the sea.  Mary Agnes spent much of the voyage in the company of the Mitchells, and in eight original notes Jeanette would later write to Mary's husband, Samuel Hume, she would describe in detail the time she and Mary Agnes were together up to five minutes before the torpedo hit. On 7 May, Jeanette, Walter Sr., and John had just finished lunch, and Jeanette went to the cabin to see the baby when they felt "a great crash, which shook the ship."  With Walter, Jr., they followed the rest of the passengers to the upper decks to find out what had happened.  As the ship was listing to starboard, only the starboard side boats were being lowered properly and lifebelts were being handed out.  John did not take a lifebelt, but he managed to get into a lifeboat which overturned while lowering. Jeanette and Walter, with their baby, were in the water, clinging to a capsized lifeboat, with Walter holding the baby.  Jeanette saw her husband slip into unconsciousness, his last words to her being, "I can't hold on any more Nettie."  She knew her husband had died when his skin turned dark and he had froth on his mouth.  Jeanette herself was barely alive when men pulled her out of the water and onto a minesweeper (perhaps the 
Indian Empire
, which John was also on board).  She only remembered being dragged by her feet, her head bumping against the deck.  Walter and the baby were also brought on board, and attempts were made to resuscitate the husband and wife on ship and on shore.  The baby was lost, and Walter did not revive, either. John saw Jeanette and Walter lying among the corpses on the harbor steps of Queenstown (other accounts say that John and Jeanette were reunited aboard the
Indian Empire
).  He thought he saw Jeanette's eyelids move and realized she was alive.  He managed to resuscitate her.  The 
Lisburn Standard
reported that it was "chiefly due to his [John's] presence of mind that his sister did not share the same fate as her husband." All three Mitchells had been listed on Sunday, 9 May's list of missing and probable dead, which was erroneous in light of Jeanette's survival. On Saturday, John took Jeanette to buy some clothes when she overheard a group of sailors talking about the sinking.  One sailor had described a "beautiful baby" that he had taken out of the water and Jeanette rushed over to him, insisting that the child was hers.  She begged him to tell her what he had done with the child's body, to which the sailor answered, "Listen, love, where your baby is now, there is nothing more you can do for him." Per the list of interments at the Old Church Cemetery in Queenstown (now Cobh), Ireland, Master Walter Dawson Mitchell was body #122, male, age 6 months [sic, actually 9 months], second-cabin passenger, Common grave C. On Saturday evening, Reverend Mitchell received a wire stating that Jeanette and John were safe, but his son and grandchild had been lost.  Another telegram stated that Jeanette and John would arrive in Lisburn by the midnight train from Dublin.  Reverend Mitchell and Mr. Moore (Jeanette and John's father) received them at the Lisburn train station.  They were still in shock and grief-stricken and were unable to give any account of what had happened to them.  Walter's remains were enclosed in an oak casket, the breastplate of which was inscribed with:
W.D. Mitchell Died May 8, 1915
No mention was made of the
Lusitania
disaster. Mrs. R.M. Crozier was surprised to receive a letter from Jeanette on Monday, 24 May 1915, as Jeanette had been presumed dead.  The letter made no mention of how Jeanette escaped from the sinking 
Lusitania
or how her husband and son died.  The 
New York Times
states, "Mrs. Mitchell was evidently too grief-stricken to write in detail." On 27 May 1915, Nettie wrote a note to Samuel Hume from Belfast about Mary Agnes, who was lost in the sinking.
I have been watching the papers anxiously to see if there was any word of even your dear wife's body being found. I am sorry to say I never saw anything and if such is the case that she has been lost. I really don't know how to begin Mr. Hume to write of what I know of your wife. First in the short time I knew your wife I thought very highly indeed of her and we were real good friends and had many heart to heart chats on board and dear Walter did everything in his power to make the journey pleasant for her. He hired two deck chairs for us and whenever Mrs. H. was not in her cabin she was with us (which was most of the time). Mrs. H. and I used to sit on the chairs and Walter would take baby around in his carriage, then Mrs. H. used to take baby around and I also used to leave Mrs. H. and Walter together so you see we had a real happy time together and Mrs. Hume was so fond of our little angel, she used to say "I don't know how I will ever part with him". She told me she had written you a long letter telling you also about how good Baby Mitchell was but like everything else, the mails went to the bottom I am afraid. Your wife and I were together not five minutes before the boat was torpedoed. We had been sitting together after lunch on deck chatting and I had to go and see if baby was still asleep in his cabin so Mrs. H. said she was going to her cabin also to try to have her packing fixed up for that night as we had got notice from the captain to have all stateroom baggage ready for removal at 9 p.m. Friday. Walter and Mrs. H. and I went down together and when Mrs. H. was leaving us she (said) "Goodbye this is the way I go I will see you later" and I never saw her again, she just had about time to get to her cabin, I would be afraid she didn't have time to get up on deck." … "We just got to our cabin saw baby was asleep and as we knew he couldn't sleep much longer we didn't go to leave him but spoke to a stewardess who was sitting on a camp stool just opposite our cabin. She was congratulating us on having such a good baby and had just finished when the torpedo struck. I dashed into the cabin and lifted my angel baby and Walter turned back for baby's little coat and cap which he never got on and by this time the boat was listing so badly we could hardly get up and then the lifeboat we got into was leaking so badly it soon filled and the boat overturned. I had baby in my arms and when we got up out of water we were clinging to the upturned boat, it overturned again and we were under again. The last I remember a lady was holding baby and Walter and I were together in the sea clinging to the boat and I never again saw either of my darlings alive. Walter's dead body was recovered but baby's was not.
Jeanette Mitchell received Samuel Hume in Belfast, who came to Ireland for two months for closure concerning the death of his wife, Mary Agnes. They exchanged photos of their loved ones. He left Northern Ireland with no recovery of Mary Agnes' body. On 18 October 1915, Nettie Mitchell wrote Samuel Hume and shared "The Burial Board in Queenstown refused flatly to allow Baby's body to be exhumed so of course we could do nothing." There was another note from Nettie Mitchell, on 22 February 1916 where she reported she was in her seventh week of nursing training in Dublin. Jeanette was granted £640 13s 4d for the loss of her husband at the Belfast court.  She went on to work as a nurse at the Rotunda Maternity Hospital in Dublin, an action perhaps due to the loss of her own child.  She was working at the hospital during the Easter Rising of 1916 and assisted women who were giving birth as gunfire continued outside of the hospital walls.  Jeanette was alone on duty one night when British soldiers came into the hospital, looking for gunmen who might be hiding there.  She told them not to dare to disturb the ladies under her care, and that there were no such rebels in her hospital. Jeanette remarried to a man named William D. Watters in 1920 and had two sons. She lived in the Ravenhill area of Belfast.  On 28 June 1923, Jeanette Elizabeth Mary Watters (formerly Mrs. Walter Mitchell) completed a legal affidavit regarding her firsthand knowledge of where Mary Agnes Hume was when the torpedo hit the RMS
Lusitania
and had this sent by her attorney to Samuel Hume in the United States. Because Mary Agnes was an American citizen at the time of her death, claims were handled by the Mixed Claims Commission under the United States Department of State. Other documents were compiled and submitted. The
Mixed Claims Commission
 awarded Samuel $8,000.00 for the loss of his wife and an additional $1,341.00 for personal effects lost in the
Lusitania
disaster. The actual payment, made in 1928, was actually much higher due to interest. Jeanette Watters and died on 19 January 1966.  Upon her death, she was buried with Walter, across the island from where Walter, Jr., lies at rest.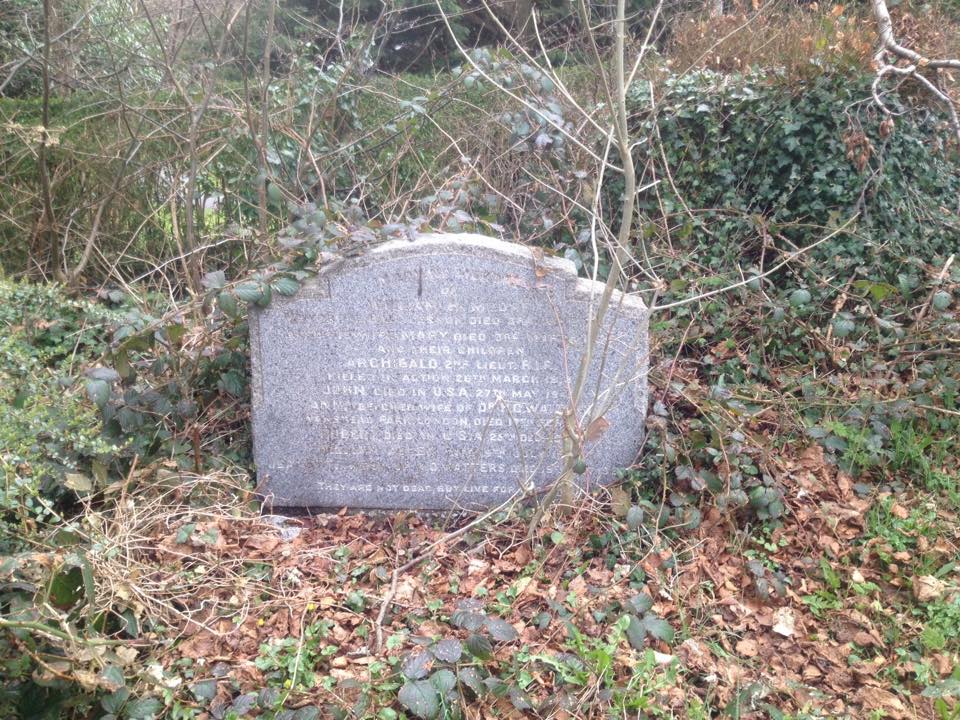 Jeanette Mitchell Watters' headstone. Courtesy Gavin Bell.
Links of interest
---
John Moore and the Mitchell Family at Lest We Forget – Encyclopedia Titanica
Contributors
Cliff Barry, UK Gavin Bell Kathleen Hume Jim Kalafus, USA Peter Kelly, Ireland Senan Molony, Ireland Mike Poirier, USA Judith Tavares
References:
"Ulster Victims Lisburn Man and Child."  
Irish Post and Telegraph
, 15 May 1915, page 11. Jim Kalafus, Michael Poirier, Cliff Barry and Peter Kelly (2013) "Lest We Forget : The
Lusitania
." 
Gare Maritime
. (ref: #10962, accessed 27th April 2015 03:24:39 PM) URL :
http://www.encyclopedia-titanica.org/lest-we-forget-the-lusitania.html
Molony, Senan.  
Lusitania:  An Irish Tragedy
.  Mercier Press, 2004, pages 61-62, 64. "Finds Friend is Survivor:  Woman Gets Letter from Mrs. W. D. Mitchell of the Lusitania."  
New York Times
, Tuesday, 25 May 1915, page 4.