Francis Frankum Third Class Passenger Saved
Image: Michael Poirier Collection.
Born
c. 1908
Died
1985 (age 77) Dunoon, Argyll, Scotland, United Kingdom
Age on Lusitania
7
Traveling with
- Joseph Frankum (father) - Annie Frankum (mother) - Frederick Frankum (brother) -Winifred Frankum (sister)
Citizenship
British
Residence
Detroit, Michigan, United States
Francis Frankum, 7, of Detroit, Michigan, United States, was traveling third class on board
Lusitania
with his father
Joseph
, mother
Annie
, 4-year-old brother
Frederick
, and 10-month-old sister
Winifred
.  The family was going to see Joseph's mother, who lived in Birmingham, England.  When the ship was struck, the family was below decks in third class. After having lived in the United States for some time, Joseph believed that it would be good for the family to relocate to England, and so they booked passage aboard
Lusitania
.  They were having a cup of tea and preparing their luggage when the torpedo hit. From the
Manchester Guardian
, Monday, 10 May 1915, page 8, is Joseph Frankum's account of the sinking:
"We divined what it was immediately," he said, "and I took up the children and hurried my wife to the boat deck.  I put them all in a boat, and went below for a lifebelt.  I found two, and on my way back I gave one to a man, but afterwards I was sorry I did not keep it for my wife.  She had got out of the boat again, and we waited [on the port side], because for a time we thought the ship was going to keep afloat.  When it was certain that she was sinking I put my wife back in the boat and clambered in myself.  We saw that it was not free of the ship, but thought it would float off as the ship sank.  To our horror, it went right down, and I seemed to sink a long way before I felt myself rising again.  It was a dreadful sensation. "When I came to the top I could not see anything of my wife and children.  I swam to an upturned boat, but it was terribly difficult because of the wreckage which kept striking me.  I got on the boat with others, and we were like this for about three hours, while dead bodies in all postures were floating about us.  A young man was condoling with me because I had lost my wife and children, when a man's body floated by.  He turned the head up with an oar and shouted out, 'That is my father.'  Then we tried to comfort each other.  At Queenstown I went searching everywhere, and at last found my little boy, but I have now no hope that my wife and the other two children have been saved."
Francis recounted that as the ship sank, their lifeboat capsized.  He held onto an upturned boat and there he stayed until he was rescued.  Francis was taken to the Rob Roy Hotel in Queenstown where he was reunited with his father.  Francis was sleeping at the time and Joseph roused Francis from his sleep.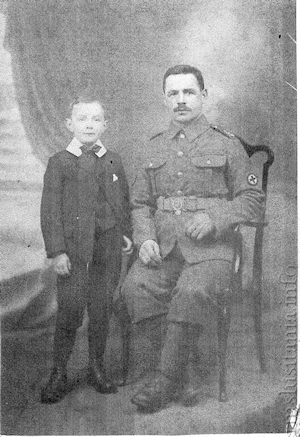 Joseph and Francis Frankum, Michael Poirier Collection.
"How did you come here Dad?" Francis asked. Joseph had some difficulty finding the words to express himself, but said, "You see Francis, I told you God would take care of you, and He has -- hasn't He?" "Yes Dad, He has," Francis answered. Joseph met up with his brother soon after the disaster, and they went on to Liverpool to await further news of their family.  They continued on to Aston, Birmingham where Joseph's mother lived at 55 Webster Street.  No word was received about the rest of their family.   Reporters came to the house to ask Joseph and Francis about the sinking. A few years afterward, Joseph and Francis moved to Scotland.  There, in 1920, Joseph married again, this time to Jessie Elizabeth Mitchell in Kelvin, Lanark.  They then moved to Dunoon, Argyll.  Jessie died in 1952 and Joseph one year later in 1953. Francis married and worked with the Church of Scotland as a clerk at St John's Dunoon. He died in 1985.
Related pages
---
The Frankum Family at the Mixed Claims Commission
Links of Interest
---
Encyclopedia Titanica - Lest We Forget: Part 1
---
Contributors:
Jim Kalafus Michael Poirier
References:
Kalafus, Jim and Michael Poirier (2005).  
Lest We Forget:  Part 1
ET Research.  <
http://www.encyclopedia-titanica.org/lusitania-lest-we-forget.html
> "His Wife's Lifebelt." 
Manchester Guardian
, Monday, 10 May 1915, page 8.