George Hook Third Class Passenger Saved
Image:  

New York Times

, Sunday, 30 May 1915.
Born
George Hook c. 1868
Died
August 1963 (age 94) Williamstown, Victoria, Australia
Age on Lusitania
47
Traveling with
- Elsie Hook (daughter) - Frank Hook (son) - Annie Marsh (housekeeper) -Thomas Marsh (Annie's husband) - Thomas Marsh, Jr. (Annie's child)
Citizenship
British
Residence
Toronto, Ontario, Canada
George Hook, 47, was a widower from England living in Toronto, Ontario, Canada with his children,
Elsie
and
Frank Hook
. They were moving to England after the death of Mrs. Hook and booked
Lusitania
. During the sinking, Frank was separated from George and Elsie, but they were later reunited in Queenstown, Ireland. The entire family was saved. George Hook had lived in Toronto with his wife and children Elsie and Frank, where George worked at a metal plant. Elsie was tall for her age and extremely shy and Frank was described as small and adventurous. Mrs. Hook had died eighteen month previous to the Hook family's
Lusitania
crossing, and George decided that he should take his family to live in his native England.  He sold the family home and George took Elsie and Frank to New York City, where they stayed for a week.  Compared to Toronto, the Hooks found New York to be "noisy and dirty," but they were excited to sail on
Lusitania
, which they called "the big ship." The Hooks had originally planned to travel second cabin, but when George found out that their housekeeper,
Annie Marsh
and husband
Thomas
and son, also named
Thomas
were traveling third class on
Lusitania
, George decided, "we won't be separated — let's all travel together" and changed his family's ticket to third class.  Otherwise, third class passengers were not allowed to mix with the other classes, even though second cabin passengers were known to cross over into saloon accommodations. George had only paid half-fare for Elsie's ticket, even though she was a year over age.  As they boarded, George whispered to his daughter, "Duck down, Elsie!  Make yourself as small as possible." On board, the Hook family dined with the Marsh family, and made friends with
John Welsh
, an emigrant who was also returning to England, and
Gerda Neilson
, the woman whom he had met just before sailing. On Tuesday, 4 May, Frank won a race on board and won a badge.  On Friday, 7 May before lunch, Elsie was talking to some girls about flowers.  A young man who had listened in on the conversation said to Elsie, "Do you like flowers?  I've got some in my cabin.  I shall bring you a rose after lunch." Elsie, with George and Frank, proceeded to wait for the young man at the entrance to saloon class and second cabin.  At this time, a woman passenger insisted that Elsie post a letter for her.  Elsie didn't want to do it, but she relented and went to post the letter on D deck.  Elsie was on the staircase leading down to the third class dining room when the torpedo hit.  She felt the ship lurch and, not waiting to see the reaction of people in the room eating lunch, she ran back on deck to find her father and brother.  George and Frank ran to meet up with her. As the family reunited, Elsie saw a wad of dollars that someone had dropped on deck.  She grabbed them and showed them to her father, saying, "Look, Dad!" "Throw them away," George answered, "They may cost you your life." That was when young Elsie realized that they were truly in danger.  As they stood by the starboard rail, she held onto the rail and prayed for God to save them.  She then saw two elderly women holding onto each other and crying.  Elsie comforted them, saying, "Don't worry, God will save you." George told his children to stay away from the crowded lifeboats that were spilling their loads instead of lowering.  They would jump into the sea together.  In the water, Frank was separated from George and Elsie.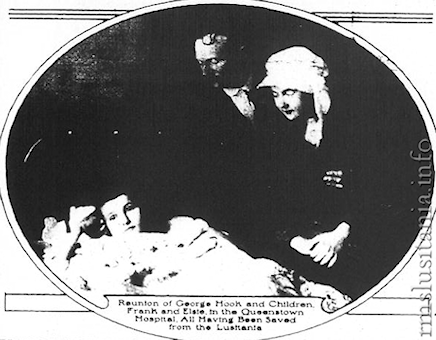 Image:  

New York Times

, Sunday, 30 May 1915.  Caption reads: "Reunion of George Hook, and children Frank and Elsie, in the Queenstown Hospital, All Having Been Saved from the Lusitania."
George and Elsie spent three days in Queenstown looking for Frank, even looking in the mortuaries for the young boy's body.  To their relief, they found Frank in the Queenstown hospital, where he was being treated for a broken leg.  A falling lifeboat had broken Frank's left thigh, and he assumed that George and Elsie had drowned.  A fellow survivor from Leeds had offered to adopt Frank and take care of him for the rest of his life, which thankfully, was not necessary. In 1925, Frank moved to Australia and brought his sister and father with him.  They lived out the rest of their lives in Australia.  George Hook passed away in August of 1963 in Williamstown, Victoria, Australia at the age of 94.
Contributors:
Michael Poirier Judith Tavares
References:
Hickey, Des and Gus Smith.  
Seven Days to Disaster
, pages 36, 93, 126, 178, 218-9, 228, 270.  G. P. Putnam's Sons, 1981. Preston, Diana.  
Lusitania:  An Epic Tragedy
.  Berkley Books, 2002.