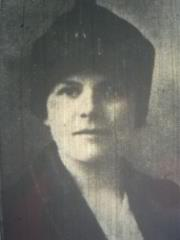 Image courtesy
Small Town, Big War. Hucknall 1914 - 1918
. Queenie Benjamin, 30, was from Newark, Nottinghamshire, England returning home from either Roland, Oklahoma or Roland Park, Maryland, United States, aboard the
Lusitania
. The following is her account from the
Newark Advertiser & South Notts Gazette
, 12 May 1915.
I had just gone to my cabin when the boat was struck. I went to switch on the light, but there was not response, and I thought I had damaged something. I heard a terrible commotion and ran up on dock, and went to the high side of the vessel. When the order was given we all got into the boats, and somebody yelled to cut the boats away. It was a good job this was not done, or the boats would have dropped 30 feet into the water, and we should have all been smashed up. The vessel seemed to be floating all right, but at a list, and well all got out of the lifeboat again. No doubt she would have all been then, but another torpedo struck us. In a second I scrambled back into the lifeboat, and others came on the top of me. In a very little while the vessel went down with the lifeboat fastened to it, and I went down in the lifeboat, with somebody holding me down. I shut my eyes and wondered if I should be drowned, and presently I came to the top of the water. Chairs and trunks and all manner of things had been thrown overboard as rafts, and I clung to something which kept me afloat. I could see a boat, but between us were numerous packing cases, trunks, and things floating. I shouted to a man in the boat. 'Do you mind picking me up, as I can't swim?' He replied: 'Hold on, girlie, you're not dead yet.' Eventually they got to me, and pulled me into the boat. The American in the boat said, 'You are a brick. Can't you swim?' I said I could not, and he replied: 'You are more than lucky.' I really think I was.
Contributors:
Michael Poirier, USA Trevor Powell, USA
References:
"Queenie Benjamin: Lusitania Survivor, 7th May 1915."
Small Town, Great War. Hucknall 1914 - 1918
. Online. <
http://www.facebook.com/notes/small-town-great-war-hucknall-1914-1918/queenie-benjamin-lusitania-survivor-7th-may-1915/285885104763567
>