Charles Gouder, image courtesy British National Archives/Michael Poirier. Charles Gouder (1889 - 1970), 26, was a waiter aboard the
Lusitania
's last voyage. He survived. Gouder was born on 5 March 1889 in Malta, then a British territory. The final trip of the
Lusitania
was his first aboard that ship as a waiter. He recalled the warnings he heard in New York about the Germans planning to sink the ship, but few people took the warning seriously. On 7 May, he had just finished serving lunch and gone to the top deck when the torpedo struck the ship. The following is an excerpt of his account of the sinking:
I was with a mate eating ice cream when we suddenly heard somebody shout, "Look a torpedo," and I heard a bang.
From later in his account:
People have talked about there being two torpedoes but I only heard one explosion. The stewards weren't told she was carrying ammunition.
Gouder's account mentions people running about and screaming and a rush to the lifeboats. He managed to get into a lifeboat, but as it was lowered, one of the ropes became jammed and the lifeboat tipped up.
We had to cling on to the seats like monkeys to stop ourselves falling into the sea and when the line was cleared, the boat crashed into the water. Even then, it didn't float away. It was attached to the ship by a mooring rope and we found ourselves close to the propellor [sic]. The engines had more or less stopped by the screw was still turning and hitting our boat so I took off my shoes and socks and jumped into the sea.
Gouder recalled the
Lusitania
listing to starboard and then recovering to an even keel. He thought that the ship might float and swam back to the liner. He grabbed onto a rope but was too weak to climb over the rail, so he fell back into the water.
It was a terrible sight. People were dying all around me but there were so many that you couldn't really give help. I came across two ladies clinging on to a plank of wood and I managed to paddle it over to an upturned boat. I looked back at the Lusitania and saw people running up the deck as she went down and I turned my face away in horror. When I glanced again, she had gone.
Gouder and a number of other survivors clung to the overturned boat until they were rescued. When he landed in Queenstown, he only had the shirt and trousers he was wearing. Gouder had been so shaken up by the
Lusitania
sinking that he did not return to sea for 6 months.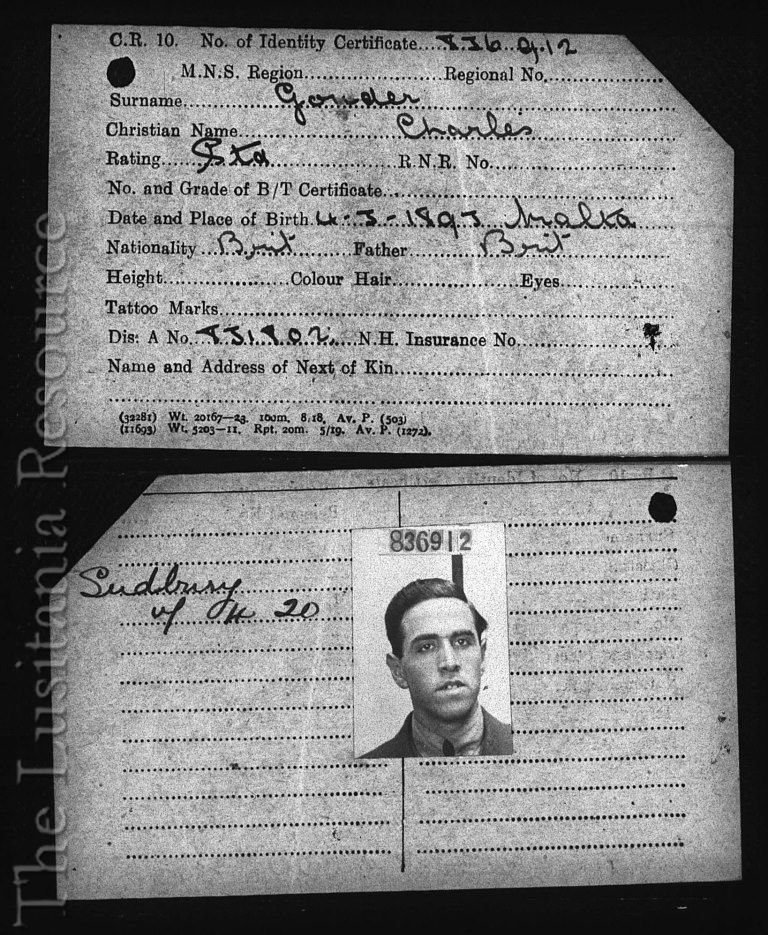 Charles Gouder's identity certficate. Image credit: British National Archives/Michael Poirier
In his later years, Gouder saw a documentary about the sinking of the
Lusitania
by Granada Television and was deeply moved. The newspaper reported his reaction was "shocked" and that he had "tears in his eyes". Gouder reflected upon how lucky he was to have been on the top decks and to have known how to swim. He settled in Gillingham, Kent, England and died at the St. Williams Hospital in Rochester, England on 9 May 1970. He was 82 years of age.
Contributors:
Loren O'Neill (grandson of Charles Gouder), UK Michael Poirier, USA