Joseph Wynne
, worked with him in the
Lusitania
's galley (kitchen). Wynne was in the vegetable locker when the
Lusitania
was torpedoed. He found his father Joseph, but they separated when Joseph went to find a lifejacket for George. A man told George to enter lifeboat 14, which filled with water and swamped. George was saved by the
Indian Empire
. When he reached Queenstown, he did not want his family to worry and telegraphed them saying that both he and his father were safe. He later realized that his father was not among the rescued.
Youth and employment
---
George Wynne was the son of Joseph Wynne, and the family lived on Oakes Street in Liverpool, England, near the Lime Street Station. George had five siblings. When George was much younger, he would visit the city's busy docks to look at the great ships that came in. He wanted to work aboard a ship. One of George's first jobs was working for a catering firm for half-a-crown a week. Wynne was friends with
Lusitania
's second cook, Charlie Westbury, who helped George find a job aboard
Lusitania
. George's father, Joseph, was unemployed at the time, so Westbury also found a job for Joseph in the
Lusitania
's kitchens as well. George's mother would have preferred that Joseph take a job on land but did not object as both father and son were working together. George's working hours were from 6 a.m. to 10 p.m. with a two-hour break in the afternoon. His work uniform was a singlet and regulation trousers. He earned $18 a week and sent $2.50 to his mother as remittances. George found working in the kitchen fascinating and wanted to become a chef. He peeled vegetables in the first class kitchen and thought it to be a more dignified job than working in second cabin or third class. Working in the kitchens, the Wynnes were far removed from the other happenings aboard the ship. The
Lusitania
's last crossing was to be the close of George's sixth round trip aboard the ship and Joseph's first. Joseph's new job made him homesick, and George was around to cheer him up by talking about football and how soon they would be back in Liverpool. Homesick, Joseph had not been impressed by the
Lusitania
and talked of finding a job on land when they reached home.
Torpedoed
---
On the day of the disaster, 7 May, George Wynne was preparing Jerusalem artichokes for dinner with another assistant cook, looking forward to Liverpool. George Wynne was in the vegetable locker when the torpedo struck
Lusitania
. He heard someone shout, "We've been hit!" while a young assistant cook shouted, "We've had it!" George ran down the alleyway to go through the kitchen. He heard the pots and pans fall from the stove and to the floor in a clatter as he exited the kitchen . His first thought was to find his father Joseph. He made his way aft on C deck to one of the crew areas and found his father there. George had seen a young crew member run by, shouting, "Get out! We're lost!" George and Joseph went onto the port side boat deck to see what to do when his father realized George could not swim. Joseph Wynne told his son to stay put while he went back to the crew's quarters to get a lifebelt and they separated. Joseph had not returned. George Wynne was still standing by the rail when a man told him that it was no use waiting for anyone with the ship ready to sink and urged him to jump into a lowering lifeboat which he did. That lifeboat was boat 14. The lifeboat was lowered suddenly but reached the water safely. However, the boat started leaking as soon as it reached the sea, probably because the plug had not been put into the bottom of the boat. The people inside started bailing out the water with hats and shoes. George Wynne tried his best to bail with his flimsy slippers. The sides of the boat were soon flush with water, and lifeboat 14 capsized, throwing everyone inside into the water, and then righted itself. George Wynne clung to one of the lifelines before he hauled himself in only to have the boat turn over again. Eventually he lost conciousness. George Wynne awoke aboard the
Indian Empire
. He was told that when his rescuers found him, he had been tied to wreckage. He later was told that the man who placed him on the wreckage was
Sixth Engineer Dunn
. Wynne had hoped to find his father on the ship, but he was not there. George continued looking for his father in Queenstown, Ireland, but could not find him. He was trembling and had to ask another crew member to write a telegram to his mother in Liverpool: BOTH SAVED. HOME LATER. He could not bring himself to tell his mother, who was raising six children, that Joseph had gone down with the ship. George arrived in Liverpool's Lime Street Station where he saw his mother in the crowd, holding his youngest sibling. Unable to confront her about the truth, he ducked through the crowd and crossed over to St. George's Hall. He sat on the steps until a priest he knew came by. Then, George spilled out the entire story. "Come along home, George." The priest told him reassuringly, "We'll both tell your mother what happened."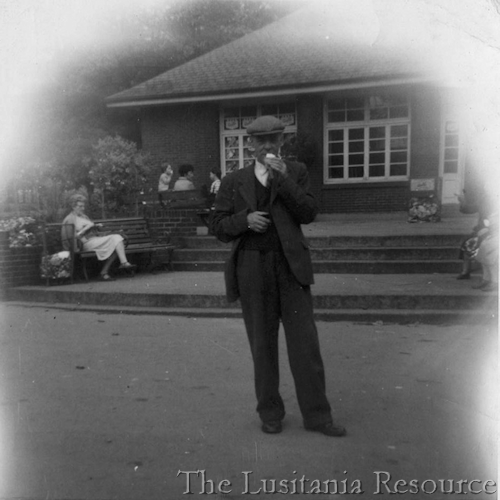 George Wynne in later years. Image:  James Wynne Collection.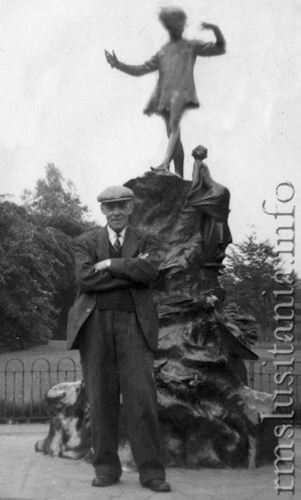 George Wynne in later years. Image:  James Wynne Collection.
George retired to a sailors' home in suburban Liverpool the 1970s. By his bedside, he kept a photograph of his father and another of himself with a black armband, taken the day after he returned from Queenstown.
Contributors
James Wynne (grandson of George Wynne) Michael Poirier
References
Hickey, Des and Gus Smith.  
Seven Days to Disaster
, pages 52-3, 101, 171, 195, 230, 241, 249, 259, 260, 274-5, 314-5.  G. P. Putnam's Sons, 1981. Poirier, Michael.  "The Tale of Boat Fourteen." Preston, Diana.  
Lusitania:  An Epic Tragedy
, pages 124-5, 200, 210, 239, 256, 265, 274, 282, 288-9.  Berkley Books, 2002.