Martha King Second Cabin Passenger Lost
Martha King. Image courtesy Jim Alberico
Born
Martha Frances Stevens 29 November 1856 Bicester, Oxfordshire, England, United Kingdom
Died
7 May 1915 RMS Lusitania At sea
Age on

Lusitania

58
Body
7 (Queenstown)
Interred
Old Church Cemetery Grave #602 Queenstown (present-day Cobh), Co. Cork, Ireland
Citizenship
British (English)
Residence
Lockport, Illinois, United States
Other name(s)
Frances King
Spouse(s)
William King (? - 1915, her death)
Martha King (1856 - 1915), 58, was a British subject living in Lockport, Illinois, United States.  She was married to Reverend William Edward King of the Lockport First Congregational Church. Martha was lost in the 
Lusitania
disaster.  Her body was recovered, #7 by Queenstown.  Per list of interments in Queenstown (now Cobh), Ireland, Mrs. Martha Frances King was buried in grave #602. There is some confusion over whether Martha's body was returned to New York aboard the 
Lapland
on 31 May 1915 and mistakenly interred in Lockport, New York, United States, or whether her body is still interred in Ireland, but it seems most likely that Martha's body is still in Ireland.
Biography
---
Martha Frances Stevens was born on 29 Nov 1856 in Bicester, Oxfordshire, England. She was the daughter of  William Stevens (1827 - 1863) and Ann Elizabeth Hall (1830 - 1862). Both of her parents were apparently born and died in Bicester. She was married to William Edward King, who was born on 4 Aug 1859 in Knaresborough, Yorkshire, England, to Robert King (1817 - 1883) and Ann Peacock (1822 - 1881).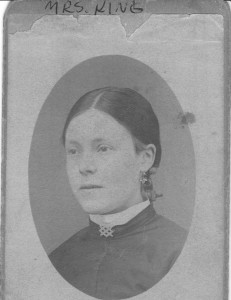 Young Martha. Image courtesy Jim Alberico.
Martha and William had eight children: Joseph Francis William "Frank" King (1885 - 1916), who would later be killed in World War I; Sydney King (1888 - 1962), who would survive the war as a prisoner of war; Percy King (1890 - 1901); Ida Mildred King (1893 - 1987); Dorothy Frances King (1894 - 1978); William Francis "Bill" King (1898 - 1951); and Raymond S. King (1899 - 1968). Martha and William's  last known residence in Britain before arriving in to the United States via Quebec, Canada, was in Bradford, Yorkshire, England. They then lived in Superior, Wisconsin, USA for two years before ultimately moving to Lockport, Illinois, USA in 1910. Martha King consequently booked a second cabin passage on board the
Lusitania
for her return to England and having left Lockport by rail, she joined the liner at Pier 54 in New York harbor on the morning of 1st May 1915, but lost her life just six days later, when the liner was torpedoed and sunk, within sight of the coast of southern Ireland.  She was aged 58 years.
Her body was one of the first to be recovered from the sea, however and it was originally given the reference number 7.  It was then positively identified by her son (acknowledged in Cunard records only as Mr. S. King, most likely her son Sydney), in a mortuary at Queenstown.  Five days after the disaster, on 10 May 1915, Martha was buried in private grave Row 18 Grave 27, in The Old Church Cemetery, Queenstown, County Cork.  There is no sign of a headstone over the grave today, nor does it look as if it ever had one.
Property recovered from her body, was handed over to Sydney King at Queenstown and another son was also present at the time.  This was probably a son who lived at Winslow, Northamptonshire, for in

The Northampton Mercury

for 14 May 1915, it was stated:
Mrs. King, a sister of Mr. W.H. Stevens, the well-known clothier of Winslow, was a passenger on the Lusitania, and was on her way to pay a visit to her son who

on Friday

morning left Winslow for Liverpool to meet his mother.  There was a pathetic sequel to this journey, as his mother was not amongst the survivors and he subsequently went to Queenstown  and identified his mother's body.
An inquest on Mrs. King's death was held at Queenstown on Saturday, 15 May 1915 and the verdict of the jury was: -
She was wilfully and unlawfully drowned by the crew of a German submarine on the high seas.
The Jury also concluded that this act was most atrocious murder and further found that the ship was unarmed and expressed entire abhorrence of:
.... the cowardly, unnatural and un-Christianlike conduct which prompted the perpetration of this abominable attack on non-combatant men, women and children, citizens of so many neutral and other nationalities of the world.
In a brief article in

The Wallasey and Wirral Journal

for Saturday 15 May 1915, it was also stated: -
Mrs. King ..... left Seacombe for the United States some years ago, and was returning to, the Homeland on a visit to her son who lives in Wallasey.  As soon as the latter heard of the disaster, he went over to Kinsale.  Mrs. King was amongst those rescued but she was so terribly exhausted by the affects of shock and immersion that she passed away in her son's arms a short time after he reached her.
This account does not seem likely however, in view of all the other versions of her story published at the time!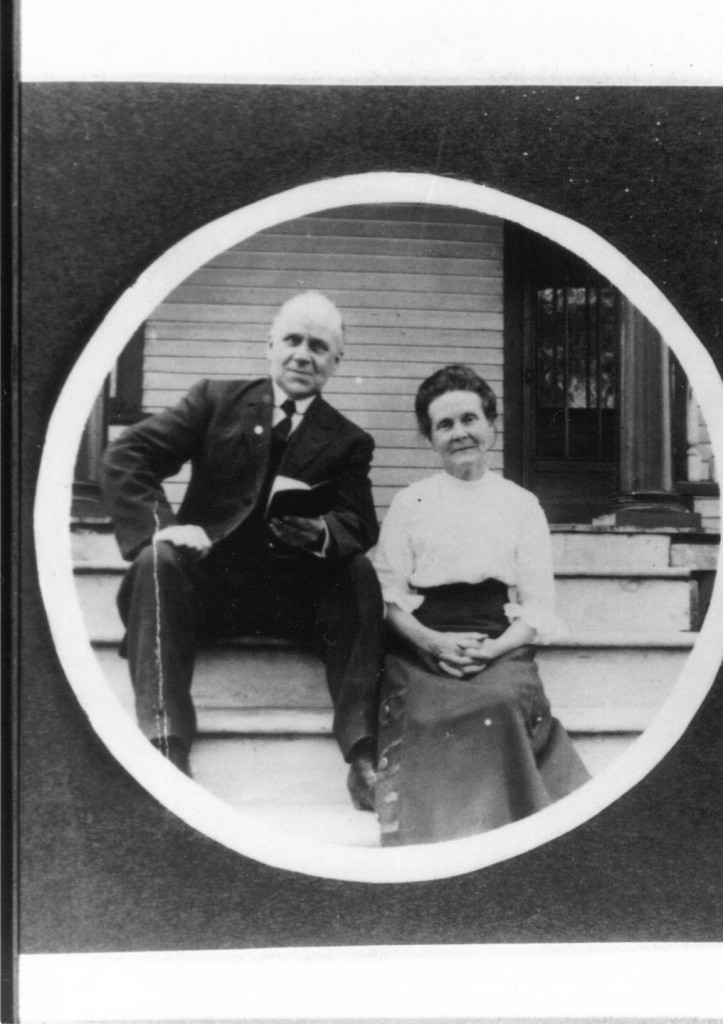 Martha and her husband William King. Image courtesy Jim Alberico
128180 Gunner Joseph Francis William King was killed in action on 17th December 1916 whilst serving with the Royal Garrison Artillery. Second Lieutenant Sydney King, one of the sons who identified her body and received her property at Queenstown, was captured while serving with the Hertfordshire Regiment in the Ypres Salient on 31st July 1917, the opening day of the Battle of Passchendaele, and survived the war as a POW.
 Sydney lived in Wallasey,  Cheshire, England at time of his death.  A 1961 address is reported as 67 Withens Lane.  He never married. Frank King married Florence S. Harris (1886 - 1925).  They had one daughter Ethel Frances King (1915-1973). Ethel Frances King married George Phillips, born circa 1915 death date unknown but reported as London. Together they had one son, Graham Phillips, born circa 1950, reported in London and also reported as living. Martha's widower, William King, died circa 1935 in Seattle, Washington, USA.
Contributors
Drew Ahrens Jim Alberico (great-grandson of Martha King), USA Peter Kelly, Ireland Eric Sauder, USA Judith Tavares