Lusitania
 sinking. She was the daughter of Thomas Doyle and Mary Doyle (nee Duffy). She also had a brother, Patrick, who was fighting on the Western Front. Within an hour of learning of his daughter's passing, Thomas also learned that his son had been admitted to army hospital, suffering from exposure to poison gas.
Biography
---
Anne "Annie" Doyle was born in Killaskillen, County Meath, Ireland, on the 13 January 1883, the daughter of Thomas and Mary Doyle (nee Duffy).  Her father was a blacksmith and coach smith by trade. Thomas and Mary had married in Mullingar, County Westmeath, on the 23rd of November 1879, it being Mary's hometown. Their first-born, Patrick, was born in that town on the 10th of October 1880. At some point between 1880 and 1883 the young family had moved to the neighbouring county of Meath, where Thomas was originally from. It was here that Anne was born. They seem to have moved back to Mullingar shortly thereafter, for, tragically, Mary Doyle passed away after a three month long illness on the 11th of December 1885 at the age of 27. Thomas was now left on his own to rear two young motherless children – five and two. Unable to cope, he passed them into the care of his late wife's parents, John and Anne Duffy. Thomas himself appears to have left Mullingar and taken up residence in the town of Ballinasloe, County Galway, for it was here that he married a local woman, Ellen Doyle, on 27th of September 1894. He and his second wife went on to have three children of their own – Mary, Thomas and Ellen. Meanwhile, back in Mullingar, Patrick and Anne remained in the good care of their grandparents and then later their uncles and aunts. A family photo, taken circa 1890, show Patrick and Anne to have been well-dressed and well-nourished children, albeit with sullen expressions. The experience of losing their mother and being left in the care of their grandparents while their father moved away to start a second family can only be imagined.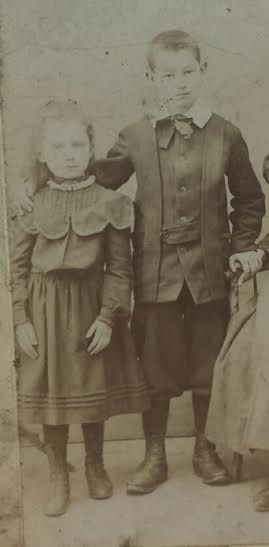 Annie and her brother Patrick, circa 1890.
Thomas and his second family appeared to have moved back to live in Mullingar between 1897 and 1899, when his second child was born in the town. Thomas continued to work as a coach smith at this time, where he worked at P.J. Carey's, Harbour Street. The children of his first marriage were now entering their late teenage years. Whether there was a fractious relationship between them and their father is unknown but, on the 26th of October 1900, Patrick had signed-up as a recruit with the Royal Dublin Fusiliers, a job which would take him abroad for many years. Within a year he was serving with the British army in South Africa during the Boer War. Then, during the peacetime years between 1902 and 1908, he was variably posted at British army garrisons in Malta, Cyprus and Egypt. Patrick returned to civilian life as a reservist between 1908 and 1912. During that time, he lived in his hometown of Mullingar, working as a labourer and residing at his uncle Michael's household on Harbour Street. His father, Thomas, continued to live with his second family just a five minute walk away, on Blackhall Street. He was actually employed by one P.J. Carey's coach-building establishment on Harbour Street, the same street that Patrick lived on. Whether father and son were on good terms is unknown but it is likely they were for Patrick repeatedly named his father as next-of-kin in his army documents. Patrick would later return to active military service in April 1912. Upon Patrick's initial enlistment in 1900, his younger sister, Anne, appears to have followed suit in leaving Mullingar for she doesn't appear in the town in the 1901 Census. It would appear that she moved to Dublin along with some members of the Duffy family and whilst there, took up the position of shop assistant. She next appears on the 29th of March 1906 when she is recorded boarding the White Star Liner
Baltic
at Queenstown (now Cobh), County Cork, as a third class passenger. Together with her Mullingar cousin, Anne Duffy, she had taken the decision to seek her fortunes in the United States. On the passenger list the girls record themselves as both being 23 years old, with Doyle's occupation recorded as a shop assistant and Duffy recorded as a dressmaker. The
Baltic
's captain on this voyage was none other than E.J. Smith, of
Titanic
fame. When
Baltic
docked in New York a week later, on 6th of April 1906, the girls were landed at Ellis Island for processing. The records there tell us that Anne Doyle's last address was Dublin, Ireland. Her intended address in the United States was with her aunt, Kate McEvoy, a domestic servant of the Gilford family, living at 473 Lexington Avenue, New York. Anne Doyle is recorded as having $35 in her pocket whereas her cousin, Anne Duffy, had $45. Anne Duffy's last address is recorded as being Mullingar, County Westmeath. The girls were permitted entry into the United States. What happened to them after this remains a mystery. The family story is that Anne Doyle found a job working as a nurse or nanny to the children of a wealthy New York family.
Nine years later, Annie was still practicing her profession as a nurse or nanny in New York and decided to return home to Ireland. Whether this was just intended to be a visit or a permanent return to Ireland is unknown. Annie bought a third class ticket for herself from New York to Liverpool on Lusitania and joined the vessel at Pier 54, on the morning of 1st May 1915 in time for her scheduled 10.00 a.m. sailing. The ship's departure was delayed until 12:30 p.m. by the transference of passengers, some crew and cargo from the Anchor Liner Cameronia that the British Admiralty had requisitioned for use as a troop ship.
Six days out of New York on the afternoon of
7th May
, and within sight of the coast of southern Ireland, the
Lusitania
was torpedoed and sunk by the German submarine
U-20
.  At that time, she was only about 250 miles away from her Liverpool destination. Annie Doyle was killed in the disaster.  As her body was never recovered and identified afterwards, she has no known grave.  She was aged 32 years. Within an hour of hearing about the sinking, her father also learned that his son, Patrick, serving with the British Army on the Western Front, had been hospitalised having suffered injuries in a poison gas attack on 4 May. Following Annie's death, her parents applied for help from The
Lusitania
Relief Fund set up by The Lord Mayor of Liverpool and other local businessmen to give aid to those survivors or relatives of the dead from second or third class, who were experiencing financial difficulties as a result of the sinking.  It was thought at the time that saloon class passengers did not need this help. The awards committee made them a single payment of a mere £5-0s-0d., in respect of their daughter's loss.  At that time they were living in County Kerry. The war was to claim Annie's brother also, as 7275 Private Patrick Doyle, 1
st
Bn. Royal Dublin Fusiliers, having survived a poison gas attack on the 4 May 1915, died at a casualty clearing station near Dozinghem, Belgium, of shrapnel wounds to his right thigh and forearm on the 4
October 1917. He was 36 years of age and just six days short of his 37th birthday. He was subsequently interred in Dozinghem Military Cemetery. Thus ended the lives of two young and tragic siblings, victims of a global conflict which was unprecedented in its barbarity and destruction.
Contributors:
Richard Coplen, Ireland Peter Kelly, Ireland Senan Molony, Ireland
References:
Molony, Senan.
Lusitania: An Irish Tragedy
, pgs. 30-31. Mercier Press, 2004.