Charles Plamondon Saloon Passenger Lost
image credit:  

Daily Missoulian

, Monday, 17 May 1915.
Born
Charles Ambrose Plamondon 14 September 1856 Ottawa, Illinois, United States
Died
7 May 1915 (age 59) At sea
Age on Lusitania
59
Ticket number
20697
Cabin number
B 18
Traveling with
Mary Plamondon (wife)
Body Number
25
Interred
Calvary Cemetery, Evanston, Illinois, United States
Citizenship
United States
Residence
Chicago, Illinois, United States
Spouse(s)
Mary Letitia Mackin (1879 - 1915, their deaths)
Charles A. Plamondon (1856 - 1915), 59, of Chicago, Illinois was the President of Plamondon Manufacturing Company, makers of machinery.  He was traveling on 
Lusitania
with his wife, 
Mary Letitia Mackin
.  Both Charles and Mary Plamondon were lost in the sinking.
Life
---
Charles Plamondon was born on 14 September 1856 in Ottawa, Illinois, as the second of five children to French-Canadian steel producer Andrew Plamondon and his wife, Cecelia, who was of Irish heritage.  Charles's siblings were Emily, George, and Alfred Jenetta.  The Plamondons were a prominent and established family in Chicago society.  Their family home was destroyed by the Great Chicago Fire of 1871. Charles was a successful industrialist and manager in the steel industry and became the president of Plamondon Manufacturing Company, a nationally-established machine manufacturer.  Charles also served as vice-president of the Chicago School System, and was a member of the Union League, Chicago Athletic Club, and the South Shore Country Club. Charles married Mary Letitia Mackin on 6 May 1879.  The Plamondon's home address was 1344 Aster Street, Chicago.  They had five children:  Charles Ambrose Plamondon, Jr., Harold Mackin Plamondon, Blanche Plamondon (later Mrs. John Henry Smith of Newark, New Jersey), Charlotte E. Plamondon (Mrs. Allen B. Ripley), and Marie Plamondon.
Lusitania
---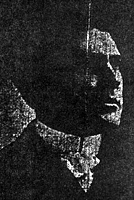 image credit:  

Providence Journal

, Monday 10 May 1915.
On 1 May 1915, Charles and Mary Plamondon boarded 
Lusitania
.  Charles was traveling on business to London, Manchester, and Dublin.  Mary did not want Charles to go alone and booked passage to cross with him.  Also traveling with them would be actress Winifred Arthur Jones, the daughter of playwright Henry Arthur Jones.  She cancelled just before the ship sailed.  None of Charles and Mary's children traveled with them on board 
Lusitania
. Newsreel footage of 
Lusitania
's last departure show Charles and Mary Plamondon at the pier, arriving in a taxi and paying for their ride. The couple celebrated their 36th wedding anniversary, 6 May 1915, while on board 
Lusitania
.  Charles kept a pocket diary during the voyage, with notation such as, "Thursday, May 6, 
Lusitania
, 488 miles:  Pleasant weather, sunshine all day.  Evening concert for sailors' and seamen's homes."  He also noted seeing the Irish coast from 
Lusitania
around 11 a.m., although the ship actually approached the coat at about noon.  This confusion may have come from the setting of the clocks one hour ahead each day. Both Charles and his wife Mary were lost in the sinking.  Their remains were washed up on the Irish coast, blackened with coal dust, suggesting that they had been sucked into one of the funnels.  Both bodies were recovered and identified. The bodies arrived back in New York on Monday, 24 May 1915 aboard the ocean liner
New York
.
Family
---
Their daughter Charlotte and niece Emily survived the Iroquois Theater fire of Chicago in 1903.  More than 600 people were killed, but they were fortunate to suffer only slight smoke inhalation. Charles' cousin Edwin K. Plamondon, the department manager of the Western Electric Company, was on board the excursion ship SS 
Eastland
in July 1915 with his wife Susan Byrne Plamondon and his daughters Marie and Irene, when the boat capsized and killed 800 people.  Susan was among the lost.
Related pages
---
Charles and Mary Plamondon at the Mixed Claims Commission
Contributors:
Judith Tavares
References:
"Charles Plamondon," 
Wikipedia: Die freie Enzyklopädie
.  <
http://de.wikipedia.org/wiki/Charles_Plamondon
> (German)
Daily Missoulian
, Monday, 17 May 1915. Hickey, Des and Gus Smith.  
Seven Days to Disaster
.  G. P. Putnam's Sons, 1981. Hoehling, A. A. and Mary Hoehling.  
The Last Voyage of the Lusitania
.  Madison Books, 1956.
Providence Journal
, Monday 10 May 1915.