Elbert Hubbard Saloon Passenger Lost
image:  

New York Times

, Sunday, 16 May 1915.
Born
Elbert Green Hubbard 19 June 1856 Bloomington, Illinois, United States
Died
7 May 1915 (age 58) At sea
Age on Lusitania
58
Ticket number
46096
Cabin number
B 70
Traveling with
Alice Hubbard (wife)
Body number
Not recovered or identified
Occupation
Writer
Citizenship
United States
Residence
East Aurora, New York, United States
Other name(s)
none
Spouse(s)
- Bertha Crawford (1881 - 1903, divorced) - Alice Moore (1904 - 1915, their deaths)
Elbert Hubbard (1856 - 1915), 58, was a famous writer and founder of the Roycrofters going abroad on the RMS
Lusitania
to Germany to interview Kaiser Wilhelm II. He was accompanied by his wife,
Alice Hubbard
. During the voyage, Elbert was interviewed by Canadian journalist
Ernest Cowper
. Elbert stated that he would go down with the ship if the
Lusitania
were torpedoed. The ship was torpedoed, and Alice willingly went down with the ship with him, despite the efforts of others to convince them to save themselves. Elbert and Alice Hubbard were lost in the
Lusitania
sinking. Both of their bodies were never recovered or identified.
Early life
---
Elbert Hubbard, 58, was born in Bloomington, Illinois, United States on 19 June 1856.  He was the only surviving son of Dr. Silas and Francis Read Hubbard.  Although Silas Hubbard was a doctor, his living came by farming.  As a nine-year-old, he remembered the Union soldiers in the Civil War singing "Old Mother Hubbard" when they saw the sign "Dr. Hubbard, Physician and Surgeon." As a youth, Hubbard worked as a cub reporter in Chicago.  Elbert became the junior partner in a Buffalo soap-making factory in 1875 and his innovation of direct mail marketing brought him enough money to sell out.
The Roycrofters
---
In 1881 Elbert married Bertha Crawford.  Bertha was of a prominent Illinois family and together they moved to East Aurora, New York, and had four children.  Hubbard became the leader of the local arts community there and became known as "The Sage of East Aurora" and "Fra Elbertus."  The arts community became so renowned that it became a tourist destination. Roycroft Press opened under Hubbard's leadership, publishing deluxe editions of classic literature as well as providing furniture, metalwork, stained glass, and leather goods.  Hubbard also marketed himself as a popular philospher, advocating individuality and positive thinking while disparaging formal education.  Also a writer, Hubbard published a ten-page pamphlet in 1899 entitled, 
A Message to Garcia
.  That pamphlet argued for employers in the United States labor relations and sold about 45 million copies.  That same year, Hubbard received an Honorary Master of Arts from Tufts College in Medford, Massachusetts.
Scandal
---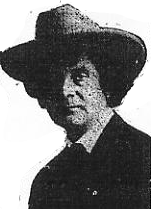 image:

Cleveland Plain Dealer

, Saturday, 8 May 1915.
An ugly divorce ensued in 1903 as Elbert had been having an affair with 
Alice Moore
, a teacher at East Aurora Academy, resulting in a daughter, Miriam, in 1894.  Elbert complained that Bertha was boring and that "Great men often marry commonplace women."  Bertha retained custody of two of their children.  Alice and Elbert finally married the following year and together they argued for liberal divorce laws, feminism, and women's rights.  With the scandal that followed after the divorce, Hubbard carved another motto over the Roycrofters Inn, "They Will Talk Anyway."  He held strong convictions of moral rectitude, faith in a Supreme Being (although he was an agnostic), and no fear of death. Elbert Hubbard pleaded guilty in 1913 to misusing the postal service to send "filthy" material.  Among the materials cited was a joke that by today's standards would be considered quite tame:
The bride of a year entered a drugstore.  The clerk approached.  "Do you exchange goods?," she asked.  "Oh, Certainly!  If anything you buy here is not satisfactory we will exchange it."  "Well," was the reply; "here is one of those whirling-spray [contraceptive] affairs I bought of you, and if you please, I want you to take it back and give me a bottle of Mellin's [baby] Food, instead."  And outside the storm raged piteously, and the across the moor a jay-bird called to his mate, "Cuckoo, cuckoo!"
Hubbard was fined $100 and was deprived of his rights of citizenship.  In order to secure a United States passport, the world-renowned Hubbard took the strange step of seeking President Wilson's pardon; Hubbard was rejected on the grounds that his application was premature.  After war broke out Hubbard appealed to Wilson's secretary, Joe Tumulty, that Hubbard had to go to Europe to cover the war.  Wilson granted the pardon at once. Among Hubbard's writings that covered the war were published in 
The Philistine
, a "periodical of protest."  Elbert himself favored the Allies and in October 1914, 
The Philistine
 published "Who Lifted the Lid Off Hell?"  The article did not look upon the activities of Germany's "Bill Kaiser" too kindly, stating, "he has a shrunken soul, and a mind that reeks with egomania . . ..  He is swollen, like a drowned pup, with a pride that stinks . . ..  Caligula, the royal pagan pervert, was kind compared to the kaiser."
Lusitania
---
In order to accomplish his business of covering the war, Elbert Hubbard and his wife Alice booked passage on the 
Lusitania
.  Part of his assignment was to interview Kaiser Wilhelm whom Hubbard had disparaged.  Hubbard mused to his friends if "Bill Kaiser" would give him a welcome reception after reading his words.  On the day of the sailing, Hubbard dismissed the German warning not as a threat but as a personal challenge.  While munching on an apple in the 
Lusitania
's stateroom B-70 he told reporters:
"I used to be on friendly terms with the Kaiser, but I don't know how I stand with him now, for you know I have written some things that he may not have liked . . . if I get through safely and the German Emperor won't see me in Berlin, I'll be patient a while and see him later in St. Helena."
In any case, when packing for their trip abroad, the Elbert packed copies of his essay to distribute to fellow passengers.  Hubbard when on to say:
"Speaking from a strictly personal point of view, I would not mind if they did sink the ship.  It might be a good thing for me.  I would drown with her, and that's about the only way I could succeed in my ambition to get into the Hall of Fame.  I'd be a regular hero and go right to the bottom."
Barring accidents, Hubbard claimed that he would live to be a hundred.  "There are only two respectable ways to die," he said, "One is of old age, the other is by accident.  All disease is indecent." This was also the same man who three years previously had said of Isador Straus, co-owner of Macy's Department Store, and his wife Ida, that their refusal to be parted while on the decks of the sinking
Titanic
 and subsequent deaths was "a glorious privilege."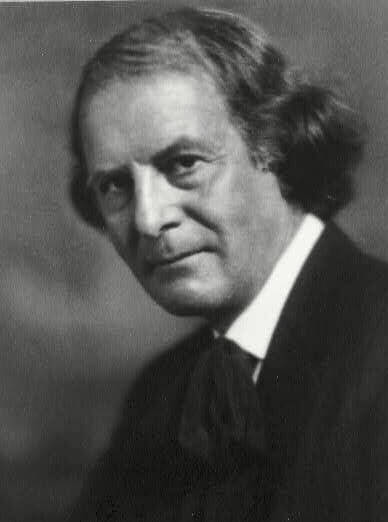 Elbert Hubbard in 1914.  Image Courtesy Randy Bryan Bigham/Library of Congress. Click on image for full size.
During the 
Lusitania
's last voyage, a reporter for the Canadian magazine 
Jack Canuck
, 
Ernest Cowper
, came over from second cabin to interview the "Fra."  Hubbard called Cowper "Jack" after the title of the publication Cowper was writing for and the two became fast friends. Hubbard told Cowper about his plan to recreate the voyage for his magazine, 
The Philistine
, by cabling his 
Lusitania Diary
 from London.  Ernest filled pages and pages of his notebook with quotes from the sage, including Hubbard's thoughts on the possibilty of the 
Lusitania
 being torpedoed, of which Hubbard was sure would not happen.  When pressed why Hubbard believed so, the sage answered, "The Germans have done some darned bad things since the war started, but I don't believe they're all that bad."
"We would like to go gracefully"
---
On Friday, 7 May, Elbert and Alice Hubbard were by the port side saloon class entrance, chatting with 
Charles Lauriat
.  Earlier in the voyage, Elbert Hubbard had lent Charles a copy of "Who Lifted the Lid Off Hell?"  Hubbard asked, "Do you really think I'll be a welcome visitor in Germany?" Hubbard had barely finished speaking when they felt a muffled impact, and "the good ship trembled for a moment under the force of the blow."  They turned to see where the sound was coming from and saw a "smoke and cinders flying up in the air on the starboard side."  A second explosion soon followed. Lauriat suggested to the Hubbards that they go back to their portside B Deck cabin and retrieve their lifebelts.  Alice Hubbard could not swim and seemed to be too stunned at what had happened to move.  To Lauriat's surprise, the Hubbards did nothing.  Elbert "stayed by the rail affectionately holding his arm around his wife's waist." "Stay here if you wish," Lauriat told them, "I'll fetch some life-jackets for you." Lauriat went below to fetch lifebelts for the Hubbards and himself, but when he came back he found that the Hubbards were gone.  Lauriat searched for the couple over a dozen times and could not believe that they had just vanished into thin air.  
Archie Donald
 saw the Hubbards refuse a place in the lifeboats.  Elbert remarked, "What is to be, is to be." Ernest Cowper, on his way to save 6-year-old
Helen Smith
, passed Elbert and Alice Hubbard.  Elbert said, "Well, Jack, they have got us. They are a damn sight worse than I ever thought they were." Cowper asked, "What are you going to do?" Elbert shook his head.  Alice just smiled and replied, "There does not seem to be anything to do." Cowper was then taken by surprise when he saw Elbert and Alice retreat into a room on the Boat Deck and close the door behind them.  Cowper surmised that the Hubbards planned to die together and did not want to be parted in the water.  In his writings, Elbert had once philosophized, "We are here now, some day we shall go.  And when we go we would like to go gracefully." True to his word, Elbert Hubbard and his wife became regular heroes and went down with the 
Lusitania
.  Their bodies, if recovered, were never identified. Flags flew half-mast in East Aurora, where Elbert's son Bert assured the Roycrofters, "My father's not dead, nor Alice Hubbard.  The news they are is false.  They must have been saved." Bert then called his newspaper friend Arthur Brisbane to inquire of further news, but the news was not encouraging.  Charles Hill thought that he had seen Elbert and Alice in his lifeboat, either #14 or #16, which subequently dumped much of its complement into the sea.  Barber Lott Gadd, also in the same boat, disagreed.  Someone else claimed that Hubbard tried to cling onto a steel drum after the ship sank, another said that the Sage had been trapped under a funnel.  Bellboy Robert Clarke thought he had seen the author killed by wreckage and was "pretty well smashed up."
The last word
---
Those in East Aurora mourned bitterly that the Kaiser had the last say, after all.  Many were convinced that the 
Lusitania
 had been torpedoed specifically because of Hubbard's presence on board.  Three thousand attended Hubbard's memorial service in East Aurora. Fellow 
Lusitania
 passenger 
Theodate Pope
 would claim that in séances following the disaster, the spirit of Elbert Hubbard accompanied 
Edwin Friend
 with witty remarks. A year after the loss of the 
Lusitania
, Ernest wrote a tribute to Elbert Hubbard, which can be found online in the first link under "Links of interest."
Related pages
---
Elbert and Alice Hubbard at the Mixed Claims Commission
Links of interest
---
Ernest Cowper's Tribute to Elbert Hubbard
A Message to Garcia, by Elbert Hubbard
Elbert Hubbard at Wikipedia
Roycroft Organization
Roycroft Inn, East Aurora
Roycrofters At Large Association
---
Contributors:
William Graham Michael Poirier Judith Tavares
References:
Hickey, Des and Gus Smith.  
Seven Days to Disaster
.  G. P. Putnam's Sons, 1981. Hoehling, A. A. and Mary Hoehling.  
The Last Voyage of the Lusitania
.  Madison Books, 1956.
The New York Times
, Saturday, May 8, 1915, Page 5. Preston, Diana.  
Lusitania:  An Epic Tragedy
.  Berkley Books, 2002.