Lothrop Withington Saloon Passenger Lost
The Boston Globe, Globe Pequot Press. Guilford, CT.  Courtesy Carole Lindsay.
Born
Lothrop Withington 31 January 1859 Newburyport, Massachusetts, United States
Died
7 May 1915 (age 56) At sea
Age on

Lusitania

56
Ticket number
1290
Cabin number
A 29
Traveling with
Charles Lauriat (friend)
Citizenship
United States
Residence
Newburyport, Massachusetts, United States
Spouse(s)
Carolyn Augusta Lloyd (? - ?)
Lothrop Withington (1859-1915), 56, was a genealogist from Newburyport, Massachusetts, United States, near Boston.  He was traveling aboard
Lusitania
with 
Charles Lauriat
.  Withington did not survive the
Lusitania
sinking, although Lauriat did.
Life
---
Withington was born on 31 January 1859.  He was the son of Mr. and Mrs. Nathan N. Withington of Newburyport, Massachusetts, United States.  Both of his parents died when Lothrop was relatively young, and when Lothrop was 19 he went to France where he attended lectures at the University of Paris. Lothrop had a sister named Anne, a brother named Arthur, and another brother named David. Lothrop married Caroline Augusta Lloyd, the daughter of a noted Socialist author Henry Demarest Lloyd. The couple had no children.  Lothrop was also the uncle of Paul and Lothrop Withington, former Harvard football and crew men.  Even though Lothrop claimed the Boston area to be his home, he lived in England for several years.  When he was in the Boston area, however, he lived with relatives in Newburyport.  One of his cousins was W. W. Jacques of 469 Beacon Street.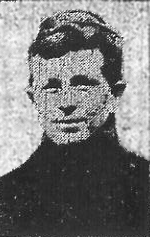 image:  

New York Times

, Saturday, 8 May 1915.
Lothrop's profession was genealogy and was known internationally as an expert.  He "spent several months each year in pouring over old Colonial records in New England" and maintained an office in the Journal Building in Boston.  As of 1915, he had completed an "exhaustive search" of old records at Salem. During the last week of April, Lothrop left Boston for New York to set sail on the 
Lusitania
.  Traveling with him was fellow Bostonian, Charles Lauriat.  Both passengers agreed that as a belligerent ship, the
Lusitania
was likely to be attacked, but sailed anyway. Throughout the voyage, Withington and Lauriat would check on the ship's daily run.  Lauriat was often disappointed at the slowness of the ocean greyhound and complained to Withington, "At this rate, we're not going to make Liverpool on time." Withington and Lauriat visited the smoking room for the third night out's ship's pool, but did not buy a number.  The pool was largely popular and proceeds averaged £105 a day. Withington did not survive the disaster, and if his body was ever recovered it was not identified.
Related pages
---
Lothrop Withington at the Mixed Claims Commission
---
Contributors:
William Graham Carole Lindsay Judith Tavares
References:
The Boston Globe
, Globe Pequot Press. Hickey, Des and Gus Smith.  
Seven Days to Disaster
.  G. P. Putnam's Sons, 1981.
The New York Times
.  Saturday, 8 May 1915, page 4.