William R. G. Holt Saloon Passenger Saved
Image:  Marlborough College Archives.
Born
William Robert Grattan Holt 2 March 1900 Montréal, Québec, Canada
Died
11 September 1947 (age 47)
Age on

Lusitania

15
Ticket number
46130
Cabin number
B 28
Traveling with
None
Lifeboat
None
Rescued by
Unknown
Citizenship
British (Canada)
Residence
Montréal, Québec, Canada
Other name(s)
Robert Holt
Spouse(s)
Lucille ? (? - ?, his death) (Please provide name and dates)
William Robert Grattan Holt, 15, of Montréal, Québec, Canada, was on his way to school at Marlborough College in Wiltshire, England, United Kingdom. When the
Lusitania
was torpedoed on 7 May 1915, he was in the lounge with
Frederick Orr-Lewis
,
Marguerite, Lady Allan
, her daughters
Gwen
and
Anna
,
Dorothy Braithwaite
, and
Frances Stephens
. Holt gave his lifebelt away and jumped into the sea. He survived the
Lusitania
sinking. While his first name was William, news articles and archives of Marlborough College indicate that he usually went by his second name, Robert.
Early years
---
Robert Holt was born 2 March 1900, one of three sons of Canadian millionaire Sir Herbert Samuel Holt and Jessie Paton. The senior Holt was also president of the Royal Bank of Canada. Robert Holt was named after his grandfather, William Robert Grattan Holt. The Holt family came from Ireland, where Robert's grandfather was born in County Kildare and father was born in County Offaly. In Montréal, the Holts lived at 297 Stanley Street. Holt attended school at Marlborough College in Wiltshire, England from May 1914 until December 1917. In the 1914 Summer Term, he lived in Barton Hill boarding house, whose Housemaster was Mr. H. Savery. When World War I started, his parents had kept him home in Montréal for fear of a German invasion of England, and thus he missed both Michaelmas 1914 and Lent 1915 terms. Several months later, the Holts believed that such danger was now unlikely and Robert could return to school at Marlborough.
Lusitania
---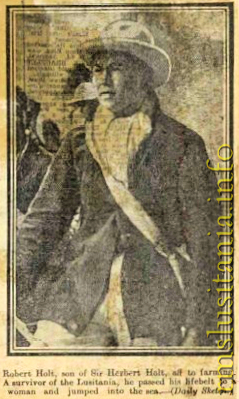 Image: Malborough College Archives/Malburian Club. Text reads: "Robert Holt, son of Sir Herbert Holt, off to farming. A survivor of the Lusitania, he passed his lifebelt to a woman and jumped into the sea. - (Daily Sketch)"
To return to school at Marlborough, Holt was traveling aboard
Lusitania
. According to Hickey and Smith (1981), Holt was reportedly traveling aboard
Lusitania
with two friends to school, but upon further research it seems more likely Holt did not book passage with anyone and had made friends on board. Aboard the
Lusitania
's last voyage, Robert Holt traveled on ticket 46130 and stayed in cabin B-28. For his meals, Holt shared a table in the dining room with Frances Stephens, Lady Allan, her daughters Gwen and Anna, Dorothy Braithwaite, and Frederick Orr-Lewis. On the day of the disaster, 7 May 1915, the group had finished lunch and was in the lounge. Holt was reading a novel while the rest of the group was drinking coffee and smoking cigarettes when the torpedo struck the ship. The group rushed out on deck immediately. Orr-Lewis made sure the group stayed together and had lifebelts on. Holt gave his lifebelt to a woman and jumped into the sea. A funnel crashed into the water so close to him that when he reached his hands out he felt the rivets. As the
Lusitania
disappeared beneath the waves, Holt grabbed an oar. He was a strong swimmer, so after a while he let go of the oar and started swimming. A man with a lifejacket grabbed hold of him, but Holt pushed him off and kept swimming. He was subsequently rescued.
Marlborough
---
Robert Holt made it to Marlborough. From Summer 1915 onwards, he lived in Preshute House, whose Housemasters were Reverend P.W. Taylor until December 1916 and Mr. J.R.Taylor for his last year. When Holt volunteered with a group of students to help out local farmers and donate their wages to Savernake Hospital, he appeared in the local paper. Holt played for the College's 1st Rugby XV in his last term. He joined the Army and became, in due course, a Major.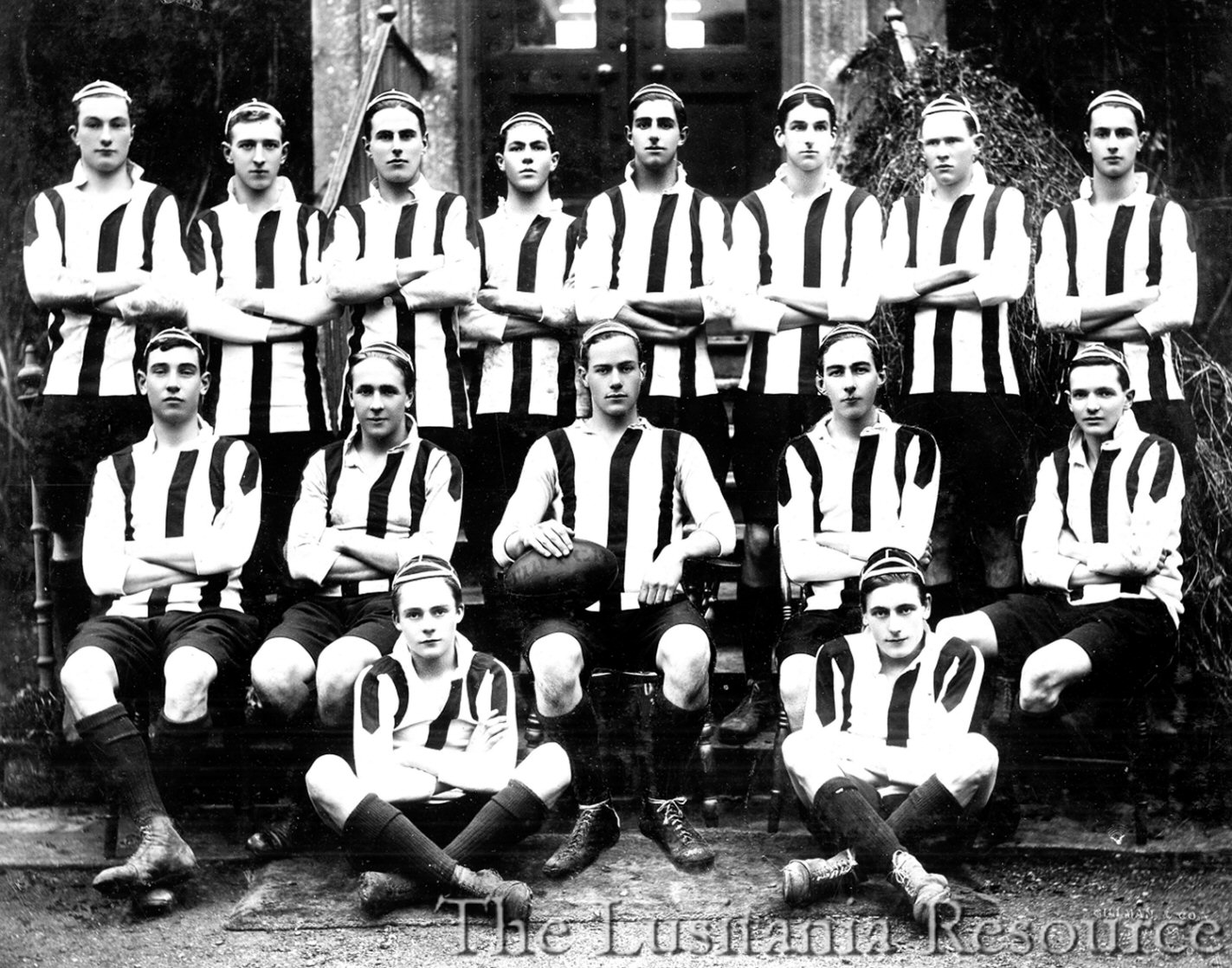 Holt in the Marlborough Rugby Team. Image: Marlborough College Archives.
When Holt left Marlborough the College magazine,
The Marlburian
printed this description of Holt`s contributions to the College Rugby:
"A big, heavy forward who is very useful in the scrum. He is rather slow-thinking, and so is not always there to help in the open."
Later life
---
Holt went on to become one of the foremost figures in Canadian finance. He married a woman named Lucille. His daughter, Olsa Jane Holt, was born on 13 July 1924.  Robert Holt served in World War II and became a Major. William Robert Grattan Holt died on 11 September 1947, after suffering a heart attack while chopping wood at his summer home. His daughter Jane, known popularly as Pam (and later Pam Dunn), became a famous philanthropist in Montréal who supported the Royal Victoria Hospital Foundation, Bishop's University, the Sun Youth Organization, Dans la rue, the Douglas Hospital, the Montreal Association for the Blind, the Butters Foundation and numerous other charities.
Contributors
Paul Latimer Jane Pendry, Malburian Club Alumni Relations Manager, UK Dr. Terry E. Rogers, Hon. Archivist of Marlborough College, UK Senan Molony, Ireland Michael Poirier, USA Judith Tavares
References
Gratias, Alan.  "Pam Dunn."  
Globe and Mail
.  1 October 2008.  Web. 27 July 2011.  <
https://secure.theglobeandmail.com/servlet/story/LAC.20081001.LIVES01/BDAStory/BDA/deaths
>. Hickey, Des and Gus Smith.  
Seven Days to Disaster
, pages 97, 185, 244-5, 249, 312.  G. P. Putnam's Sons, 1981. Hustak, Alan.  "Montreal philanthropist Pam Dunn dies at 83."  
The Gazette
(Montréal).  Canada.com.  26 June 2008.  Web.  26 July 2011.  <
http://www2.canada.com/montrealgazette/news/story.html?id=9a995be7-08e1-4606-9eb6-88dbbae86dbd
>. Leonard, John William, ed. 
Who's Who in Finance, Banking, and Insurance
, Volume 2 (1920 - 1922), page 795.  Who's Who in Finance, Inc.  Brooklyn, NY, 1922. "Archive Feature: The College and Savernake Forest Hospital." The Malburian Club.
The Marlborough School
. Web. 27 July 2011. <
http://www.marlboroughcollege.org/omc_omc_Archive_Feature3_Savernake_Hospital.aspx
>. Molony, Senan.  "Double Jeopardy - 
Lusitania
's Unique Victim."  
Gare Maritime
.  Web.  18 June 2011. < 
http://www.garemaritime.com/features/lusitania_victim/
 >