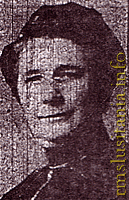 image credit: 
Providence Journal
, Sunday 9 May 1915. Dora Wolfenden, 49, was the wife of
John Charles Wolfenden
and they lived at 623 Dexter Street in Central Falls, Rhode Island, United States.  According to the
Providence Journal
, Dora and John were sailing on board the
Lusitania
with the intent of moving to England.  Dora gave an account that they were going to see their son. When the torpedo hit the
Lusitania
, Dora was on deck and John was shaving belowdecks.  She tried to get him into the boat, but he said he couldn't until all the women were off the ship.  Dora escaped in lifeboat 15 and remembered the wireless touching the boat.  A man died while resting against Dora's knee. John was lost in the sinking.
Contributors:
Michael Poirier
References:
"3 Rhode Islanders Reported Rescued." 
Providence Journal
.  Sunday, 9 May 1915.