contribute
to making this list better.
Saloon (First Class)
---
ADAMS, Mrs. Jane
Passenger: first class. On the Sunday, May 9, list of survivors but was not on Saturday's passenger list. BERTH, Mr. and Mrs. Page 2 of Monday's
New York Times
has
Mr. George Kessler
say that he saw "Mrs. Berth" get into a lifeboat after "Mr. Berth" persuaded her to. The couple he cited was actually
Mr.
and
Mrs. Bruno
.
BOWEN, Edward B.
A weathly shoe dealer from Boston, Massachusetts canceled his booking the morning the
Lusitania
was to sail.  "A feeling grew upon me," he said, "that something was going to happen to the
Lusitania
. I talked it over with Mrs. Bowen and we decided to cancel our passage - although I had an important business engagement in London."
COBORNE, Mrs. A. S.
New York.  This name was on the Sunday, May 9, list of survivors. She is actually Mrs. Alexandra Osbourne. COHEN, M. New York. COMPTON, Master Hugh Passenger. Died, body recovered. Hugh Compton was 17 years old and the son of the president of the Booth Line. This is probably a misspelling of the name of Stephen Hugh CROMPTON, of Philadephia.
DUFF-GORDON, Lady Cosmo (Lucile)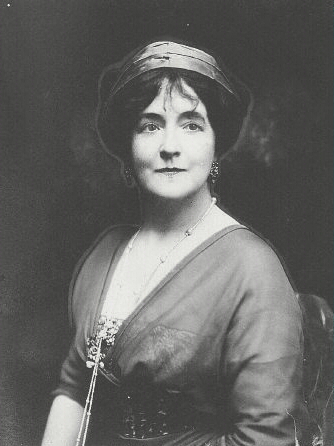 Image credit: Randy Bryan Bigham/Campbell Studios Renowned fashion designer and infamous survivor of the
Titanic
disaster (in which it was alleged that her husband bribed those in their lifeboat, #1, not to go back for survivors for fear of swamping), purportedly cancelled passage on the
Lusitania
's last voyage due to illness.
FABER, Mrs.
She was supposedly traveling with the Plamondon couple from Chicago. Mrs. Faber was the wife of the leading man in the "White Feather" company, then at the Princess Theatre, Chicago. She was known on the English stage as Winifred Arthur Jones, daughter of Henry Arthur Jones, playwright.
MANGONE, Mr. Philip
Another well-known designer of women's clothing who cancelled passage on the
Lusitania
's last voyage, but flew on the last voyage of the Zeppelin
Hindenburg
22 years later and survived the catastrophe despite suffering major burns.
MUNRO, Mrs. Charles (Alexandra)
Her presence on board the
Lusitania
has been much debated, but records show her passing though Ellis Island the following year, which makes a very strong case for her still being alive at this point.
PIPER, Miss Alta
Daughter of renowned spiritualist Leonora Piper, Alta was on her way to attend the wedding of the eldest daughter of Sir Oliver Lodge. Despite her mother's protestations and not yet having her passport ready, Alta went as far as New York before a wave of unease swept across her the night before sailing.  All night, a voice called to her, saying, "If you get into your berth, you'll never get out." Panicked, the next morning she tried to cancel passage, saying that her passport had not been delivered to her yet, but the Cunard agents reassured her that her passport would be waiting for her in England.  Piper then said that there wasn't enough time for her to gather her luggage and get on board in time before sailing, but the agents then told her that the
Lusitania
's sailing had been delayed by two hours (undoubtedly due to the
Cameronia
transfer
) and that she had plenty of time.  Just an hour before departure, a desk clerk handed Alta an envelope containing her passport. Terrified that she might be forced to sail on the doomed liner, Alta spent the next hour in her room unpacking and repacking her clothes, as she couldn't be forced to sail with her belongings in disarray.  Relief only came when she heard the
Lusitania
's whistles for departure, and then she knew that no one could make her sail on that ship.
TERRY, Miss Ellen
The renowned stage actress had booked passage with
Charles Frohman
, but had cancelled due to the threat of German submarines.  She sailed on the American Line's
New York
, instead, and had tried to persuade
Rita Jolivet
to do the same without avail.
TWENLOW, Miss Mabel
She was an actress and had booked cabin D-39.  Mabel was ill when she came to the United States the previous week and decided to stay because of her illness.
Second Cabin (Second Class)
---
CURRAN, Sarah Philadelphia, PA.  Named in article about people from Philadelphia but not on the Saturday, May 8, passenger list. Supposedly transferred from the
Cameronia
.
BURKE, Mrs.
New York. Passenger. Reference to her is made in an article in
The New York Times
, Wednesday, May 12, page 2, that she had been a traveling companion to Miss Ella Woods Lawrence, q.v., both of whom had volunteered for service in the Serbian Red Cross. GALLAHGER, Miss Margaret. Another supposed transfer from the
Cameronia
.  Not on the second cabin passenger list, but a Margaret Galligan is listed; however Miss Galligan per the Cunard Confidentiality Report was not a
Cameronia
transfer. GATHERWOOD, Mr. John A misspelling of Mr.
John Catherwood
, who was transferred from the
Cameronia
with his wife.
Crew
---
Dowie
Dowie was the ship's black cat and stokers' mascot, jumped ship the night before it left New York.
O'HAGAN, William
A resident of Liverpool but native of Warrenpoint, County Down, Ireland, O'Hagan had been chief bedroom steward of the 
Lusitania
 since she was launched. O'Hagan's wife had a premonition that the ship would sink and pleaded with him not to go on the last voyage.  William did as his wife requested.  She may have saved his life.
TOWER, Frank
Misspelling of
Frank Toner
, who supposedly survived the sinking of the
Titanic
(1912), the
Empress of Ireland
(1914), and then the
Lusitania
.
Others
---
Claims have been put forward by
Rosalie Alta Bonsignore
and
Ida Cantley
as being
Lusitania
survivors, but the passenger and crew lists do not provide evidence that they were on board for the ship's last crossing.
---
Contributors:
Randy Bryan Bigham Jim Kalafus Michael Poirier
References:
Goss, Michael and George Behe. 
Lost at Sea:  Ghost Ships and Other Mysteries
.  Prometheus Books, 1994. Hickey, Des and Gus Smith. 
Seven Days to Disaster
. G. P. Putnam's Sons, 1981. Hoehling, A. A. 
Who Destroyed the

Hindenburg

?
Popular Library, 1962. Hoehling, A. A. and Mary Hoehling.  
The Last Voyage of the Lusitania
.  Madison Books, 1956.