Rita Jolivet Saloon Passenger Saved
image:  

Vogue

, June 1912. Randy Bryan Bigham Collection
Born
Marguerite Lucile Jolivet 1890 Paris, France
Died
2 March 1971 (age 81, claimed to be 77) Nice, France
Age on Lusitania
25
Ticket number
D 1350
Cabin number
D 15
Lifeboat
Collapsible (22 A?)
Rescued by
Westborough (Katrina)
Occupation
Actress
Citizenship
French
Other name(s)
Countess Margherita de Cippico
Spouse(s)
- Alfred Charles Stern (1908 - ?, divorced) - Count Guiseppe de Cippico (1916 - ?, divorced) - James Bryce-Allan (1928 - 1961, his death)
Rita Jolivet (1890 - 1971), 25, was a British actress of French ancestry traveling aboard
Lusitania
to see her brother Alfred before he went to fight in World War I. She had booked her ticket, D 1350, the morning of the sailing and did not anticipate to meet her brother-in-law
George Vernon
or her mentor
Charles Frohman
aboard the ship. When the German submarine
U-20
torpedoed
Lusitania
on 7 May 1915, Rita met up with George Vernon, Charles Frohman, and
Captain Alick Scott
and stood together as the ship sank. Only Rita survived the disaster. She was rescued by the
Westborough
, disguised as a Greek steamer named
Katrina
. She remained in contact with fellow
Lusitania
survivors
Amy Pearl
,
Beatrice Witherbee
, and
Marguerite, Lady Allan
after the disaster.
Family and early life
---
Rita Jolivet was born Marguerite Lucile Jolivet in Paris, France in 1890.  Her father was Charles Eugene Jolivet (1840–1920) of Carmansville, New York, United States. He owned extensive vineyards in France. Her mother, Pauline Hélène Vaillant (1857–1957), was French and an accomplished musician. Pauline and Charles married in 1879, after which Pauline retired from the concert stage. Jolivet's maternal great-great grandmother escaped the guillotine during the French Revolution, the only member of her family to do so. Her grandmother Vaillant was a singer and one of the beauties in the court of Napoleon III. Rita had a sister and younger brother. Her sister, Leigh, was a prominent violinist who performed as Inez Henriette Jolivet. Inez was born in the United States around 1885, she was educated in France and England, studying classical violin under Henri Berthelier and Johannes Wolf. Inez had performed extensively in Europe by the time of her US debut in 1900, and from then until her death received consistently excellent reviews. She performed at the Metropolitan Opera House in New York, was decorated by both King Edward of the United Kingdom and Tsar Nicholas II of Russia. Rita's brother, Alfred Eugene, was almost a decade younger than she was. Rita circulated among London's high society. She was a close friend of the family of Lord Lowther, the British ambassador to Turkey. Rita married Alfred Charles Stern on 14 November 1908, but the marriage fell apart quickly thereafter.
Stage and screen
---
Rita started acting at a young age for William Poel, who maintained a company of players which performed Shakespeare in university towns across England. Her London debut was in
Much Ado About Nothing
. She also played Juliet in
Romeo and Juliet
. Jolivet studied under Mademoiselle Thenaud, a former leading actress of the Comédie-Française and a personal palm reader to Queen Victoria. In 1910 Jolivet was the leading lady of George Alexander's play,
The Eccentric Lord Comberdene
. As an actress, she made her name on Broadway and Hollywood as "Rita Jolivet" under the guidance of Charles Frohman. She made her Broadway debut on 25 December 1911 in the Edward Knoblauch play,
Kismet
, where she played the role of Marsinah. Produced by Harrison Grey Fiske,
Kismet
played at the Knickerbocker Theater through March 1912. Subsequently, she made appearances in 
Where Ignorance is Bliss
 on 3 September 1913 and 
A Thousand Years Ago
 on 6 January 1914. The latter play was based on the book
A Thousand and One Days
(not to be confused with its companion book,
A Thousand and One Nights
), where Jolivet played the Princess Turandot, Princess of China (Princess Khutulun, upon whom the play is based, was a Mongol Princess who fought against her uncle, Kublai Khan, who ruled China). A critic described her as "lovely and attractive," and "She plays charmingly, though inclined to be overshrill in the more dramatic episodes." Rita also appeared in
What it Means to a Woman
 on 19 November 1914.
Rita Jolivet, Jim Kalafus Collection
Also in 1914, Rita made her film debut in 
Fata Morgana
 (1914), with the Ambrosia Company of Italy. She was also in
Zvani
(1915),
L'Onore di Morire
(1915),
La Mano di Fatma
(1915), and
Cuore ed arte
(1915). She garnered much more attention as Delight Warren in Cecil B. DeMille's 
The Unafraid
 (1915) for the Famous Players-Lasky (now Paramount Pictures). This was her first Hollywood movie. She had said that she preferred acting in film over stage, as film allowed her "more scope for dramatic expression".
Lusitania
---
Rita had been in France at the outset of the war. Rita Jolivet was sailing on the 
Lusitania
 to see her brother Alfred in France.  He was on his way to the Western Front.  Her friend Ellen Terry had tried to persuade Rita to join Ellen and Isadora Duncan on the American Liner 
New York
, but Rita dismissed the concerns and newspaper warnings and booked passage for
Lusitania
at 8 o' clock the morning of the sailing.  Upon reaching her cabin, D-15, she was disappointed at its being inside and being small. Being that Rita had booked passage on impluse, she had not counted on meeting her brother-in-law, George Vernon, also on board.  Throughout the voyage, she kept company with George, her mentor Charles Frohman, fellow actress 
Josephine Brandell
, the playwrights 
Charles Klein
 and 
Justus Forman
, and admirer 
Wallace Phillips
.  She had been in attendance at Charles Frohman's party in his stateroom on Thursday afternoon, 6 May. Rita and Josephine were at the ship's concert on the night of 6 May but did not perform.  They, as professionals, did not think it fitting to be performing with amateurs.  Instead, they sat with "men friends they had met onboard" (Hickey/Smith, 154). Rita had a terrible night's sleep following the concert, and feeling awful after luncheon she went back to her cabin.  She had just arrived back in her room and shut the door when she felt the shock of the torpedo.  She felt only one great shock. She recalled that she was thrown about a great deal, and the ship listed tremendously and immediately before recovering. Rita had thought the ship had struck a loose mine. Looking out into the cross passageway, she saw
Doris Charles
put on her lifebelt and run out. Rita was terrified of drowning.  Before leaving her cabin not only did she take her lifebelt, but also her pearl-handled pistol to shoot herself in the worst case scenario. Rita had to climb on top of her bunk to get her lifebelt. There may have been a second one there, but she could not reach it. She then went up on deck to meet with her brother-in-law on A deck. She found climbing up the four flights of stairs to be very difficult due to the list. On the port side boat deck (A deck) by the grand staircase, Rita found George Vernon, Charles Frohman, and Alick Scott. With them was a fourth man, who she did not know but had been told was
Alfred Vanderbilt
. Rita had not yet put on her lifebelt. "Did you bring any others?" George asked. "No," Rita answered, because she couldn't reach the other, and because she didn't know there were other lifebelts in her room. Alick Scott went down to deck B and returned with four lifebelts. Captain Scott gave one to George Vernon, one to Charles Frohman, and one he kept for himself. Frohman accepted Scott's lifejacket reluctantly. While Captain Scott was helping Frohman with his lifebelt, and while Vernon was helping Rita with hers, someone stole Scott's lifebelt. Captain Scott went down a second time and brought up other lifebelts from B deck, which he gave away, and he gave his away to an old woman. Vernon, Frohman, and Jolivet all offered him theirs, but he refused. He said that he could swim better than they could. Scott said, "If I am going to die, it's only for once." Rita, George Vernon, Charles Frohman, and Alick Scott agreed to stick together. Frohman soon gave his lifejacket away to a woman. Holding his cigar, he remarked almost conversationally, "I didn't think they would do it." Rita saw a lifeboat being lowered, but the lifeboat was not lowered evenly, and the women and children inside were thrown out. Rita also noticed that the ship's list seemed to right herself. When the ship lurched, Frohman told Rita to hang on to the railing and save her strength, as if he were simply giving stage directions.  To the end Charles Frohman was calm, paraphrasing James Barrie's 
Peter Pan
, "Why fear death?  It is the most beautiful adventure in life." Rita was then seized by the sudden fear that Frohman, who needed a cane to support himself, would not be able to manage in the water.  At that moment, a "green cliff of water" forcibly parted the group (Preston, 237). The water sucked the boots off her feet, and Rita rose and sank two times.  Coming up again, she grabbed onto a collapsible boat that was on the verge of sinking due to the sheer number of people clambering on it to get out of the water.  Rita's testimony states that she thought she was clinging to a regular lifeboat, but as she talks about the canvas sides to the boat, it must have been a collapsible. Luckily, another collapsible boat drifted out from underneath to redistribute the mass of humanity clinging on for their lives.  Rita looked around, saw 
Dr. Howard Fisher
, and managed a weak smile.  During the ordeal she had completely forgotten about using her pistol.  While adrift, Rita claimed that she saw the attacking submarine, which fellow survivors such as
Emily Hill
and
William Inch
also claimed to see. Perhaps they did see the submarine, or perhaps they were mistaken and actually saw was another ship in the distance, probably the 
Juno
. Rita was picked up by the S.S. 
Westborough
, disguised as a Greek steamer named 
Katrina
.  Upon reaching Queenstown, she discovered that most of her traveling companions, including George Vernon, were lost. While in Queenstown, Rita was with
Amy Pearl
, who lost two of her four children,
Maude Thompson
, who lost her
husband
, and
Marguerite, Lady Allan
who lost her daughters
Anna
and
Gwen
in the disaster. Although Rita does not state so in her account, it is likely that Rita met with Beatrice Witherbee, who lost her
mother
and
son
in the sinking. That summer, her sister Inez, despondent over George Vernon's death, committed suicide with a pistol shot to the head. In a 1935 interview, Rita was quite defensive when asked how the
Lusitania
disaster changed her life. Her response:
"How do you imagine it changed me? No, you cannot imagine. And I cannot tell you how much it changed me. There are not words."
Lest We Forget
---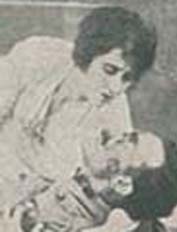 Rita Jolivet in 

Lest We Forget

.  Jim Kalafus Collection
In 1916, Rita married a wealthy Venetian, Count Guiseppe de Cippico, and changed her first name from Marguerite to Margherita.  Upon her marriage, Rita announced that she was retiring from acting and would be a housewife. This retirement did not last long, and she resumed making movies. In 1917 Jolivet and Vincent Serrano made
One Law For Both
a movie about revolutionaries. In 1918, Rita revisited the
Lusitania
disaster in 
Lest We Forget
, a dramatization of the sinking starring herself. She played Rita Heriot, a soprano from Paris who is rescued from the
Lusitania
after performing at the Metropolitan Theatre in New York City.
Lest We Forget
was shown in Washington, D.C., where Rita addressed audiences before three screenings. She captivated audiences with her own personal experiences of the war since August 1914. Only parts of the film have remained to the present day. Rita and Count Cippico decided to donate the proceeds from
Lest We Forget
to "the alleviation of suffering caused by World War I." Rita was also a Liberty Bond booster. Reportedly, she sold more of them throughout the United States than Douglas Fairbanks, Sr., Charlie Chaplin, and Mary Pickford combined. In one week in May 1918, Jolivet sold over $5,000,000 in Liberty Bonds in Baltimore, Maryland.
Continued career
---
In 1919, Rita was the lead actress and title character of the movie 
Teodora
 (1919), where she played the empress and wife of the Byzantine emperor Justinian. Rita continued making movies in France and Italy through 1926. Her later screen work includes
The Bride's Confession
(1921),
Roger la Honte
(1922),
Messalina
(1922),
Phi-Phi
(1926), surreal French comedy. Rita's final film was 
Le Marchand de bonheur
 (1926), after which she retired from the screen.  Rita Jolivet only made 21 films, all silent, having retired just before the advent of sound in 1928. After she retired from acting, Rita concentrated on her work as a critic, her social obligations, and traveling. Since then, her notoriety as a
Lusitania
survivor has eclipsed her fame of being an actress and her stage and screen output.
Lusitania connections
---
Rita continued to keep in contact with Amy Pearl, as her daughter
Audrey
recalled Rita's visits and that Rita was a "charming" personality. Fellow survivor Beatrice Witherbee, who suffered a nervous breakdown following the sinking and whose husband left her, moved from a nursing facility in London to the Jolivet residence in Kew, England. There, Beatrice met Rita's brother Alfred. Beatrice Witherbee and Alfred Jolivet married in 1919. Rita herself and Count Cippico divorced, and Marguerite, Lady Allan introduced Rita to James "Jimmy" Bryce-Allan. Bryce-Allan was a cousin of Sir Montagu Allan, the husband of Marguerite, Lady Allan. He was the son of Captain James Bryce Allan (born 1862) who moved from Montreal to Ballikinrain Castle, Stirlingshire, Scotland. When Jimmy and Rita first met, he was living at "The Cliff," Wemyss Bay, Renfrewshire, Scotland. He was described as a "reserved Scotsman". Jimmy and Rita were married on 26 April 1928 at the Church of Scotland in Paris. The reception was held at Bryce-Allan's 4,000-acre estate of Ballikinrain Castle that Jimmy had recently inherited. A private film of the wedding was made and is still exists. To Jimmy's surprise, after their marriage he discovered that Rita was somewhat older than she had claimed to be. Yet, the marriage between Rita and Jimmy proved to be lasting. After World War II the couple continued to travel and sold Ballinkinrain to move to a smaller castle in Scotland. There, parties were thrown regularly with royalty, heads of state and other famous people as guests.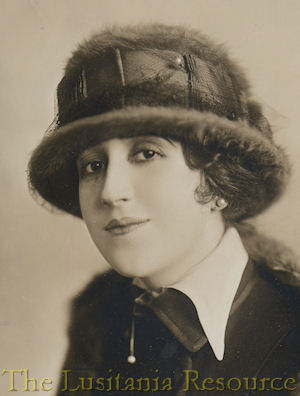 Rita Jolivet publicity still, Michael Poirier Collection
"I'm only 77"
---
Rita and Beatrice's friendship became strained in their later years. The two women had different personality types, and Rita had a habit of introducing her younger brother Alfred as "my older brother," which also implied that Beatrice was also "his older wife," much to their annoyance. Previous information on Rita's death being on 26 July 1962 in Barcelona, Spain is erroneous.  She, in fact, passed away on 2 March 1971 in Nice, France.  She was rushed to surgery after she broke her hip demonstrating that she could still dance a jig. On her deathbed, her last words were "I'm only 77," but she may have actually been closer to 81. Beatrice, learning about Rita's fatal accident, commented, "Oh well, she would go like that."
---
(from 
Internet Broadway Database
)
Mrs. Boltay's Daughters
  23 Oct 1915 - [unknown]
What It Means to a Woman
  19 Nov 1914 - [unknown]
A Thousand Years Ago
  6 Jan 1914 - [unknown]
Where Ignorance Is Bliss
  3 Sep 1913 - [unknown]
Kismet
  25 Dec 1911 - [unknown]
---
(from 
Internet Movie Database
)
Le Marchand de bonheur
 (1926)
Phi-Phi
 (1926)
Le Mariage de minuit
 (1923)
Messalina
 (aka 
The Fall of an Empress
) (1922)
Roger la Honte
 (1922)
The Bride's Confession
 (1921)
Teodora
 (aka 
Theodora, the Slave Princess
) (1919), as Teodora
Lest We Forget
 (1918), as Rita Heriot
National Red Cross Pageant
 (1917), as France
Quello che videro i miei occhi 
(1917)
One Law for Both
 (1917), as Elga Pulaski
An International Marriage
 (1916), as Florence Brent
Her Redemption
 (1916)
Love's Sacrifice
 (1916)
Cuore ed arte
 (1915)
La Mano di Fatma
 (1915)
Monna Vanna
 (1915)
L'Onore di morire
 (1915) (aka 
The Masque of Life
)
Zvani
 (1915)
The Unafraid
 (1915) (aka 
The Unexpected
), as Delight Warren
Fata Morgana
 (1914)
Links of interest
---
Ecyclopedia Titanica - Lest We Forget: Part 2
Rita Jolivet at Wikipedia
Journeys in Time:  Rita Jolivet and Beatrice Witherbee
(Offline now)
---
Contributors
Randy Bryan Bigham Shelley Dziedzic, USA Jim Kalafus, USA Paul Latimer Michael Poirier, USA
References
Hickey, Des and Gus Smith.  
Seven Days to Disaster
.  G. P. Putnam's Sons, 1981. Hoehling, A. A. and Mary Hoehling.  
The Last Voyage of the Lusitania
.  Madison Books, 1956. Internet Broadway Database.  Online.  <
http://www.ibdb.com/person.asp?id=47128
> Internet Movie Database.  Online.  <
http://us.imdb.com/Name?Jolivet,%20Rita
> Kalafus, Jim and Michael Poirier (2005) 
Lest We Forget Part 2:  As the Lusitania Went Down
 ET Research. <
http://www.encyclopedia-titanica.org/lusitania-lest-we-forget-2.html
> Kalafus, Jim and Michael Poirier. "The Jolivet Family and the Lusitania."
Voyage
Magazine, Issue 48, Titanic International Society Preston, Diana.  
Lusitania:  An Epic Tragedy
.  Berkley Books, 2002. "Rita Jolivet."  Wikipedia:  The Free Encyclopedia.  Wikimedia Foundation, Inc. 22 July 2004. Web. 21 July 2011. < 
http://en.wikipedia.org/wiki/Rita Jolivet
 >