Charles Frohman
Saloon Passenger
Lost

Image: Rob Betz Collection
(

New York Times

, 16 May 1915)
Born
Charley Frohman
15 July 1856
Sandusky, Ohio, United States
Died
7 May 1915 (age 58)
At sea
Age on Lusitania
58
Ticket number
46052
Cabin number
B 75 and bath
Traveling with
- William Stainton (valet)
– Charles Klein (colleague)
– Justus Miles Forman (colleague)
Body number
24
Interred
Union Field Cemetery, Ridgewood, Queens, New York
Occupation
Theater manager
Citizenship
United States
Residence
New York, New York, United States
Spouse(s)
None
Charles Frohman, 58, was an American theater manager credited for creating the Broadway star system. Among the most notable plays that he produced was James Barrie's Peter Pan. Frohman was traveling aboard Lusitania to see the European playmarkets. He was traveling with his valet, William Stainton, and playwrights Charles Klein and Justus Miles Forman. Frohman was on deck with George Vernon and Captain Alick Scott when the German submarine U-20 torpedoed Lusitania on 7 May 1915. Rita Jolivet soon ran up from below decks to join them. They stood together as the ship sank. Only Rita survived the disaster. Frohman's body was recovered, #24, and was buried in Queens, New York.
Humble beginnings
---
Charles Frohman, 58, was born on 15 July 1856 in Sandusky, Ohio, United States.  Charles had an older brother by four years,  Daniel, and another brother Gustave.  When Charles was 14, the Frohmans moved to New York City, and Charles took a job as night clerk for the New York Graphic.  The Graphic sent him to sell the paper in Philadephia in 1876 at the Centennial Exposition and took charge of the newsboys.  Frohman then moved to the New York Tribune where he worked by day and sold theater tickets at night.  The next year he joined his brother Daniel in management.
In 1880, Charles went to Boston for the opening of the play Shenandoah.  Even though he only had fifty cents in his pocket, by the end of the night he had secured the play's road rights.  From then on, Frohman was on his way to fame and fortune.
Frohman took over Proctor's Theater and started the Charles Frohman Stock Company ten years later.  Three years later Charles Frohman built his own theater, the Empire.  With his brothers, Charles became a leading theatrical impresario.  In 1895, Frohman, with Al Hayman, Mark Klaw, Abe Erlanger, Sam Nixon, and Fred Zimmerman formed the Theatrical Syndicate, otherwise known as the Trust.  The Trust systemized booking networks throughout the United States, but also monopolized every aspect of theater production under the end of World War I.  By 1900, Charles Frohman was the leading producer of plays in New York and London.

The Broadway star system
---
Charles Frohman is also credited with overseeing the transition of Broadway going from a stock system to a star system.  Frohman often chose which actors he would use first, then selected a play that would showcase his stars' abilities.  Among Frohman's principle American stars were Edna May, John Drew, Ethel Barrymore, and Nat Goodwin.  In England, his stars were George du Maurier, Marie Tempest, Seymour Hicks, and Ellaline Terris.
His power over his stars was considered "almost hypnotic" (Hickey/Smith, 21).  He spent hours selecting costumes, coached actors in their parts, advised them as to which hotel to choose, and often sent gifts of books, flowers, and candy.  In twenty-five years, only one actress dared to challenge him, Mrs. Patrick Campbell.  When she rejected Charley's criticisms of her acting in saying that she was an artiste, Frohman answered, "Madam, your secret is safe with me."
Even so, some stars were not too happy with Frohman's preference to lightweight material over more serious dramas.  In 1905, Frohman bought the rights of a James Matthew Barrie play that others wouldn't consider because it was "madness."  Frohman cast a woman, Maude Adams (1872 – 1953), in the title role and made theater history.  Peter Pan made fortunes for Adams, Barrie, and of course, Frohman.
Nevertheless, Frohman was worried that the future of the American stage.  Late in his career, Frohman realized that the star system made audiences care only about the star and not the play's content, thereby belittling the artistic merit of the theater that he had worked so hard to build.  Frohman predicted that the theater of the future would be filled with "popular drama, bloody, murderous, ousting drawing-room comedy.  Crook plays, shop-girl plays, slangy American farces, nude women invading the auditorium as in Paris.  Fortunately," he remarked prophetically, "you and I won't live to see it."
In 1910, Frohman founded a repertory theater in London at the Duke of York's.  By 1915 Frohman produced more than 700 shows, employed an average of 700 actors a season, and paid salaries totalling $25 000 a week.  At the height of his power, Frohman controlled five theaters in London, six in New York City, and over two hundred throughout the rest of the United States.  While some may consider Charles Frohman to have been a ruthless businessman, his dedication to the theater consumed a great deal of his self-made fortune and the stars under his management had an undying loyalty to him and his company.

A private man
---
Rumors persisted that he had secretly married Maude Adams. He shared a house with fellow Broadway producer and confirmed bachelor, Charles Dillingham (1868 – 1934).  Frohman lived a very private life for his profession and encouraged his actors to do the same.  Despite his sweet tooth, he never dined at fashionable restaurants, and no one knew when he went to bed.  He was very shy and would go out of his way to cross the street so that he would not run into one of his stars in public.  He also would rarely go to a show on opening night and prefered to stay in a nearby hotel room or restaurant while runners gave him news as to how the audience was reacting.
After a fall on his porch in his house in White Plains, New York, in 1912 he suffered from arthritis and was so in pain that he needed a cane, which he called his "wife," to get around.  He practically became an invalid and actors came to his apartment at the Knickerbocker Hotel to tend to his needs.  Frohman was also afraid of the dark and pleaded for Paul Potter to tell him stories until he fell asleep.

The Playmarket
---
Even though Frohman usually made his visits to Europe in the autumn to his "London Playmarket" or "Paris Playmarket," at the invitation of James Barrie, Charles Frohman would make his 1915 trip in May with his valet, William Stainton on the Lusitania.  Gaby Deslys would be performing in Barrie's Rosy Rapture, the Pride of the Beauty Chorus, with music by Jerome Kern, at the Duke of York Theater.
In production at that time were The Shadow, starring Ethel Barrymore, and A Celebrated Case, a joint production with David Belasco which Margaret and Alfred Vanderbilt had seen the night before the latter's sailing on the Lusitania as well.

"I am only afraid of the I.O.U.s"
---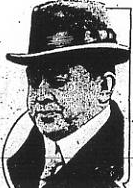 image:  

Cleveland Plain Dealer

, Sunday 9 May 1915, Page 10.
As it was wartime and the Lusitania was a British ship, several of Frohman's friends tried to dissuade him from sailing.  John Drew telegrammed him, saying, "I'LL NEVER FORGIVE YOU IF YOU GET BLOWN UP BY A SUBMARINE."
Frohman gave the pretense of dismissing their fears, but he took the precaution of dictating his entire program for the next season before sailing, something that was unprecedented for him.  As with Alfred Vanderbilt, Frohman, too, received a mysterious telegram foretelling doom should he sail on the ocean greyhound.
Frohman's friend Al Hayman pointed out that the American Liner New York was also sailing on 1 May, at noon, and would arrive in Liverpool just one day later than the Lusitania.  Ellen Terry and Isadora Duncan would be on the slower ship.  Frohman answered jokingly, "Well, Al, if you want to write to me, just address the letter care of the German Submarine, U-4."
To another, Frohman said, "When you consider all the stars I have managed, mere submarines make me smile."
Paul Potter asked, "Aren't you afraid of the U-boats, C. F.?"
"No," Frohman replied, "I am only afraid of the I.O.U.'s."
On board the Lusitania, Frohman briefly stood with Captain Turner and Alfred Vanderbilt for the press to have a field day.  Both Turner and Vanderbilt dismissed the warnings issued by the German Embassy.  When asked why Frohman wasn't sailing with Ellen Terry on the New York, he answered by saying that actress Rita Jolivet was sailing with them on the Lusitania.
Frohman then retired to his room, B-75, where he would read his first batch of new playscripts and eat candy.  Maude Adams had sent a bon-voyage basket filled with flowers, fruit, and candy in the shape of a ship.  In a thank-you note that the ship's pilot delivered, Charles Frohman wrote to Maude: "This little ship you sent is more wonderful than the big one that takes me away from you."
Frohman's on board entourage included actresses Rita Jolivet and Josephine Brandell, playwrights Charles Klein and Justus Miles Forman, Rita's brother-in-law George Vernon, and Rita's admirer Wallace Phillips.  Justus Forman's play, The Hyphen, had misfired, but Frohman reassured the writer, "Charley will introduce you to the best theater people in London."
In addition to Rita Jolivet, also aboard Lusitania were actresses under his management, Millie Baker and Amelia Macdona.
For most of the voyage, however, Charles Frohman spent his time in his cabin, working away, even though Maude Adams had begged him, "Please rest, C.F."  With his portable phonograph playing his favorite record, Irving Berlin's "Alexander's Ragtime Band," Frohman took a good number of his meals in his suite.  He would refuse many invitations from his friends to join them.  His right knee bothered him too much to do much walking.  On Tuesday, 4 May, Frohman asked Stainton to call for Dr. James McDermott, as Frohman's leg pain had worsened.
On 6 May, Frohman made a rare apperance at the ship's concert with his entourage.   Afterwards, Frohman entertained his theatrical friends with a party in his suite.  This was Frohman's chance to make up for isolating himself for most of the voyage.  Even though the Lusitania wouldn't be arriving in Liverpool until Saturday morning, a party Thursday night was better than one on Friday night as people would be packing then.
Alfred Vanderbilt made a brief appearance, as did Captain Turner and Staff Captain Anderson.  Frohman even made sure to invite the ship's barbers, Lott Gadd and Reg Nice.  Others were impressed by Frohman's sense of democracy.  George Vernon then reminded Frohman of his plans to present plays onboard the Lusitania's sister ship, Mauretania.  Frohman then recalled, "Yes, I did dream of a mid-Atlantic theater, but my leading lady succumbed to mal de mer."

"The most beautiful adventure in life"
---
At lunch the next day, Friday, 7 May, Frohman sat with his theatrical friends at the dining room's center table.  Afterwards, he, George Vernon, and Captain Alick Scott were on the port side Boat Deck, chatting by the verandah café, when the torpedo hit.  Still puffing on his cigar, Frohman said, "This is going to be a close call."
"Stay there!"  Scott told them, "I'll fetch some lifejackets."
"Why not stay where you are, Captain Scott?"  Frohman asked, "We shall have more chance by staying here than dashing off to the boats."
Scott insisted and he returned with two, one for Frohman and another for Vernon.  A terrified Rita Jolivet soon joined them on deck and George helped her put on her lifebelt.  Frohman accepted Scott's lifejacket reluctantly.
As Scott helped Frohman with his lifebelt, someone stole Scott's lifebelt. Scott went below a second time for more lifebelts but then gave those away.  Frohman, Vernon, and Jolivet all offered Scott their lifejackets, but Scott answered, "If I am going to die, it's only for once."
Frohman soon gave his lifejacket away to a woman.  Holding his cigar, he remarked almost conversationally, "I didn't think they would do it."
The four agreed to stay together on the port side near the verandah café as the ship was sinking.  When the ship lurched, Frohman told Rita to hang on to the railing and save her strength.  To the end Charles Frohman was calm, quoting Barrie's Peter Pan, "Why fear death?  It is the most beautiful adventure in life."*
Rita recognized the quote, but was then seized by the sudden fear that Frohman, who needed a cane to support himself, would not be able to manage in the water.  At that moment, a "green cliff of water" forcibly parted the group (Preston, 237).

Strange sighting at the Empire Theater
---
The night of the sinking, John Ryland, one of Frohman's office staff at the Empire Theater in New York, was inspecting the building at closing time when he saw Charles sitting at his desk in his fifth-floor office.  The light was on, and Frohman was looking over all of his pictures and theater memorabilia that he had laid out on top of his desk.  Ryland was perplexed, as he had seen Charles off on the Lusitania only a few days prior.  The staffer asked why Frohman was back and if there was anything he could do.  Frohman shook his head, saying, "No, you can't help me, John.  Just leave me alone here for a few minutes.  Thanks – and goodbye."
Ryland left the room and soon returned with the house manager, two box office boys, a press agent, and Frohman's office boy Peter Mason, all of them unbelieving.  Frohman's office was dark, empty, and everything was where it was supposed to be.  The men laughed at Ryland, although some were unsettled by his insistence of what he saw.  After hearing of Frohman's death, Ryland swore off going back to Frohman's office again despite continuing to work at the theater for the next twenty-some years.

Memorials
---
Charles Frohman's body was recovered, #24.  According to Oliver Bernard, who saw him in Queenstown's impromptu morgue, Frohman's body looked peaceful, as if he never even put up a struggle against the sea.  When Maude Adams, preparing for a performance of Barrie's Quality Street, heard of Frohman's death, she collapsed.  The management was prepared to call off the show, but Maude insisted that she would perform.
Frohman's body arrived back in New York City on Monday, 24 May 1915.  Private funeral services were held at Daniel's home at 145 West 79th Street, New York City.  Public services were held at Temple Emmanu-El on Tuesday, 25 May 1915 at 10 a.m., at 5th Avenue and 43rd Street, officiated by Rev. Dr. Silverman.  John Barrymore was one of the honorary pallbearers.
Simultaneously, memorial services were held in other places around the United States and in England.  Miss Billie Burke arranged services at a synagogue in Tacoma, Washington.  Maude Adams arranged services at a synagogue in Los Angeles, California and retired from acting upon his death.  She would make occasional reappearances but never married.  Maude died in 1953 at the age of eighty.  Daniel Frohman formed a company that would manage his brother's theatrical stars and died on 26 December 1940.

Media portrayal
---
Harry Hayden portrayed Charles Frohman in the 1946 film Till the Clouds Roll By, a biographical film of composer Jerome Kern. In the movie Lusitania is shown as a two-funnel ship and the U.S. declares war immediately after the ship is sunk.
William Hootkins played Frohman in the 1978 BBC mini-series The Lost Boys. Nehemiah Persoff played him in Ziegfeld: The Man & His Women also in 1978 on TV.
In 2004, Dustin Hoffman portrayed Charles Frohman in the biographical film of James Barrie, Finding Neverland. In Finding Neverland, Hoffman gives Frohman a goatee, which the theater impresario never had in real life.

Related pages
---
Charles Frohman at the Mixed Claims Commission
Links of interest
---
CharlesFrohman.com
Footnote
---
* The actual line in Barrie's play at the end of Act III, spoken by Peter Pan, is "To die would be an awfully big adventure."  This line has gone through several incarnations, including "Why fear death?  It is life's most beautiful adventure" (Lest We Forget), "Why fear death?  It is the most beautiful adventure in life" (Hoehling/Hoehling, 150), and "Why fear death?  It is the most beautiful adventure life gives us" (Preston, 237).  Only Hickey/Smith, 222, quotes from the play, saying, "To die would be an awfully big adventure."
Editor's note:
When I was in undergrad, I met a distant relative of Charles Frohman's. His family had known little of the Lusitania disaster and the Broadway side of their family, but had unintentionally and coincidentally named him and his brother "Charles" and "Daniel" respectively.
Contributors:
Rob Betz
Michael Poirier
Judith Tavares
References:
Barrie, Sir James M.  The Plays of J. M. Barrie in One Volume.  Charles Scribner's Sons, 1928.
"Biography of Charles Frohman."  BookRags.com.  Online.  <http://www.bookrags.com/biography/charles-frohman/>.
Goss, Michael and George Behe.  Lost at Sea:  Ghost Ships and Other Mysteries, pages 266-8.   Prometheus Books, 1994.
Hickey, Des and Gus Smith.  Seven Days to Disaster.  G. P. Putnam's Sons, 1981.
Hoehling, A. A. and Mary Hoehling.  The Last Voyage of the Lusitania.  Madison Books, 1956.
"Charles Frohman Information."  Maude Adams.  Online.  <http://www.bookmice.net/darkchilde/maude/adams9.html>
Preston, Diana.  Lusitania:  An Epic Tragedy.  Berkley Books, 2002.
Who Was Who in America, 1897-1942, page 428.
"Charles Frohman." Wikipedia: The Free Encyclopedia. Wikimedia Foundation. 22 July 2004. Web. 2 August 2011. <http://en.wikipedia.org/wiki/Charles_Frohman>.