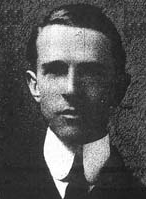 image:  
New York Times
, Sunday 16 May 1915. Albert Hopkins, 44, was the president of the Newport News Shipbuilding Drydock Company at 233 Broadway, New York City, New York, United States.  As company president, he earned $25,000 a year.  He was a graduate of Renssalaer Polytechnic Institute in Troy, New York.  He was trained in engineering. Married to May Davies of Virginia, Hopkins lived at 270 Riverdale Drive, New York City.  The couple had a daughter, May Davies Hopkins. On 14 March 1914, Hopkins succeeded Walter A. Post as president of the Newport News Shipbuilding Drydock Company. In May 1915, Hopkins was traveling to Britain on the 
Lusitania
 to negotiate contracts for the manufacture of armor plates for battleships, a product his company had been licensed to manufacture since 1900.  He was traveling with 
Fred Gauntlett
 and 
Samuel Knox
, also ship and arms contractors. Gauntlett and Hopkins had known each other since 1895. While on board, Hopkins received a Marconigram saying that his father had died. At the time of the torpedoing, Hopkins was dining with Knox and Gauntlett.  Hopkins' body, #194, was returned to New York on the American liner 
Philadelphia
. After Hopkins' death, Homer L. Ferguson became president of the Newport News Shipbuilding Drydock Company and oversaw the company through both World Wars. In 1916, Mrs. May Davies Hopkins was one of the first claimants to be awarded compensation.  May received a $40,000 life insurance settlement on a policy taken out by her late husband.  After the war, Hopkins' widow, who had since remarried, won a settlement of $50,000 against Germany while her daughter won $80,000.
Related pages
---
Albert Hopkins at the Mixed Claims Commission
---
Contributors:
Michael Poirier Judith Tavares
References:
Hickey, Des and Gus Smith.  
Seven Days to Disaster
.  G. P. Putnam's Sons, 1981. Hoehling, A. A. and Mary.  
The Last Voyage of the Lusitania
.  Madison Books, 1956. "Newport News Shipbuilding."
Wikipedia: The Free Encyclopedia
. Online. Accessed 24 February 2012. <
http://en.wikipedia.org/wiki/Newport_News_Shipbuilding
>.