Anne Shymer Saloon Passenger Lost
image credit:  

New York Tribune

, May 1915.  Click for full image.  Paul Latimer/Jim Kalafus Collections
Born
Anne C. Justice 30 May 1879 Logan's Port, Indiana, United States
Died
7 May 1915 (age 36) At sea
Age on Lusitania
36
Ticket number
13092
Cabin number
B 98
Traveling with
none
Body number
66
Occupation
- Inventor - Company president
Citizenship
United States
Residence
New York, New York, United States
Spouse(s)
- ? Paterson (? - ?, his death) - Robert Shimer (1911 - 1915, her death)
Anne Shymer (1879 - 1915), 36, from New York City, New York, United States, was President of the United States Chemical Company.  She was aboard
Lusitania
on her way to be presented to King George and Queen Mary at the court of St. James.  Anne was lost in the
Lusitania
sinking. Anne was born in Logan's Port, Indiana on 30 May 1879.  Her mother Grace made sure that she and her younger sister Maibelle were well educated and fostered Anne's interest in chemistry.  Anne studied at Cornell University, but later transfered to another institution. She was married to a nobleman named Paterson for a short time and lived abroad until he died.  The widow returned to the United States and continued her experiments in a private laboratory in New York.  She remarried on 16 January 1911 to Robert Shimer. They lived together as man and wife for a period of four weeks and then they separated.  He took off for parts unknown while she anglicized her last name to Shymer. Anne achieved success as a chemist and formed the United States Chemical Company.  She had discovered a formula for bleaching textiles and for a germicide be used in hospitals. Her ideas were presented to King George's physician who was very interested in them during a visit to England in early 1915.  She also found herself being dined by Premier Asquith and his wife.  Anne returned home to make final preparations to expand her company's business in London.  The chemist joked with friends and family that she was to be presented to the King and Queen, "Scientifically if not, socially".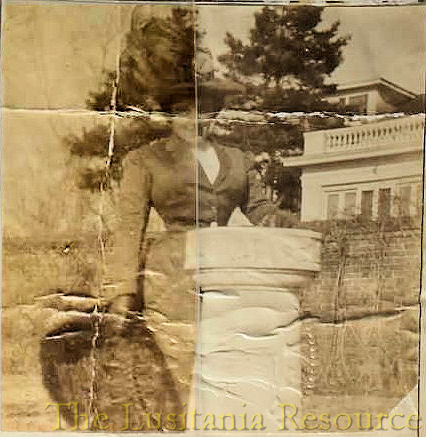 Michael Poirier Collection/National Archives
Anne had taken the 
Lusitania
home and since it had been a pleasant crossing, she chose to sail back on the same liner.  She carried with her the formulas she intended on being patented.  Her family came down to the pier to see her off. Since there was a delay in sailing, they arranged to take her picture on the B-deck promenade that was near her cabin B-98.  The one thing she had not been able to do before she sailed was to locate her husband in order to start divorce proceedings. Anne's actions aboard the 
Lusitania
are unknown; however, when the ship was struck, she may have been calmed by the fact that the passengers were told that the ship would not sink immediately and went down to her cabin to grab her jewelry.  Her body was among the first recovered, #66. The jewelry found on her body was estimated to be worth $3,900. It was handed over to a Mr. Thompson who was Vice-Consul, American Consulate, Queenstown.  Her jewelry was lost in transit between Cork and the American Embassy in London.  Shymer's remains were sent home on the American steamer 
Philadelphia
. Grace Justice-Hankins and her daughter Maibelle Heikes Justice filed claims for lost property and for the formulas that Anne was bringing with her.  Robert Shimer heard about his wife's loss and filed a claim for $50,000.  Grace Justice-Hankins passed away in 1924, before a judgment was ruled.  Commissioner Edwin Parker immediately dismissed Robert Shimer's case as he and Anne had not lived together as husband and wife since 1911. Parker noted that since the chemist had not filed for a patent for her inventions, and that he could not award her estate any money for these.  He rendered his decision on October 30, 1925 and awarded her estate $7,527, which had previously been awarded $3,900 for the missing jewelry. Her mother's estate received $7,500 as did her sister Maibelle.
Links of interest
---
Encyclopedia Titanica - Lest We Forget Part 2: As the Lusitania Went Down
---
Contributors:
Jim Kalafus Paul Latimer Michael Poirier