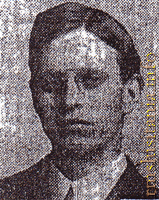 image:  The Boston Globe, Globe Pequot Press. Guilford, CT.  Courtesy Carole Lindsay. Carlton Brodrick, 28, was an American professor from Newton Centre, Massachussetts, United States.  Carlton was traveling on the 
Lusitania
 to assist Herbert Hoover in Belgian relief work. His ticket for
Lusitania
was 46135 and he stayed in cabin B-106. He was friends with 
James Houghton
, 
Scott Turner
, and 
Richard Freeman
. Brodrick was lost in the
Lusitania
sinking and his body, #46, was returned to New York City, Monday, 24 May 1915 on the ocean liner 
New York
. He was the son of Alfred H. and Etta L. Brodrick, aged respectively 55 and 57 years. Alfred H. Brodrick was a successful businessman, President of Chadwick-Boston Lead Company, 162 Congress Street, Boston. Carlton had a brother, Richard G. Brodrick, and a sister, Helen C. Brodrick, both of them 18 years of age. At the time of his death, Carlton was unmarried and lived with his parents. Carlton was receiving a salary of $10,000 as chief geologist of a mining corporation working in Russia. He also founded a geology school at Kyshtim, Russia, and made liveral contributions of geological specimens and valuable data and information to his alma mater, Harvard University, where now exists a collection of such specimens which bears his name. Brodrick was on board
Lusitania
en route to assist Herbert Hoover in Belgian relief work.
Related pages
---
Carlton Brodrick at the Mixed Claims Commission
---
Contributors
Richard Bailey Carole Lindsay Judith Tavares
References
Mixed Claims Commission
, Docket No. 280, page 429.
The New York Times
.  Tuesday, 25 May 1915, page 15.