Mabel
 were traveling saloon cabin on 
Lusitania
, with their maid
Margaret Hurley
.  The Learoyds' cabin was D-57 and their ticket was 46123. Miss Hurley traveled on a separate ticket and stayed on B deck. Charles was lost when
Lusitania
was torpedoed and sunk on 7 May 1915. Mabel and Margaret survived. Prior to the
Lusitania
, Margaret and the Learoyds had arrived in North America via the ship
Niagara
, which docked in Vancouver, British Columbia, Canada, on 10 April 1915.
Lusitania
---
According to Mabel's testimony at the inquiry, Charles and Mabel had finished lunch and were in their cabin when the ship was struck.  They gathered a few items and went up onto the boat deck.  They then realized that they had forgetten their lifebelts and went back to their cabin to fetch them.  They passed by the dining room and saw water pouring in through the open portholes. On their return to the deck, the staircase was very difficult to ascend as the list was becoming very marked.  They thought that as they took three steps they might fall four back, and a steward helped them by pushing the couple up onto the top deck. When they reached the boat deck, the list was so marked that they had to hold on by a brass ring and decide what to do, what boat to go to, whether to wait, and they decided to wait for a few minutes, feeling calm all the while.  They then made for the "third boat" on the starboard side (possibly #3), and the list was so strong that they could not walk down.  They had to run forward, clinging to the railing, which at that time was nearly under water, and tumble into the boat, assisted by passengers and seamen. No sooner did they get into the boat that the boat was lowered.  Another boat was then lowered on top of them, causing their lifeboat to go down.  A funnel also fell on the Learoyd's boat.  Underwater, Charles and Mabel were separated.  Mabel did not see Charles again, but 
Elisabeth Lassetter
, a friend from Australia, said that she thought she had seen Mr. Learoyd lying on a piece of wreckage, but as he didn't respond, she concluded he was dead. Charles Learoyd was body #257 recovered by Queenstown. He was buried on 22 July 1915 on Valentia Island, County Kerry, Ireland. The headstone is still in good condition today due to the craftsmanship of the memorial and the care taken by the local community and groundskeeper.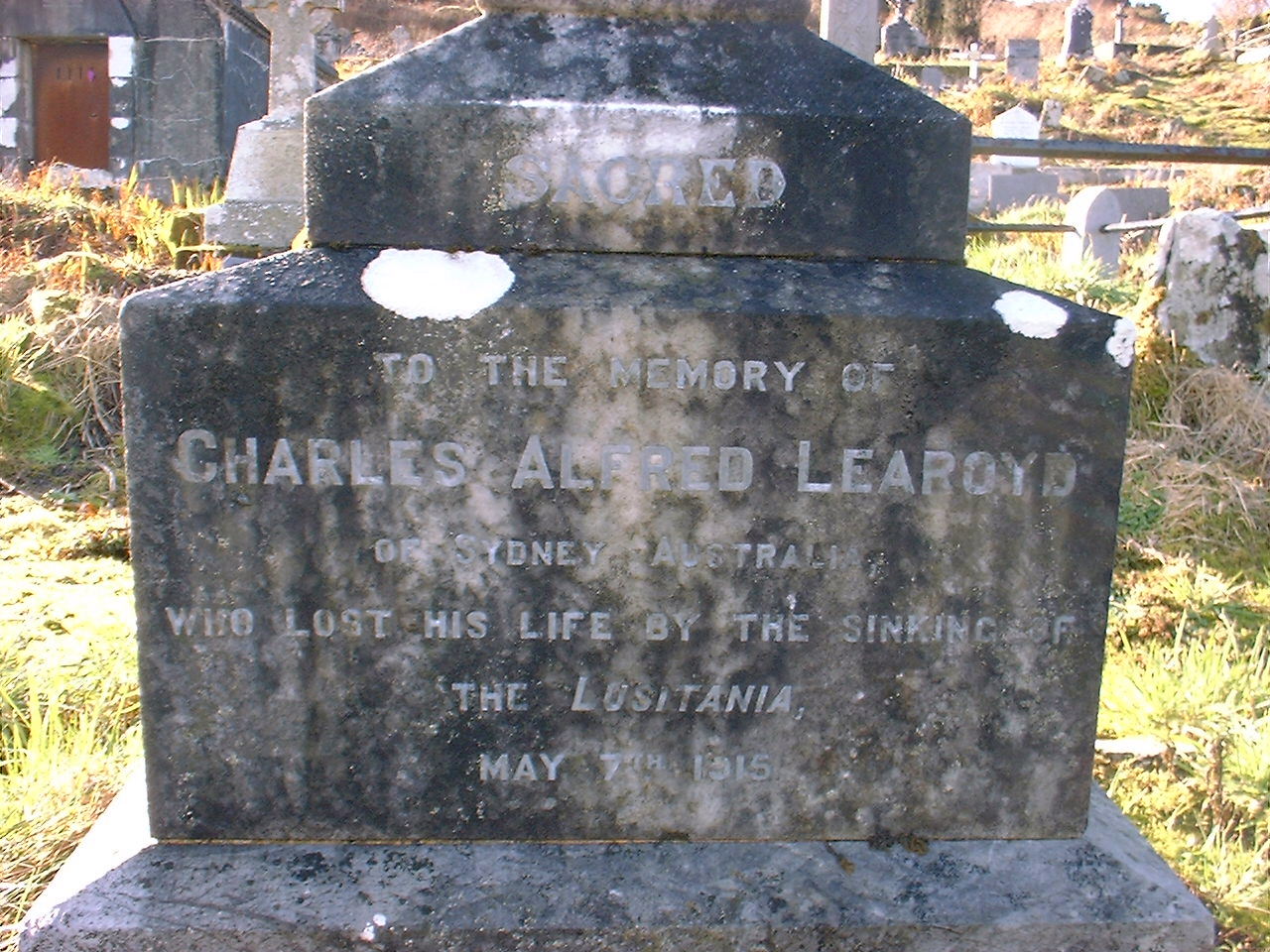 Headstone of Charles Alfred Learoyd.  Image credit:  Peter Kelly.  Click for full size.
Contributors:
Jim Kalafus Peter Kelly Michael Poirier