Lindon Bates, Jr. Saloon Passenger Lost
Last picture of Lindon Bates taken, April 1915 in Greenwich, Connecticut.  From the 

Lindon Bates Memorial Book

, 1915. Image courtesy Michael Poirier.  Click full size.
Born
Lindon Wallace Bates, Jr. 17 July 1883 Portland, Oregon, United States
Died
7 May 1915 (age 32) At sea
Age on Lusitania
32
Ticket number
46165
Cabin number
E 69
Traveling with
None
Body number
16 by Doolin and Aran
Occupation
- Engineer - Writer - Politician - Nonprofit trustee
Citizenship
United States
Residence
New York City, New York, United States
Other name(s)
none
Spouse(s)
None
Lindon Bates, Jr. (1883 - 1915), 32, was an engineer, writer, politician, and a graduate of Yale University. Bates was on his way to Belgium to organize war relief. Aboard
Lusitania
, he was on deck with
Amy Pearl
when the submarine U-20 torpedoed the ship. He assisted
Warren
and Amy Pearl in searching for their missing children while the ship was sinking. Lindon Bates was lost in the
Lusitania
disaster and his body was recovered, #16 by Doolin and Aran.
Youth and education
---
Lindon Wallace Bates, Jr., was born on 17 July 1883 to Lindon Wallace Bates and Josephine White in Portland, Oregon, United States.  Lindon, Sr. was an engineer and a non-graduate member of Yale's Class of 1879 S.  Lindon's paternal grandparents were Wallace Bates, United States Commissioner of Navigation (1889-1892) and Marie Cole. Lindon's parents sent young Bates off to England to be educated at the Harrow School.  He then came back to attend Yale University in New Haven, Connecticut.  He claimed that he took the select course in the Sheffield Scientific School because he had heard it was easy, only to discover that he had been fooled.  His junior year received honors in history.  His senior year Lindon was awarded second prize in political economy, and given honors in history and political science.  He received his Ph.B. from Yale in 1902.  That fall he returned to Yale to continue studies in engineering for another year.
A varied career
---
Among Bates' professional work as an engineer was the completion of the New York Barge Canal and grade raising at Galveston, Texas where Bates served as secretary of the United States Engineering Company.  Bates would later serve on the National Conservation Congress.  In 1909, Bates was appointed by New York City Mayor George B. McClellan a member of the General Commission on Water Supply.  Bates' role was to report on a $25,000,000 water tunnel for Manhattan. Bates wrote much on technical and economic subjects.  His books include 
The Political Horoscope
 (1904, with Charles A. Moore), 
The Loss of Water in the New York Distribution System
 (1909), 
The Russian Road to China
 (1910), and 
The Path of the Conquistadores
 (1912). Becoming active in politics in 1904, in 1908 Lindon Bates, Jr. was elected to New York legislature and reelected in 1909.  He paid special attention to condemnation and Civil Service reform measures, direct nomination, and employers' liability bills.  He ran for Congress in 1912 and 1914, but was defeated. Bates was a member of the Western Society of Engineers, a member of the Société Belge des Ingenieurs et des Industriels, a junior member of the American Society of Civil Engineers, a trustee of the Fifth Avenue Presbyterian Church in New York City, and Secretary of Yale's class of 1902 from graduation to 1913. He was vice president of the Bates Engineering Company of New York City and consulting engineer for several other companies, such as the Western Engineering Corporation, the Denver Mining Investment Company, the Laguintos Oil Company, the Maikop Areas, and the Trinidad Cedros Oil Company.  Bates' occupation as an engineer took him to far-flung corners of the globe, such as Egypt, Switzerland, Russia, Mongolia, and Panama, just to name a few.
Lusitania
---
When World War I broke out, Lindon did not hesitate in organizing European relief.  His father was vice chairman of the American Commission for Relief in Belgium.  Lindon himself was a member of the executive committee of the London board.  He was on his way to Belgium to assist in the organization of the Commission in 1915 and booked passage on the 
Lusitania
.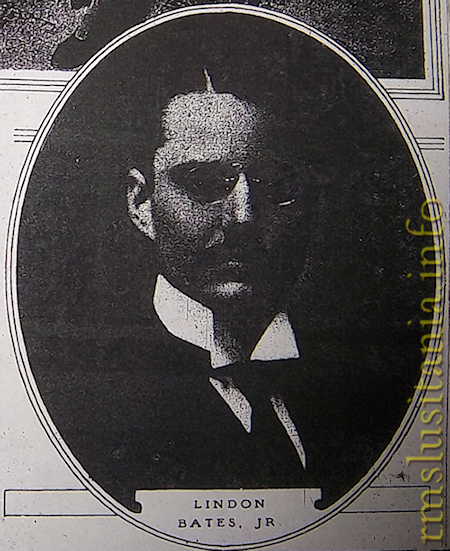 Lindon Bates, Jr.  

New York Times

, 16 May 1915.
His cabin on the 
Lusitania
 was an inside cabin, E-69, not far from 
Warren Pearl
 and his family.  Bates and the Pearls were friends and Lindon was on deck with 
Amy Lea Pearl
 when the ship was struck.  The force of the explosion was such that it threw Amy from the railing and into the bulkhead, fracturing her wrist. In the 
Lusitania
's last moments, he tried to help Warren and Amy find their missing children,
Stuart
,
Audrey
, and
Amy
. Bates was on the Monday, 10 May list of lost Americans.  A notice was in 
The New York Times
 on Thursday, 27 May 1915, page 12, about his will being filed by his brother after letters of testament to his death were obtained by some of the survivors. A photo of him is in 
The New York Times
, Sunday, 16 May 1915.  The following is an except from 
The New York Times
, Tuesday, 11 May 1915, page 2:
Lindell T. Bates, son of Lindon W. Bates of New York, Vice Chairman of the American Commission for the Relief of Belgium, was arrested at Kinsale yesterday on a charge of espionage while searching for the body of his brother, Lindon W. Bates, Jr., who is believed to have perished on the Lusitania. Newton B. Knox, an American mining engineer, who was with Mr. Bates, was taken into custody at the same time. "The Sergeant who made the arrests accused them of being officers of a German submarine. After bring taken before a Captain they were detained at the barracks half an hour, until United States Consul Frost, at Queenstown, vouched for their innocence. Their search of the coast revealed no trace of the body of L. W. Bates, Jr.
Lindon's body was eventually recovered, #16 by the islands of Doolin and Aran. A memorial service was held for Lindon on 10 June.  He never married and was survived by his parents and brother Lindell.
Related pages
---
Lindon Bates at the Mixed Claims Commission
Links of interest
---
The Russian Road to China, by Lindon Bates, Jr.
The Path of the Conquistadors, by Lindon Bates, Jr.
---
Contributors:
Christine Connolly, Yale University Archives Michael Poirier Judith Tavares
References:
Class Book of 1902 S., Yale University
, pg 17.
Obituary Record of  Graduates of Yale University
, Deceased during the year ending July 1, 1915, pg 895.
The New York Times
, Tuesday, 11 May 1915, page 2.
The New York Times
, Sunday, 16 May 1915.
The New York Times
 on Thursday, 27 May 1915, page 12.