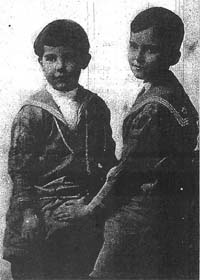 Dean Hodges and William Hodges, Jr. images:  New York Times, Sunday 16 May 1915.
William Hodges, Jr., 8, was traveling aboard Lusitania with his father William Hodges, mother Sarah Hodges, and brother Dean Hodges as his father had business in Paris, France. The family was originally from Philadelphia, Pennsylvania, United States. The entire family was lost in the Lusitania disaster.
Lusitania
---
Aboard Lusitania, the Hodges were on ticket 14677 and stayed in cabin A-16.  During the voyage they had befriended Blish and Maude Thompson.
During the sinking, the Thompsons encountered the Hodges family in the crowd climbing the stairs to the boat deck.  As the ship was listing to starboard, the Hodges were having trouble, so the Thompsons assisted them up the staircase. Later on, Wallace Phillips saw Mr. Hodges exit his portside A Deck cabin with lifebelts in his arms. Phillips asked Hodges if his family was all together, to which Hodges answered yes, that they were all together.
The entire Hodges family was lost in the Lusitania sinking. Hoehling and Hoehling's The Last Voyage of the Lusitania (1956) makes an error in stating that the children had been saved.
The Monday, 17 May issue of The New York Times, page 1, said that Dean's body had been recovered and identified.  Dean's body was later returned to Philadelphia. Sarah's body was #209, interred in Common Grave B in Queenstown (now Cobh), Ireland.
Related pages
---
The Hodges at the Mixed Claims Commission
---
Contributors:
Jim Kalafus
Michael Poirier
Judith Tavares
References:
Hoehling, A. A. and Mary Hoehling.  The Last Voyage of the Lusitania.  Madison Books, 1956.
Mixed Claims Commission. Docket No.  274, page 398.
The New York Times.  Sunday, May 8, 1915, page 3.
The New York Times.  Monday, May 17, 1915, page 1.