Barbara Anderson Second Cabin Passenger Saved
William Harkness and Barbara Anderson. Image credit: Cliff Barry
Born
Barbara Winifred Anderson 15 June 1912 Derby, Connecticut, United States
Died
12 April 2008 (age 95) Wallingford, Connecticut, United States
Age on

Lusitania

2
Traveling with
Emily Anderson (mother)
Lifeboat
15, 1
Rescued by
Wanderer (Peel 11)
Citizenship
- British - United States (Dual)
Residence
Bridgeport, Connecticut, United States
Other name(s)
Barbara McDermott (after marriage)
Spouse(s)
Milton McDermott (? - 1981, his death)
Barbara Anderson (1912 – 2008), 2, was traveling second cabin aboard 
Lusitania
with her mother,
Emily Anderson
.  Both mother and daughter were at lunch on the upper deck of the second-cabin dining saloon when the torpedo hit.  As the ship was sinking, Assistant Purser 
William Harkness
picked up Barbara and placed her into
lifeboat 15
. The Andersons were then transferred to lifeboat 1 when 15 became overcrowded from picking up survivors from the water, and she and her mother were saved by the
Wanderer (Peel 11)
.
First two years
---
Barbara Anderson was born on 15 June 1912 in Derby, Connecticut, United States to Rowland Anderson and Emily Mary Anderson, née Pybus.  Rowland and Emily were from neighboring towns in England. Rowland came from a large family and had 6 siblings, Alfred, Percy, Grace, Frank, Annie, and Edith. Rowland Anderson emigrated to the United States on 20 May 1910 aboard
Carmania
.  His original destination was Providence, Rhode Island, where is brother Percy lived, but Rowland found work as a machinist in Connecticut and settled there.  Emily followed  aboard the Cunarder 
Caronia
, reaching the United States on 28 June 1911 and married that month. The Andersons settled down in Bridgeport, Connecticut, where they lived at 35 Morningside Drive.  The Andersons took family trips to the park and beach.  Rowland worked in New Haven as a draughtsman at the Winchester Repeating Arms factory.  He was also an accomplished artist, and Barbara kept several of his paintings after his passing. Barbara considered herself a serious-looking child and a loner.  In her later years, she showed around a heart-shaped pendant on which she teethed. In the spring of 1915, Emily found out that she was pregnant and with her second child and decided to visit her family in Darlington, England.  In England, Emily would be able to take advantage of the healthcare system there to take care of her tuberculosis.  She was bringing young Barbara with her.  Mother and daughter booked passage aboard 
Lusitania
; Rowland would remain in the United States because of his work.  The war had created high demand for munitions at his factory. Barbara recalled that they had not been aware of the submarine threat against
Lusitania
.  "If my father had seen the warning from the Germans, he would not have let us sail," she told historian Michael Poirier.  Cunard's lowering of second cabin fare aboard
Lusitania
to $50 was further inducement to sail on the doomed ship. The day before Emily and Barbara were to sail, Rowland took Barbara around their neighborhood to say goodbye to all of their friends.  Barbara recalled that she wore a sailor dress that day.  The next morning was sailing day, and the family headed to New York where mother and daughter would board
Lusitania
at Pier 54.
Lusitania
---
Barbara recalled standing by her mother at the rail, looking at the pier and all the people on it, when
Lusitania
sailed from New York.  She tried looking for her father, but she could not find him among the massive crowd.  After a while, Barbara remembered leaving the rail and entering the second-cabin deckhouse. Barbara, being as young as she was, remembered 
Lusitania
as being a "beautiful ship."   Mother and daughter's cabin aboard the ship had bunk beds.  Even though the second cabin dining saloon was originally designed to fit on one deck, because second cabin was booked so fully, the lobby the deck above was converted into dining room seating as well.  Barbara and Emily sat at a table for two on this upper deck, near the railing, where they could look down into the lower dining room below and all of the people seated at the long tables.  Their table was also in sight of the entrance to the corridor, and a table nearby sat all male passengers. Emily recalled
Lusitania
passing several warships outbound from New York and, like many others, expected naval escorts to greet them once they reached the war zone around the British Isles.  The voyage, as Emily recalled it, was "splendid" with the weather "fine all the way."  During the trip they had become friends with
Margaret
and
Desmond Cox
. On Friday, 7 May, Barbara and Emily were at luncheon when the torpedo hit.  Young Barbara was leaning against the railing of the upper level of the lobby-converted-to dining room, clutching a souvenir spoon from the barbers' shop that had "Lusitania" engraved on it, while her mother was still sitting at the table.  Barbara recalled looking down onto the lower level of the dining room and watching the people below scurry about in the resulting confusion. Assistant Purser William Harkness helped Emily carry Barbara upstairs to the boat deck.  There, mother and daughter saw people running all over.  They were near the stern and Barbara was standing by the railing.  Harkness scooped up Barbara into his arms and they "fell together" into lifeboat 15 as it was lowering. The slanting deck was treacherous and Emily saw Margaret Cox lose hold of baby Desmond along the sloping deck until they too entered lifeboat 15. The ship was sinking so rapidly that the men simply cut the ropes holding the lifeboat to the ship.  The ship's funnels leaned menacingly over them and those in the boat rowed for fear of suction from the sinking ship.  As the lifeboat rowed away, the ship went under, and soot from the funnels spewed all over the people in the boat.  A wireless antenna threatened to drag down their lifeboat, but Harkness managed to heave one overboard and another snapped. Barbara was not injured in the sinking and did not need to go to a hospital.  In later years, Barbara would tell that Emily fell into the water but was pulled into the lifeboat, but this does not seem to have been the case, and that Emily had stayed safely inside the lifeboat. Barbara remembered that she sat in the lifeboat facing her mother for a long period of time, seemingly lost. They were sitting next to wireless operator Robert Leith, who had related to Emily that he had been sending out distress signals for 14 minutes before the sinking forced him to leave his post. Their lifeboat came across another boat, number 1, with only 2 men in it, and First Officer
Arthur Rowland Jones
transferred some people, including the Andersons, from his overcrowded lifeboat 15 over to even the load.  Jones then searched for more people to pick up from the water. Their lifeboat was picked up by the fishing boat
Wanderer
, also known as
Peel 11
, and the survivors were taken to Queenstown. Barbara held onto her engraved spoon the entire time. Of the rest of the ordeal, Barbara only recalled taking the train through a tunnel and meeting her grandparents at the station. A reporter from the 
North Star
interviewed Emily and wrote, "Mrs. Anderson looks none the worse for her terrible experience and her charming little daughter was prattling away merrily with the innocence of childhood".   The first months in England were pleasant, but Emily's health soon took a turn for the worse. In England, Emily gave birth to Barbara's baby brother, Frank Roland, on 30 September 1915.  Frank only lived to be five months old and died 16 March 1916.  Barbara never had a chance to see him. Emily's tuberculosis worsened, and she moved to a separate cottage on the family property.  Barbara was taken to see her on Christmas 1916, where Emily gave her daughter a new doll carriage.  In Emily's last days, Barbara went to see her mother one last time, where Emily held out her arms and hugged Barbara, just holding her.  Emily died on 11 March 1917.  Barbara believed that the trauma of the
Lusitania
disaster killed both her brother and mother.
Childhood years in England
---
Barbara's Granny and Grandpa Robert Pybus helped take care of her in England, as did her grandparents from her father's family, aunts Annie and Edith, and other aunts and uncles.  One grandfather worked at the train station and gave the family complimentary rides wherever they wanted to go. Barbara was allowed to travel by herself, on foot, to visit her father's parents.  She recalled marveling at the chocolate store when walking through town. Barbara recalled Granny Pybus cooking on an open hearth and beehive oven.  On Sundays she went to Quaker Meeting House, she remembered the meetings as being very peaceful.  Her grandfather was a member of the Church of England and would dress in his best with hat and cane.  As for her own spiritual beliefs, Barbara stated that she always said Grace and thanked God every night for saving her from the
Lusitania
sinking. Rowland continued to work at the Winchester Repeating Arms factory in New Haven, Connecticut.  For Rowland to travel during wartime would have exposed Barbara to the possibility of becoming an orphan. As a young girl in England, Barbara's best friend was named Eileen.  Barbara remembered their going to see a Charlie Chaplin film one time, and a trip to the beach other time.  Barbara had been in a cart with a donkey, but the donkey had tipped the cart and she fell out.  Barbara would miss Eileen after Barbara returned to the United States. At school, Barbara once got in trouble when some "bad girls" pushed her out of line.  The principal slapped Barbara on the hands with a leather strap while the girls got away with getting her in trouble. During the war, the Pybus family had German soldiers, prisoners of war, working on their farm.  Barbara remembered having to sit at the end of the table opposite from them at that time.  Barbara also remembered that during the war years they never decorated for Christmas, never put up a tree, or hung any stockings. As for the spoon that Barbara took with her from the
Lusitania
, Granny Pybus kept it in the big dining room dresser to show to guests.  Years later, Barbara would state how much she wanted that spoon back, and whoever cleared out the Pybus house after Granny Pybus died must know where that spoon is now.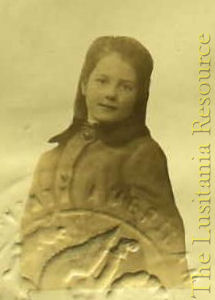 Michael Poirier Collection/National Archives
Return to the United States
---
The war ended at the end of 1918, and in 1919, Rowland Anderson wanted Barbara to come home now that it was safe to do so.  By then, Barbara was 7 years old.  Barbara's Aunt Annie wanted Barbara to stay in England, but her Aunt Edith wanted her to go back to the United States.  Edith took Barbara to the passport office to make the necessary arrangements. Barbara would return to the United States aboard
Lusitania
's sister ship,
Mauretania
.  Her ticket cost £15 2s.  This would be the last time Barbara would cross the ocean in a ship, although in later years she would fly across the Atlantic. Barbara didn't remember much about her chaperone on the way back to America, other than that she was a family acquaintance and wasn't very nice.  However, Barbara did remember one time when her chaperone hiked up her skirt and went to the bathroom in a ditch. Barbara did not feel well during the trip, and both the doctor and the captain came to visit her.  The captain of the ship, Arthur Rostron, was the same captain who saved the survivors of the
Titanic
wreck in 1912.  Rostron invited Barbara to sit at the captain's table.  Barbara recalled that everyone had been so nice and so kind and that she had a wonderful time. One day while Barbara was in the reading and writing room, she saw a spouting whale through the window. 
Mauretania
arrived in New York on Christmas Day 1919.  Barbara recognized her father at first sight, even though her chaperone was skeptical. When Barbara returned home, gifts were ready under the Christmas tree.  One of her gifts was a French bisque-head doll with a lacey, handmade silk dress in an antique baby carriage.  Barbara named the doll Eileen after her friend she had left behind in England.  The doll had once belonged to Rowland's new wife and Barbara's stepmother, Helen Dodie.  Helen had placed a red wig on the doll to match Barbara's red hair.  Barbara was able to keep the original petticoats and pantaloons for Eileen throughout the years.  As a child, she would cart Eileen around in her doll carriage. Rowland and Helen had a son and Barbara had a new half-brother named Dickie.  Barbara once placed Dickie in her doll Eileen's carriage. Barbara recalled how when she was young she would sneak raisins from the pantry.  Helen once got mad at Barbara when Helen found the new box to be nearly empty. Rowland filed suit against Germany through the
Mixed Claims Commission
, where Barbara was
awarded $10,000
.  But it may not have been honored by the German Government, as Barbara knew nothing about it. Barbara had a normal childhood where she swam at Morris Cove, attended Nathan Hale School in East Haven and then the local high school.  She had a part time job giving tours of the area's historic homes. Barbara enjoyed acting and performed in a number of plays.  She had once portrayed the Queen of the Nile, and her favorite was a ghost play where she remembered how much the audience loved it.
Mother and working woman
---
Barbara graduated school and married Milton McDermott.  They had met on a blind date.  Barbara and Milton had two children, George and Elizabeth.  George was born on Mothers' Day, 8 May 1938, 23 years and one day after the
Lusitania
sinking.  Barbara stated that her son was the best Mothers' Day gift she ever had. Barbara was in their apartment with George when the Hurricane of 1938 struck.  She nursed her infant son through long hours of driving wind and rain. The McDermott Family continued to live in New England.  Milton worked as a doorman at the Taft Hotel.  Barbara prided herself in being self-reliant and painted rooms, put up wallpaper, repaired things, and mowed the lawn.  They enjoyed swimming, but the
Lusitania
sinking influenced Barbara such that she would never go in water over her head. Barbara found work at the W. T. Grant department store., where she became good friends of Mrs. Champagne, "Champy," who took care of her and gave her rides to work.  Barbara started working the floor and made her way up to personnel.  W. T. Grant closed in the 1970s.  Barbara also learned how to drive and continued to do so until she was 89. In 1974, Barbara flew back to England and visited Aunt Annie who had helped take care of her during the First World War.  Annie asked Barbara if she married so young because she wanted to get out of the house.  Upon hearing Barbara's answer, Annie shouted, "I knew it!  I knew it!"  She visited the places of her youth, including Granny and Grandpa Pybus' house that was still standing. Her father Rowland had moved to Pennsylvania and passed away there. A man at her Congregational Church suggested another job for Barbara, which was working in a cemetery office in East Haven, Connecticut.  Barbara loved that job, and she lived around the corner on Martin Street.  She answered the phone and kept records up until 1999 when her cataracts prevented her from driving to her job.   Barbara believed that it was important to keep working and keep meeting people throughout life. Barbara outlived Milton, who passed away in 1981.  She and her friend Betty, who was also a widow, moved in together into a little cape house.  She appreciated the independence of her new life.  Afterwards, Barbara moved in with her daughter Elizabeth and her husband Jimmy in Wallingford, Connecticut.  She lived there for twenty years before entering the Skyview Nursing Home. Barbara became not only a grandmother with the birth of her grandsons Paul and David, but also lived to be a great-grandmother when Paul and his wife Terri had children, P.J. and Michael.  She lived a long life and died in Wallingford on 12 April 2008 at age 95.  She was the last
Lusitania
survivor residing in the United States, leaving only one remaining living survivor, saloon passenger
Audrey Pearl
(now Lawson-Johnston).
Hobbies
---
Barbara enjoyed playing the piano, especially hymns, although she stated that her children didn't care so much for her selection of music.  Barbara was also a member of her church community.  She enjoyed crocheting and made each of her great-grandsons an afghan and pillow.  She had once sewed duck costumes for Miss Annette's, a local dancing school.  Barbara was also an active gardener and her favorite actor is Tom Selleck.  Milton would jokingly refer to Tom Selleck as Barbara's "boyfriend."  In summers she would also host cookouts for friends and family.
Lusitania revisited
---
Barbara did not speak about
Lusitania
until later in life.  Her reasoning was that "No one believed me!" Barbara was able to acquire a German-made
Lusitania
medal when an article by John Thorpe in England wrote about how much she wanted one.  A reader gave her the medal through Thorpe.  She also wished to have her spoon back again. Barbara had a collection of
Lusitania
books and was an admirer of oceanographer and explorer Dr. Robert Ballard.  When asked about if she would consider appearing in a movie adaptation of Diana Preston's
Lusitania
book or go to the premiere, she replied enthusiastically that she would. Barbara was also a supporter of salvaging
Lusitania
artifacts. In the last ten years of her life, Barbara granted a number of television and newspaper interviews about her
Lusitania
experience and appeared in documentaries.   She spoke at the
Titanic
International Society conventions in Newport, Rhode Island and Mystic, Connecticut.  At Mystic, she was able to tour a submarine and see an actual torpedo, which she found fascinating. Barbara had also wished to meet the family of William Harkness, the man who had saved her life.  Emails between his grandson Leigh and historian Michael Poirier allowed Barbara to contact Harkness' daughter Muriel so that she could finally say thank you to the family of the man who saved her life.
Related pages
---
Barbara Anderson at the Mixed Claims Commission
---
Editor's note:
I have had the honor and great privilege of corresponding with Mrs. McDermott in the last years before her passing, and she truly was a remarkable lady.  It has always been a great regret of mine that I never  met her in person, and I wish I had. - RHJW.
Contributors:
Barbara Anderson McDermott (
Lusitania
survivor) David M. McDermott (grandson of Barbara McDermott) Shelley Dziedzic Michael Poirier
References:
Dziedzic, Shelley. "Barbara Winifred Anderson McDermott: Visit on a Sunday Afternoon, July 21, 2002."
Journeys in Time
.  Online (now offline).  <http://www.revdma2.com/Barbara.html>. Kroeger, Judy.  "Bullskin man recalls mother's survival after sinking of
Lusitania
."  
Daily Courier
, 23 March 2009.  Online.  <
http://www.pittsburghlive.com/x/dailycourier/news/s_617382.html#ixzz1KvHYrF71
>. Layton, J. Kent.  
Lusitania:  An Illustrated Biography of the Ship of Splendor
.  Lulu Press, 2007. Poirier, Michael.  "Tribute to Barbara McDermott." 
Voyage
(64).  Titanic International Society. "TIS Mourns the Loss of Lusitania Survivor."  Titanic International Society.  Online.  <
http://titanicinternational.wordpress.com/2008/04/13/tis-mourns-the-loss-of-lusitania-survivor/
>.