Jessie Taft Smith Saloon Passenger Saved
image:  

Cleveland Plain Dealer

, Saturday, 8 May 1915.
Born
Jessie Taft 12 February 1876 Braceville, Ohio, United States
Died
1 November 1928 (age 52) Philadelphia, Pennsylvania, United States
Age on Lusitania
39
Ticket number
46143
Cabin number
B 20
Traveling with
none
Lifeboat
13
Rescued by
Stormcock
Occupation
Housewife
Citizenship
United States
Residence
Braceville, Ohio, United States
Spouse(s)
John W. Smith (1901 - ?)
Jessie Taft Smith (1876 - 1928), 39, was traveling aboard
Lusitania
to join her husband in England.  Her husband had been in Europe designing engines to be used in French and British fighter planes during World War I.  During the
Lusitania
sinking, she found her way into lifeboat 13, which was safely lowered.  Her lifeboat was picked up by the British, government boat
Stormcock
.  Her biography has been adapted from an article by Michael Poirier which appeared in 
Titanic International
's 
Voyage
, issue 44, in 2003.
Family and marriage
---
Jessie Taft was born in Braceville, in Trumbull County, Ohio on 12 February 1876 to Mr. and Mrs. Hobart L. Taft.  She was one of three children.  The Taft family had been one of the pioneers of the small town and were quite prominent in their community.  Not surprisingly, Jessie became engaged to John W. Smith, who also came from a well-to-do family.  Jessie and John's wedding took place on 2 October 1901 at the Methodist Church.  Afterwards they moved to Chicago.
The Smith Engine
---
John Smith was  an inventor by trade and one of his accomplishments was manufacturing an engine that was to be used in aeroplanes. By 1915, the French aviation corps were using his engines in their aeroplanes. The British Admiralty contacted John about developing similar engines for their planes as well. He left for England in January of 1915 to work on the "Smith Engine," and internal combustion engine. Lonely, Jessie  moved back to Braceville to be with her family, but she then received word from her husband to bring his blueprint plans for the "Smith Engine."  Her husband cabled the Cunard agents £30 to arrange for Jessie's immediate passage on the 
Lusitania
.
Lusitania
---
She boarded the
Lusitania
on 1 May 1915 and where she was assigned an inside cabin, B-20. Her cabin neighbors were Owen Kenan in B-22 and Charles and Mary Plamondon in B-18. Not much is known about her day to day activities, but on 7 May, the day of the sinking, she had finished lunch and adjourned to the writing room.  Shortly after two o'clock she heard a "noise" and then she felt that the 
Lusitania
"seemed to lift".  She then  said that, "another explosion occured".  Jessie got out of her chair and made her way forward towards the main staircase. All along the way she was told,  "not to hurry as there was no danger". She may have had an inkling of what was to come as on a previous day she had made sure that her lifebelt was in a handy spot in her cabin. Darting into her cabin, she placed the lifebelt on and ran back towards the staircase and exited the companionway onto the starboard side boat deck.  A steward helped her into lifeboat 13 and within a few minutes the boat was lowered.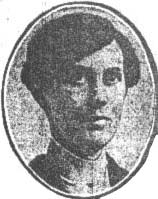 image:  

New York Herald

, Monday, 10 May 1915.  Courtesy Jim Kalafus.
As soon as the boat pushed off, Jessie turned around so she couldn't see the sinking of the ship, which disappeared a few minutes later.  The boat picked up several people and was eventually taken in tow by a fishing boat.  The fishing boat was then intercepted by the British, government patrol boat
Stormcock
, which then took over the rescue operations. Wesley Frost, the American Counsel, met her on the wharf in Queenstown and handed her over to Dr. Townsend and his wife who took her into their home and cared for her.  While staying in Birmingham, John Smith learned about the sinking.  He was relieved to get a telegram from his wife.  He arrived in Queenstown on Sunday and took her back to England.
Nervous breakdown
---
Jessie Taft Smith was seemingly fine at first and took Sunday excursions to Sutton Park and walked long distances in the surrounding woods.  However she slowly began to unravel over the next few months, despite the constant care of physicians.  Her husband spent most of his time with her and neglected his work.  Smith would claim that because he was unable to focus on work that the British Admiralty rejected his engine design. Finally, in February of 1916, Jessie suffered a complete nervous collapse and was sent to the South Hill Nursing Home in Birmingham.  The family claimed it was due to her experiences on the 
Lusitania
and also in part to rheumatic fever.  Eventually she recovered enough to make the journey home. The Smith's booked passage on the American ship 
New York
and arrived on 31 July 1916.
Compensation and final years
---
Jessie moved back to her father's farm while her brother Robert who was a doctor and her sister Florence cared for her.  After the war, court proceedings took place in to determine
compensation for victims of the war
.  The Smiths' brought
their case
before the court, but Commissioner Edwin Parker found the evidence to be sketchy at best and awarded her only $1,196 for lost effects on 24 October 1924.  The couple felt they deserved more and contested Parker's decision. Finally on 30 December 1924, Parker awarded an additional $2,500 in compensation, and also stipulated that the Smiths' case were not to set a precedent for future mixed claims cases. The Smiths' moved to Philadelphia and on 1 November 1928, Jessie Taft Smith passed away at age fifty-two. Her body was transported back to Newton Falls and she was buried in Braceville Cemetery after a brief memorial service.  Jessie Taft Smith was finally at peace.
Related pages
---
Jessie Taft Smith at the Mixed Claims Commission
Jessie Taft Smith: Lusitania Survivor, by Michael Poirier
---
Contributor:
Michael Poirier