Leslie Mason Saloon Passenger Lost
image:  

The Illustrated London News

, 29 May 1915.  Courtesy Michael Poirier.
Born
Leslie Hawthorne Lindsey 11 June 1886 Boston, Massachusetts, United States
Died
7 May 1915 (age 28) At sea
Age on Lusitania
28
Ticket number
1295
Cabin number
B 77
Traveling with
- Stewart Mason (husband) - Oliver Bernard (chaperone)
Body number
152
Interred
Mount Auburn Cemetery, Cambridge, Massachusetts
Occupation
Heiress
Citizenship
- United States - British (upon marriage)
Residence
Boston, Massachusetts, United States
Spouse(s)
Stewart Southam Mason (1915, their deaths)
Leslie Mason (1886 - 1915), 28, was a newlywed bride traveling with her husband
Stewart Mason
on their honeymoon. She was also moving to Woodbridge, Suffolk, England, to be with her new husband. They were accompanied by a friend of her father,
Oliver Bernard
, as their chaperone. Leslie and Stewart had been separated just before the
Lusitania
was torpedoed and Leslie could not find him. Oliver found Leslie by the verandah café and told her to stay put while he found a lifebelt for her. When Oliver returned, Leslie was gone. Whether she and Stewart were reunited in the last minutes of the sinking is unknown. Leslie was lost in the
Lusitania
disaster. Her body was recovered and returned to the United States.
Family and fortune
---
Leslie Mason, was born Leslie Hawthorne Lindsey on 11 June 1886.  She was the eldest of three children born to William Lindsey and Anne Hawthorne of Boston, Massachusetts, United States.  Her siblings were Kenneth and Dorothy. Her father William Lindsey invented the ammunition belt and his business in arms manufacturing earned his family a fortune.  William did not have an easy start.  As the United States Armed Forces wouldn't accept his idea, he set out for England in 1889 and found her Ministry of War "as easy to storm as the kingdom of Heaven."  He slinked around the building finding the only approachable person the janitor, a one-legged veteran of the Crimean War. One day when the guard was not there, William stormed the war lord's office.  As William was about to be thrown out, he declared that he could help the British win the Boer War.  Interested, Lindsey was given one month to fulfill the given quota of 40,000 belts.  With a job, he sent for his family to come over (he married Anne Hawthorne on 16 December 1884), and that Christmas he pinned a check from the British Government for 650,000 on the family Christmas tree. The Boer War had made so much money for the Lindseys that William could retire in 1904 at age 42.  The Lindseys moved back to Boston and William commissioned a Tudor-revival mansion on 225 Bay State Road in 1904.  Construction began the following year and it was completed in 1914.  Before the mansion was completed, the Lindseys lived at the residence of Mr. James Means' house at 191 Bay State.  The mansion was modeled after Athelhampton Hall in Dorchester, England.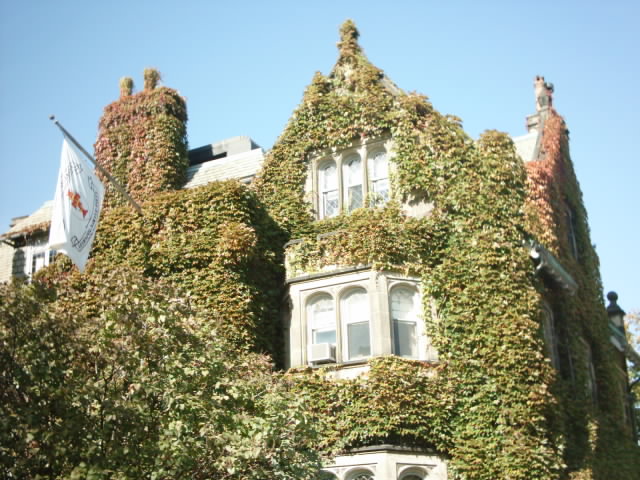 225 Bay State Road in 2003.  Editor's collection.
The arts and travels
---
With his retirement and biding his time until the completion of his mansion, William dedicated his life to the arts.  He was an officer of the Boston Authors' Club, and a member of the Authors' League of New York.  His works include the novels
Severed Mantle
(1909) and
Backsliders
(1922), the plays
Red Wine of Roussellon
(1915),
Seremonda
(1917, an adaptation of
Severed Mantle
), and a posthumous collection of sonnets,
The Curtain of Forgetfulness
(1923). Like her father, Leslie had an interest in the theater.  She was a member of the Vincent Club and had participated in several amateur dramatic productions.  Described as "dark and lithe like her father" and a "beautiful dancer," Leslie was known for performing for charitable entertainments.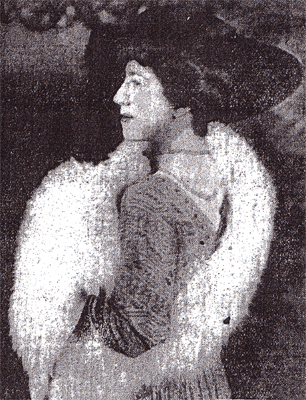 image: The Boston Globe, Globe Pequot Press. Guilford, CT. Courtesy Carole Lindsay.
Around this time of leisure the Lindsey family traveled.  Family friend Jeanne Robert Foster noted a picture in the Lindsey family collection of Leslie in Jerusalem, dressed in Arab garb.  Jeanne mused that tourists in those days probably found it fashionable to dress like the locals.  Unfortunately, in the years since Jeanne's correspondence with Boston University, much of the Lindsey family memorabilia has been lost. Leslie's brother, Kenneth Lovell Lindsey, Harvard's class of 1910, was in charge of his father's London office.  During one winter of his college years, he rescued two women who had fallen through the ice while trying to cross the Charles River.
Marriage
---
In 1915, Kenneth escorted Stewart Mason of Ispwich, England, on the
St. Louis
to America, where Stewart would marry Leslie. On Wednesday, 21 April 1915, Leslie and Stewart were married in Boston's Emmanuel Church.  They were to sail on the
Lusitania
for their honeymoon and then make their home in Riverdale, Woodbridge, Suffolk, England.  Accompanying the newlyweds was Oliver Bernard, an artist from Convent Garden, London, England, who was working in Boston for William Lindsey for the latter's production of
Red Wine of Roussellon
, which Oliver called "a deplorable play set round medieval Picardy".
Lusitania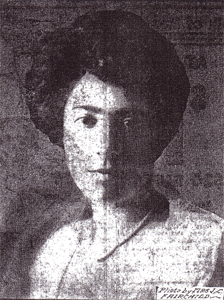 image: The Boston Globe, Globe Pequot Press. Guilford, CT. Courtesy Carole Lindsay.
On board the
Lusitania
, Leslie and Stewart often kept to themselves and did not bother Oliver much.  As Oliver was also not too fond of romantic love, he was quite relieved.  Leslie and Stewart were present at the ship's concert on Thursday night. After the torpedo struck on Friday afternoon, Leslie met up with Oliver on the port side of Promenade Deck "A" by the verandah café  She was hysterical, shouting, "Where is my husband?" "Your husband will soon be here."  Oliver answered reassuringly.  "We shall be going ashore directly." Leslie was still hysterical and Oliver grabbed her by the shoulders and shook her violently, shouting, "Listen to me!  If you stay right here your husband will find you . . ..  If you go running around this town of a ship, you'll never meet up with him.  Understand?" He then told Leslie to wait for him in the verandah café while he went to go look for Stewart and lifebelts.  When Oliver came back, however, Leslie was gone.  If Leslie and Stewart ever found each other before the ship sank one can only guess.  Neither Leslie nor Stewart survived; a tragic irony that William Lindsey who made his millions in arms manufacturing should lose his daughter in an act of war. Leslie's body was recovered by a tug on the night of Monday, 10 May, twenty miles from where the ship sank. On Leslie's recovered body were rubies and diamonds that her father had given her as a wedding gift.  American consul Wesley Frost found her lying at the back of the Cunard office "like a statue typifying assassinated innocence." Her body was #152, shipped back to her father in Boston, arriving in New York on the
Lapland
on 31 May 1915.  Her funeral was on 5 June 1915 in Emmanuel Church, where her bridal ushers were now pallbearers. On Leslie's grave is the hymn title, "The King of Love my Shepherd Is". Oddly, Stewart Mason's body was not buried with Leslie, but in Common Grave B of the Queenstown (now Cobh) churchyard.
Leslie Lindsey Memorial Chapel
---
Her grieving parents, William and Anne, decided to dedicate at Emmanuel Church as a memorial to Leslie and Stewart. The jewels Leslie was wearing were sold to fund construction of the Leslie Lindsey Chapel of the Emmanuel Church. The Lindseys purchased 27 Newbury Street in 1919 and offered Emmanuel Church to build a memorial chapel on the site. Vestry accepted the gift of the proposed chapel on 8 December 1919. The construction of the chapel was overseen by a three-person committee of Mr. Lindsey, Emmanuel's rector Elwood Worcester, and Emmanuel's architect Francis R. Allen. The cornerstone was laid in the spring of 1920. The Lindseys wanted the chapel to be built with the best craftsmanship available on both sides of the Atlantic. Builders contributing to the chapel's construction were Scottish architect Ninian Comper, the architectural firm of Allen & Collins, and Campbell, Aldrich and Nulty of Boston. The construction of the chapel cost $500,000.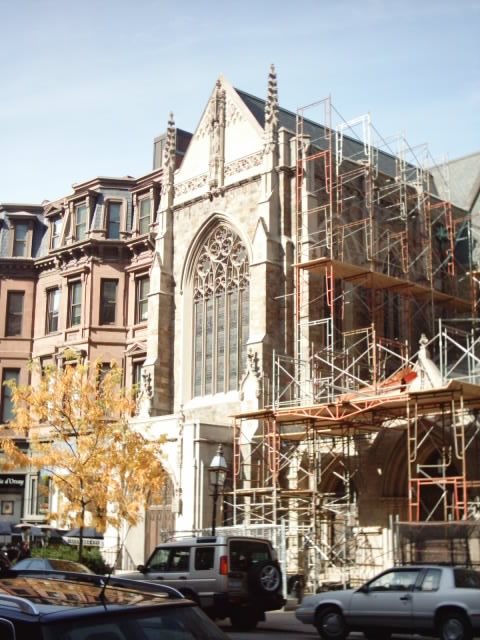 Leslie Lindsey Memorial Chapel, under renovation 25 October 2003.
The chapel's cornerstone was laid in the spring of 1920. As construction progressed, William Lindsey fell to a terminal illness. His younger daughter Dorothy recalled her father sitting on the sidewalk outside the construction site, grieving that he would not live to see his daughter's memorial finished. William Lindsey died on 25 November 1922, two years before the chapel's completion. Bishop of Massachusetts, William Lawrence, consecrated the Leslie Lindsey Memorial Chapel on 1 October 1924, on the twentieth anniversary of Dr. Worcester's rectorship. The communion hymn at the dedication service was the same as the hymn engraved on the top of Leslie's memorial at Mount Auburn: "The King of Love My Shepherd Is."
Family postscript
---
Also in 1915, Leslie's sister Dorothy married hastily at the age 17.  She regretted marrying her husband before the honeymoon was over.  To obtain a French divorce, Dorothy and a family friend Jeanne Robert Foster, moved to France and lived there for 9 months to establish residency.  During this time Dorothy's husband, whose name Jeanne does not mention in her correspondence, became increasingly irate and sent a private dectective after them.  Four French and one American lawyers later, the divorce was finalized. In 1917, William Lindsey donated 560 musical instruments to the Boston Museum of Fine Arts, of which he was a trustee, creating the Leslie Lindsey Mason Collection. Coincidentally, some of the musical instruments in the Boston Museum of Fine Arts passed through art and antiquities dealer
Frank Partridge
, a fellow passenger on
Lusitania
's last voyage. Interestingly, a 1921 passenger list from the
Caronia
lists an infant "Leslie Lindsey" of Boston as one of the passengers.  This was Kenneth's daughter, named after his sister.  Another daughter, Maria, would die not long after her second birthday. After William Lindsey's death in 1922, the Lindseys moved out of 225 Bay State. They also sold his library to Emmanuel Church.  Anne and Kenneth went to live in London, England at 84 Brook Street, Mayfair, sometimes touring the European Continent.  Anne sold 225 Bay State in 1927 to Oakes Ames who then with Dr. and Mrs. William E, Chenery sold the mansion to Boston University in 1939.  "The Castle," as the Lindsey mansion is called today, is operated by Boston University's Office of Conference Services and used primarily for functions, receptions, and conferences. Dorothy, a few years after her divorce, would marry Count Bruno Leydet and settle in Dordogne where the couple had three children.  Jeanne Foster mused in her correspondence how William would have liked Bruno if they had met.  Bruno knew much of Provence, where William liked to set his plays and novels, and was also the French minister Plenipotentiary to Austria. Leslie's name is sometimes incorrectly spelled "Leslie Lindsay," "Lesley Lindsey," and a number of other variations.
Related pages
---
Stewart and Leslie Mason Gallery
Links of interest
---
Boston Museum of Fine Arts:  Musical Instruments
Emmanuel Church of Boston
History of the Leslie Lindsey Memorial Chapel
The Castle at Boston University
BU Castle on Wikipedia
---
Contributors:
Diane Gallagher, Boston University Archives Carole Lindsay Michael Poirier Judith Tavares
References:
Ballard, Dr. Robert D. and Spencer Dunmore.  
Exploring the Lusitania
.  Warner Books, 1995.
BostonFamilyHistory.com - The Place to Meet Your Past
.  Online.   <http://www.bostonfamilyhistory.com/neigh_bbay.html>.
Boston Globe
.  Globe Pequot Press.
Boston Museum of Fine Arts:  Leslie Lindsey Mason Collection
.  Online.  <http://www.mfa.org/artemis/collections/mi.htm> (now offline). Boston University Archives.
B. U. Bridge:  Boston University's Weekly Newspaper
.  Friday, 13 December 2002.  Online.  <
http://www.bu.edu/bridge/archive/2002/12-13/castle.htm
>
Ellis Island Records
.  Online.  <
http://www.ellisislandrecords.org
>
Emmanuel Church of Boston
.  Online.  <
http://www.emmanuel-boston.org
> "History of the Lindsey Chapel."
Emmanuel Church of Boston
. Online. 14 July 2011. <
http://www.emmanuel-boston.org/LindseyChapel/LChistory.html
> Harris, John.  
Historic Walks in Old Boston.
Hickey, Des and Gus Smith.  
Seven Days to Disaster
.  G. P. Putnam's Sons, 1981. Hoehling, A. A. and Mary Hoehling.  
The Last Voyage of the Lusitania
.  Madison Books, 1956. Preston, Diana.  
Lusitania:  An Epic Tragedy
.  Berkley Books, 2002. "Ninian Comper." Wikipedia: The Free Encyclopedia. Wikimedia Foundation, Inc. 22 July 2004. Web. 14 July 2011. <
http://en.wikipedia.org/wiki/Ninian_Comper
>