Stewart Mason Saloon Passenger Lost
[No Picture Provided]
Born
Stewart Southam Mason 5 February 1885 Sproughton, Ipswich, England, United Kingdom
Died
7 May 1915 (age 30) At sea
Age on Lusitania
30
Ticket number
1295
Cabin number
B 77
Traveling with
- Leslie Mason (wife) - Oliver Bernard (chaperone)
Body number
59
Interred
Common Grave B, Old Church Cemetery, Queenstown (now Cobh), Ireland
Occupation
?
Citizenship
British
Residence
Riverdale, Woodbridge, Suffolk, England, United Kingdom
Spouse(s)
Leslie Hawthorne Lindsey (1915, their deaths)
Stewart Mason (1885 - 1915), 30, was a newlywed husband traveling with his bride
Leslie Mason
on their honeymoon. They were also moving to Woodbridge, Suffolk, England, to be live together as husband and wife. They were accompanied by a friend of Leslie's father,
Oliver Bernard
, as their chaperone. Leslie and Stewart had been separated just before the
Lusitania
was torpedoed and Leslie could not find him. Whether she and Stewart were reunited in the last minutes of the sinking is unknown. Both Stewart and Leslie were lost in the
Lusitania
disaster. His body was recovered and is buried in Common Grave B of the Old Church Cemetery in Queenstown (no Cobh), Ireland.
Life
---
Stewart Mason was born on 5 February 1885 to Mr. and Mrs. Herbert Wilberforce Mason of Manor House, Sproughton, Ipswich, England.  He was the nephew of the English bishop of the same name at the time.  Stewart attended Christ College at the University of Oxford and graduated in the class of 1906. Stewart visited the United States in 1907 after crossing on the
Oceanic
, then again in 1911 after crossing on the
Lusitania
.  Presumably on one of these visits Stewart met Leslie Lindsey, as in April of 1915, Stewart came to the United States again, this time on the
St. Louis
with Leslie's brother Kenneth, to claim Leslie as his bride. On Wednesday, 21 April 1915, Stewart and Leslie were wed in Boston's Emmanuel Church.  They were to sail on the
Lusitania
for their honeymoon and then make their home in Riverdale, Woodbridge, Suffolk, England.  Accompanying the newlyweds was Oliver Bernard, an artist from Convent Garden, London, England, who was working in Boston for Leslie's father, arms manufacturer William Lindsey, for the latter's production of what Oliver called "a deplorable play set round medieval Picardy". On board the
Lusitania
, Leslie and Stewart often kept to themselves and did not bother Oliver much.  As Oliver was also not too fond of romantic love, he was quite relieved.  Leslie and Stewart were present at the ship's concert on Thursday night. When the torpedo struck on Friday afternoon, Stewart and Leslie were separated.  Leslie was frantic in searching for Stewart and pleaded with Oliver for help.  Oliver told Leslie to stay in the verandah café while he went searching for Stewart and lifebelts.  Oliver's search for Stewart was unsuccessful, and when he returned to the café he discovered that Leslie was gone.  It is not known whether Leslie and Stewart were ever reunited as they both perished. Per the list of interments in Queenstown, Ireland, Stewart Mason was body #59, Common Grave B.  His bride was buried back in the United States, where an ocean now separates the two lovers. Stewart's name is sometimes misspelled "Stuart Mason," as in the inscription of his and Leslie's dedication in their memorial chapel in Boston, Massachusetts.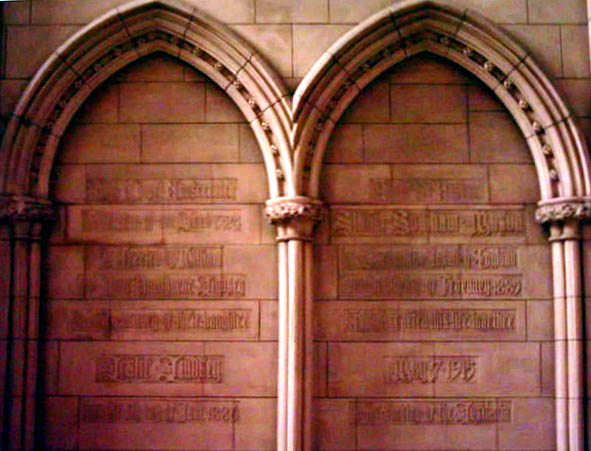 Lindsey Chapel dedication. Editor's collection.
| | |
| --- | --- |
| THIS CHAPEL, CONSECRATED IN THE YEAR OF OUR LORD 1924 IS ERECTED BY WILLIAM AND ANNE HAWTHORNE LINDSEY IN LOVING MEMORY OF THEIR DAUGHTER LESLIE LINDSEY BORN THE 11TH DAY OF JUNE 1886 | AND HER HUSBAND STUART [sic] SOUTHAM MASON OF SPROUGHTON, IPSWICH, ENGLAND BORN THE 5TH DAY OF FEBRUARY, 1885 THEY DEPARTED THIS LIFE TOGETHER MAY 7, 1915 IN THE SINKING OF THE LUSITANIA |
Related pages
---
Stewart and Leslie Mason Gallery
---
Contributors:
Carole Lindsay Judith Tavares
References:
Ballard, Dr. Robert D. and Spencer Dunmore.  
Exploring the Lusitania
.  Warner Books, 1995.
Boston Globe
.  Globe Pequot Press.
Ellis Island Records
.  Online.  <
http://www.ellisislandrecords.org
> Hickey, Des and Gus Smith.  
Seven Days to Disaster
.  G. P. Putnam's Sons, 1981. Hoehling, A. A. and Mary Hoehling.  
The Last Voyage of the Lusitania
.  Madison Books, 1956. Preston, Diana.  
Lusitania:  An Epic Tragedy
.  Berkley Books, 2002.