Marie Depage Saloon Passenger Lost
image courtesy Patrick Loodts
Born
Marie Picard 1872 Belgium
Died
7 May 1915 (age 43) At sea
Age on Lusitania
43
Ticket number
46086
Cabin number
E 61
Body number
57
Interred
La Panne, Belgium
Occupation
Nurse
Citizenship
Belgian
Spouse(s)
Antoine Depage
Signature Chicago Tribune, 8 May 1915.
Marie Depage, sometimes known as Marie de Page, 43, was a nurse from Brussels, Belgium who worked with her husband Antoine Depage to tend to the war wounded.  She had been in the United States to fundraise for Belgian military medical aid, and was returning home on 
Lusitania
 to see her son Lucien, who was being called into military service.  During the sinking, Marie Depage and 
Dr. James Houghton
 helped many children to safety.  Marie Depage was lost in the sinking and her body was recovered, #57, and interred in Belgium.
Family and career
---
Marie Depage was born Marie Picard in 1872, a decendant of Belgian royalty.  She was a nurse and wife of Dr. Antoine Depage, born in 1862, the surgeon to King Albert and the head of the Belgian Red Cross.  Together they had three sons; the middle child, 17, was named Lucien. In 1907, Antoine Depage created the first Belgian medical school, l'École Belge d'Infirmières Diplômées (The Belgian School of Registered Nurses), in Brussels.  For the first director of this school, Antoine selected English nurse Edith Cavell.  The administration of finances was entrusted to Marie Depage.  The school opened on 1 October of that year.  A daily newspaper wrote in particular: "this school is a machine of war against the chocolate éclairs [is this a translation error?] which, for a thousand years, have looked after our patients." When the nuns threatened to strike in 1910, Antoine Depage telephoned the ladies "of the best company," and the following day, at 7 a.m., all in white blouse and skirt and Marie Depage at their head, the women went to the hospital to replace the nun strikers.
Doctors without borders
---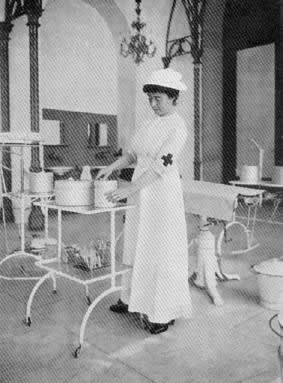 Marie Depage at work.  Image courtesy Patrick Loodts.
In 1912 Antoine directed medical aid to the Balkans.  He managed to convince the Red Cross to send four Belgian ambulances to the Balkans.  One went to Turkey (then the Ottoman Empire), another to Bulgaria, and two went to Serbia.  Marie and her eldest son accompanied Antoine to Turkey.  To some extent, Antoine and Marie were the precursors of "Doctors without borders." Marie took part in the management of the Belgian ambulance that went to the hospital of Tach Kicha which sheltered 1,200 wounded, and at that time her team had to deal with an outbreak of cholera which was sweeping through Constantinople.  Antoine denounced the authorities who detained the afflicted ones in the mosques.  The Hagia Sophia sheltered 3,000 under deplorable hygenic conditions.  Antoine would later write, "the ground of the famous mosque was covered with seven layers of carpets encrusted in forty centimeters of filth because the mosque had not been cleaned since 1453."
War efforts
---
When war erupted in August of 1914, Queen Elizabeth realized that the Belgium did not have a sufficiently organized or structured way of dealing with potential military patients and casualities.  She contacted Dr. Depage as Antoine's experience made him qualified to fix these problems.  Together the Queen and Dr. Depage converted the Ocean Hotel in the city of La Panne into a hospital in record time. In 1914, "l'Océan" counted 200 beds.  As the war continued the capacity grew to 2000 beds.  With Dr. Depage, La Panne acquired a great reputation.  Because the hospital was dependent on the Red Cross, it could function with much more flexibility than a military establishment; however, the army provided the personnel (except the nurses) and the vehicles which were the source of continual confrontations between Dr. Depage with the authorities.  In any case, with Depage's contributions, the medical aid of Belgium's military improved considerably. Antoine and Marie's eldest son was now fighting in the trenches and Lucien was waiting his turn.  Antoine was following Belgium's King Albert, who was going to Le Havre, France.  After the first two months of war, Marie decided to leave Brussels and join her husband.  Not only would she be leaving the medical school behind in the care of Matron Edith Cavell, but Marie would also have to leave her mother, father, and youngest son, knowing that she would be cutting off all contact with them.  Brussels was by that time behind German lines.  Marie worked her way through Flushing and finally to La Panne, where Antoine was in charge.  Marie would be housekeeper of her husband's hospital in Flanders.  Marie and Antoine worked side-by-side, day and night.  Finally, Marie was not able to bear how the means to tend to the wounded were becoming increasingly scarce and headed off to the United States to seek aid.
Fundraising in the United States
---
Even though she started her way across the United States alone, Marie received unwavering support from Queen Elizabeth.  For two months she toured American cities - Washington D.C. to Pittsburgh - telling the people of the America about the plight of Belgium.  She raised funds for Red Cross hospitals where ever she went - San Francisco to New York - and had raised over $100,000 in cash and half that again in supplies.  Throughout the fatiguing trip, Marie did not neglect her appearance.  When Charlotte Kellogg met her in San Francisco, she found Marie to be "fresh and charming[.]"  The following is an excerpt from Kellogg's book:
The first day at luncheon we were plying her with questions, until finally she laughed and said, "If you don't mind, I had better spread the map on the table -- then you will see more quickly all the answers!" We moved our plates while she took the precious plan from her bag, and smoothed it across her end of the table. Then with her pencil she marked off with a heavy line the little part that is still free Belgium: she drew a star in front of La Panne Hospital and we were orientated! From point to point her pencil traveled as we put our eager questions. We marveled at the directness with which she brought her country and her people before us. We knew that her own son was in the trenches, but she made it impossible for us to think of herself.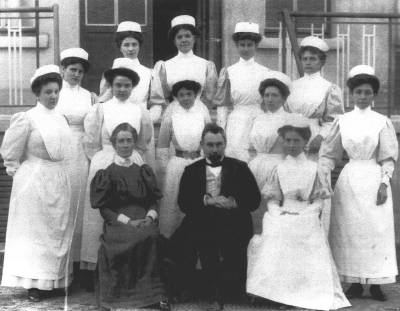 Front row, left to right:  Edith Cavell, Antoine Depage, Marie Depage.  The names of those in the nursing staff behind them have unfortunately been lost to history.  Image courtesy EdithCavell.org.uk
While in the United States, Marie received word that Lucien was to be sent out to the battlefields to join his brother.  Hurrying back to New York, she intended to return to Europe.  Her final decision came down to passage between 
Lapland
 and 
Lusitania
.  If Marie took the
Lapland
 as originally planned, she would leave New York two days earlier and arrive in Liverpool on the same day as the 
Lusitania
.  In order to better complete her business in America, she had cancelled passage on the 
Lapland
 and for $142.50 booked 
Lusitania
.  Even though she preferred not to sail on a belligerent ship, 
Lusitania
 was the fastest ship on the Atlantic.
Lusitania
---
On board 
Lusitania
, Marie's cabin was E-61.  Her table companions were 
Theodate Pope
, 
Edwin Friend
, and 
Dr. James Houghton
.  Dr. Houghton was to meet Marie in Liverpool regardless of which ship she planned to take.  Still, Marie had not forgotten her cause while on the 
Lusitania
.  With Dr. Houghton, she quickly solicited help for the field hospitals from 
Dr. Howard Fisher
 and nurse 
Dorothy Conner
.  Marie was further hoping bring Edith Cavell to La Panne.  Edith was still in Brussels, but in order to get to La Panne, Edith, an Englishwoman, would need to cross the German Lines. During the voyage, Dr. Houghton had told Marie that he signed a new will the night before leaving New York.  Marie in response described herself a "happy fatalist" (Hoehling/Hoehling, 79). After 
Lusitania
 was torpedoed, Marie and Dr. Houghton were busy calming several children and women, and assisting them into lifeboats.  Marie also helped bandage the hand of
Matt Freeman
, the amateur lightweight boxing champion of England, who had hurt his hand in assisting the lowering of lifeboats.  Theodate Pope, passing by, would recall with admiration that Marie's eyes were "startled, but brave." As the water rose up to the decks, Marie and James made for the rail.  They jumped from the portside just as the deck was awash and were caught by the suction.  Dr. Houghton was hit in the head as they went under and the force of the water separated them.  Marie became entangled in ropes lying on the deck, but managed to get herself free.  Dr. Houghton then saw Marie struggling, but then she was swept away.  When he came up, Marie was gone. Marie's body was identified by her husband in Queenstown, #57.  She is thought to have been entangled in ropes and drowned.
National heroes
---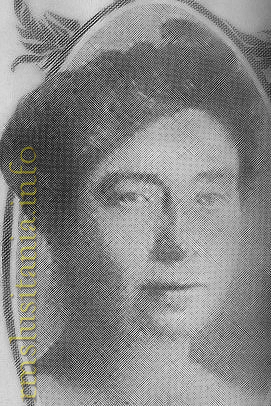 Image:  Michael Poirier Collection
Marie was buried in Belgium not far from the La Panne hospital, where whenever Antoine looked out his window he could see her grave.  Pittsburgh, Pennsylvania, hearing of her death, was proud to count her as an honorary citizen. On the morning of 12 October 1915 Edith Cavell was executed by a German firing squad for smuggling Allied soldiers into neutral Netherlands. Antoine Depage continued his work in the medical field and President of the Belgian Red Cross.  He also became a senator.  In 1921 he had taken part in the agreement concluded with the Rockefeller Foundation for the complete rebuilding of St. Pierre's Hospital as a university. Depage himself was the promoter of the Belgian National League Against Cancer.  He had also taken part in the design of the new Brugmann Hospital, inaugurated on 23 June 1923.  At the hospital he was head of service of surgery. In a meeting on 9 April 1924, it was decided that cancer reserach be carried out in a department of research including the understanding of physics, biology, and "immediate clinical research."  This new center would be directed by three clinicians of the Scientific Council:  Doctors Depage, Vandervelde and Bayet.  Also on the board of directors were four scientists:  physicist L. E. Piccard, bacteriologist Jules Bordet, the biochemist Slosse, and the anatomo-pathologist Albert Dustin. The new center was inaugurated on 22 June 1925 in the presence of the Queen Elizabeth, but Dr. Antoine Depage had passed away just shortly before inauguration.  A biography of Dr. Depage would be written by his son Lucien. To this day Antoine and Marie Depage, as well as Edith Cavell, are remembered as national heroes of Belgium.
Links of interest
---
The Extraordinary Destiny of Dr. Depage Related to Three White Angels of Exceptional Character (French)
Clinique Antoine Depage
Marie Depage on French Wikipedia
Science and Society Picture Library -- Edith Cavell and Marie Depage Medal, 1919
The Edith Cavell Website
---
Contributors:
Heather Houghton, USA Dr. Patrick Loodts, Belgium Michael Poirier, USA
References:
"Antoine Depage."  
Belgian Red Cross
.  Online.   <
http://www.croixrouge.be/code/page.cfm?id_page=540
> Hickey, Des and Gus Smith.  
Seven Days to Disaster
.  G. P. Putnam's Sons, 1981. Hoehling, A. A. and Mary Hoehling.  
The Last Voyage of the Lusitania
.  Madison Books, 1956. Loodts, Dr. Patrick.  
The Extraordinary Destiny of Dr. Depage Related to Three White Angels of Exceptional Character
 (French).  Online.  <
http://www.1914-1918.be/docteur_depage_ocean.php?PHPSESSID=4b3dfa57057a2e63500351015b1548b5
> Kellogg, Charlotte.  
Women of Belgium:  Turning Tragedy into Triumph
.  Online.  <
http://www.lib.byu.edu/~rdh/wwi/memoir/CKellogg/WBelg1.htm
> "Origin of the Bordet Institute."  
The Bordet Institute
.  Online.  <http://www.bordet.be/historic/origine/histor1.htm> Unger, Abraham, M.D.  
Edith Cavell:  No Hatred or Bitterness for Anyone
.   <
http://womenshistory.about.com/library/prm/bledith_cavell2.htm
>