Dorothy Conner Saloon Passenger Saved
image: 

Medford Sun

, 1 June 1915. Courtesy Michael Poirier.
Born
Dorothy Conner 15 September 1890 New Albany, Indiana, United States
Died
9 August 1967 (age 76) Bethesda Naval Hospital, Maryland, United States
Age on

Lusitania

25
Ticket number
46111
Cabin number
E 63
Traveling with
Dr. Howard Lowrie Fisher (brother-in-law)
Rescued by
minesweeper
Citizenship
United States
Residence
Medford, Oregon, United States
Other name(s)
Dorothy Conner Dugger (after marriage)
Spouse(s)
Lt. Greene Williams Dugger (1923 - 1941, his death)
Dorothy Conner (1890 - 1967), 25, was a Red Cross volunteer traveling on the
Lusitania
with her brother-in-law
Dr. Howard Lowrie Fisher
.  Their mission was to establish a war hospital in France.  During the voyage, she made friends with
Margaret, Lady Mackworth
and her father, Member of Parliament
David Alfred Thomas
.  Dorothy and Howard were at lunch when the torpedo hit, and they went to the boat deck where they met up with Lady Mackworth, who had been separated from her father.  The ladies saw lifeboats spill as the crew struggled to lower them.  Dorothy, Howard, and Lady Mackworth jumped into the water instead of getting in a lifeboat.  Dorothy was rescued by a minesweeper and looked after by fellow saloon class survivor,
Clinton Bernard
.  Howard, Lady Mackworth, and D.A. Thomas were also saved.
Early life and Education
---
Dorothy Conner was born on 15 September 1890 in New Albany, Indiana, United States to Charles and Katharine Conner.  Her father had attended Yale, but withdrew "because of family circumstance" and later became a wealthy manufacturer.  Her mother had never attended college.  Dorothy was 20 years younger than her oldest sibling, Julia Allen Conner.  Richard, who was closest in age to her, was still six years her senior. When Dorothy was five, her sister Sara Katharine Conner married
Dr. Howard Lowrie Fisher
of Washington, D.C.  Fisher was a graduate of Dartmouth and Jefferson Medical, and had done missionary work in India.  Dorothy may have been the flower girl at the wedding. Charles Conner decided to take his whole family to Europe for several months, and Dorothy went to school in Germany.  Charles then died around 1900 while the family was overseas, and the family matriarch moved the family to Rye, New York, to be close to her own family.  The Conners' new address would be on Boston Post Road.  Dorothy graduated from her college preparatory school in 1908. Dorothy had a cousin and two sisters who went to Wellesley College in Wellesley, Massachusetts.  Her cousin Candie Stimson graduated from Wellesley in 1892.  Dorothy's oldest sister Julia was Wellesley's class of 1892 or 93, the records are unclear.  She later married into noblilty and became Lady Reckitt.  Another sister, Sara Katharine Conner, now husband of Dr. Fisher, was Wellesley's class of 1894 and 95.  She had also taken one year abroad in Europe while at Wellesley.  Dorothy followed in their footsteps and was enrolled as a member of Wellesley College's class of 1912. At Wellesley, Dorothy was a member of Phi Sigma, and the Pie Eaters Eating Club, Simple Simon.  During Dorothy's first semester of her sophomore year, she and fellow classmate Nell Zuckerman (later Cohen) were "non-students" because they had failed their exams the previous June.  Dorothy's senior year, she took part in the play
Sherwood
where she was on the committee of costumes and wigs.  Dorothy received her B.A. in history that June and hoped to become a secretary or teacher.
Medford
---
The first few years after graduation, Dorothy moved to Medford, Oregon, United States to be with her mother, Katharine.  Katharine's son was a successful orchardist there.  Katharine bought 55 acres of land in Rogue Valley and built a house there, which she named Sundown Hill.  Dorothy and her mother participated in the local social events, where Dorothy danced with golfer Chandler Egan. Dorothy earned her degree in first aid in 1915.  Her sister Julia was living in Europe with her husband Richard Reckitt, and Dorothy was interested in going to help them with the war effort.  As Howard Fisher was also going to Europe, the two would travel together on
Lusitania
.  Katharine lent Dorothy her trunk and helped her daughter pack.  As the war in Europe was still being fought, Dorothy joked to her mother that she was "afraid something might happen to them!"
Lusitania
---
Dorothy's ticket for
Lusitania
was bought in New York City on 28 April 1915.   Dorothy's cabin was E-63; Howard's was E-50.  Their tickets cost $285.  Dorothy and Howard arrived early to Pier 54 on sailing day, 1 May 1915.  After they deposited their belongings in their staterooms, they explored the ship and Dorothy posted a postcard labeled "
Lusitania
and
Mauretania
" to her mother.  The ship had been scheduled to sail at 10 am, but the
Cameronia
transfer
delayed the ship until noon.  Dorothy did not know the reason for the delay and chatted with other passengers and wrote a letter to her mother to pass the time until the ship finally sailed at 12:30 pm. During the crossing, Dorothy and Howard met
Charles Plamondon
, a friend of Howard's brother Walter.  Their table companions were suffragette
Margaret, Lady Mackworth
and her father, Liberal Member of Parliament,
David Alfred Thomas
.  Dorothy and Howard had also talked with
Marie Depage
about the possibility of joining forces to aid the soldiers in La Panne, France with Marie's husband, Dr. Antoine Depage. Throughout the crossing Dorothy had been complaining about the dullness of the trip.  She confessed, "It's been such a dull, dreary, stupid trip.  I can't help hoping that we'll get some kind of thrill going up the channel."  She wrote to her mother that she couldn't have taken a "more uneventful or stupid voyage."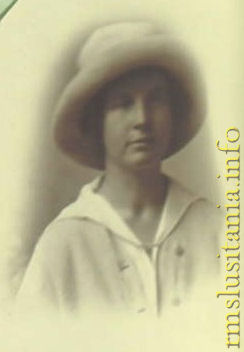 Dorothy Conner as a World War I nurse.  Image:  NARA/Michael Poirier.
The morning of Friday, 7 May, was foggy and the ship's horn blared at intervals.  Dorothy and Howard spent that morning packing and arrived very late for lunch.  Dorothy arrived in the dining saloon before Howard did and sat with Lady Mackworth and D.A. Thomas.  Howard arrived soon afterwards, explaining that he had a difficult time packing his trunk.  Lady Mackworth and D.A. Thomas finished their cups of coffee, and D.A. Thomas teased Dorothy about the statement she had made earlier, saying, "I think we might stay up on deck tonight to see if we get out thrill."  Margaret and D. A. then excused themselves as Dorothy waited for Howard to finish his lunch. Then the torpedo hit.  Dorothy remembered two explosions, although what had happened did not immediately register in her mind. "What was that?" Dorothy asked. "That is what we came after, a torpedo;" Howard explained, "We must go up on deck." They climbed the stairs of the listing ship, and feeling that they would be safer on the high side, they went up to A-deck portside to see what was the matter.  There, Margaret Mackworth joined them, asking if she could stay with them until she sighted her father.  Around them was a confused scene.  People were rushing to the lifeboats -- men were not deferring their seats to women and children -- and the crew did not seem able to handle the situation. Noting the disorder, Lady Mackworth remarked, "I always thought that I shipwreck was a well-organized affair." "So did I," Dorothy replied, "but I've learnt a devil of a lot in the last five minutes." They saw a lifeboat go almost perpendicular, spilling out half its load.  The boat, however, did not capsize and the remaining occupants scrambled back aboard. Howard, realizing that he and Dorothy didn't have lifebelts, went back down to fetch them.  As he left, the ship righted slightly and an authoritative voice from a crewmember boomed, "The gates have closed and the ship is not sinking."   Dorothy and Margaret laughed and shook hands and Margaret said, "I guess you've had your thrill. " "And I never want another."  Dorothy replied. When Howard returned, he was soaked.  His and Dorothy's cabins on E-deck were already submerged and he had to wade through deep water on D-deck to get the lifebelts, going into open staterooms to see if any passengers had left behind their lifebelts.  This news stunned the ladies back into action.  The three planned to jump from the ship; they had seen that lifeboats were not the safest way to evacuate the liner.  Margaret was reluctant to jump into the sea from the top deck of the ship, so Dorothy squeezed her hand to encourage her. Howard squeezed though an open space on deck, and Dorothy climbed over the rail to jump.  Margaret was hesitant and then realized that she shouldn't be afraid of jumping, as the water rose up to meet her and swept her off the ship. Dorothy was caught on something and resigned herself to drowning.  She lost conciousness. When Dorothy awoke, she found herself on "the bottom of an upturned raft," with an English nurse and saloon class passenger
Clinton Bernard
looking after her.  The people in the lifeboat weren't even sure that she was alive when they pulled her in.
Queenstown
---
Much time passed before a minesweeper took them aboard, and they arrived in Queenstown around 10 p.m.  Upon arrival, Dorothy made her way to the Queen's Hotel and, rather out of sorts, asked for "a single room and bath."  The staff at the hotel laughed at her and assigned Dorothy to a room with five other women, where she shared a bed with a third class woman.  She asked the hotel for a hot bath and toddy; hours later, and elderly woman presented her a small bowl of water, a bottle of cold lemon soda, and, as she related to authors Hoehling and Hoehling, "a bonus, a lecture on selfishness." Howard, to his relief, found Dorothy the next morning.  Compared to other survivors, Dorothy's injuries were minor.  She was bruised and sore all over, suffering from a gashed leg which was now bandaged and numb. Dorothy visited Lady Mackworth in Queenstown before their parties parted ways.  Dorothy had not done as Margaret did during the sinking and unhook her skirt.  Her clothing was cleaned and pressed, and when Lady Mackworth saw her again at the Queen's Hotel, she compared Dorothy to a woman who had just come out of a shop and not a shipwreck.  Dorothy was still wearing the same fawn tweed suit, and she told Margaret that Howard was safe.  Dorothy, Howard, Margaret, and D.A. had dinner together again and regaled each other with stories of what had happened to them during the sinking. The next day, Howard and Dorothy continued to England, while Lady Mackworth and D. A. Thomas went home to Wales.  Dorothy saw Clinton Bernard on the train and made plans to see each other again.
England
---
Dorothy's sister Julia Reckitt met Howard and Dorothy at the train station and took them to the Hyde Park Hotel.  Julia lent Dorothy some of her clothes until Dorothy could restock her clothing supply. While Dorothy regretted that she lost a favorite ring that she had on her finger, among many other prized possessions, she considered herself and Howard to be "the most fortunate people on the boat - we didn't lose anything but things and they don't matter." The next few weeks were filled with social engagements.  Despite her doctor's advice to stay off her leg, Dorothy golfed, played tennis and danced.  Julia saw to it that Dorothy had every comfort imaginable.  Dorothy's doctor also removed four large cinders from her ears, which had been lodged there by the shipwreck. Clinton Bernard visited Dorothy frequently as she recovered, and he and Howard Fisher would carry her in their arms to get around.  Dorothy ran into
Elisabeth Lassetter
at Bradley's store, and noticed that Elisabeth looked ten years older than when Dorothy had seen her last aboard
Lusitania
.  She also went to go see the play "Rosy Rapture" with her friend Dr. Kennedy and survivor
Theodate Pope
.  She also visited Lady Mackworth and D.A. Thomas at Llanwern.
Return to the United States
---
Dorothy arrived in New York aboard
Rochambeau
on 5 October 1915 with Clinton and Howard, where she stayed at the Hotel Belmont.  A thief stole Dorothy's purse from the lounge, but the hotel detective found it the next day with everything still inside.  The Conner family was soon reunited and celebrated with a big Christmas party hosted by Dorothy and her mother. Dorothy's brother Boudinot hired local lawyer Lincoln McCormick to connect Dorothy with the legal team of Hunt, Hill, and Betts, who were doing the legal work for the "
Lusitania
Survivors Committee."  McCormick and Dorothy worked out an agreement where he would receive one-third of what Dorothy won.  Dorothy also requested $25,000 for pain and suffering, and stated that she was having health problems from a dilated heart that resulted from her experiences during the
Lusitania
sinking.  The awards commission
awarded Dorothy
$15,801.17 on 24 February 1924.  A few years later, she went back to court to reduce the amount of money that she would pay to Hunt, Hill, and Bets, from $4,500 to $2,800.  Howard Fisher made a more modest claim for $1,000.
War effort
---
Dorothy and Howard returned to Europe to work on the battlefields of France.  In 1916, Dorothy went to help her sister Julia, Lady Reckitt, with the canteen that Julia had set up in Braine, close to the Aisne River.  The canteen provided soldiers with food and entertainment.  Her duties were varied, and included cooking, cleaning, rolling cigarettes, and serving coffee.  While working at the canteen, Dorothy visited the town of Brenelle that had been destroyed the month before she visited. The canteen was close to the front and gunfire could be heard every day, and there was no shortage of excitement.  Police had come to the canteen to look for deserters, and once a German plane fell from 3,000 feet and crashed into the woods nearby.  She remembered that the plane fell at 10:30 that morning and they found the plane at 1:30 that afternoon.  One man escaped with only a broken arm.  The other man died.  The soldiers wanted Dorothy to come see the body, but she declined.  Shrapnel had also fallen across the street from the canteen, killing four.  The danger and intensity of the canteen work meant a high turnover rate for the cooks and maids, but Dorothy stayed. From her 1917 alumni book, Dorothy writes, "This is very embarrasing.  I haven't even taught Sunday school.  I have no occupation, but I am very, very busy."  In fact, throughout Dorothy's life she would never be employed. When the war ended, Dorothy was awarded the Croix de Guerre from the French Government for her bravery in her service in canteen and hospital work.
Family life
---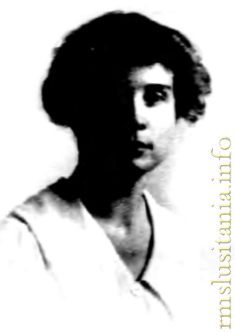 Dorothy Conner in 1918.  Image:  US National Archives/Michael Poirier.
In 1922, Dorothy lived at 11 Pell Street in Newport, Rhode Island.  After the war, Dorothy's mother wanted Dorothy to come with her to Panama.  As guests on a battleship, Dorothy and her mother met Lieutenant Greene Williams Dugger, Naval Officer United States Navy, and graduate of Yale and the United States Naval Academy in Annapolis.  Dorothy and Greene married on 24 June 1923, and they lived on the West Coast, Washington, and the Orient where their son, John Stark (later Atterbury) Dugger, was born on 8 September 1924.  John later attended St. Albans and Deerfield Academy.  He went on to graduate from the United States Naval Academy in Annapolis, like his father.  A daughter, Mary Anne, was born to them on 5 October 1929.  Mary Anne attended the National Cathedral School for girls, At. Agnes School, and graduated from Wellesley in 1951.  Mary Anne later went on to be employed by the state department and married Joseph Lordan of Framingham, Massachusetts. Dorothy enjoyed motherhood, and by 1932, Dorothy had traveled China, and commuted transcontinental dashes between her residence at 3236 34th Street in Washington, D.C. and Long Beach, California, and Bremerton, Washington.  Her children learned how to speak French fluently.  She visited a friend Anne Christensen Dew in Wyoming and camped in British Columbia, in a camper that Greene had built, by 1937. Tragedy befell the Dugger family when Greene contracted an illness in Honolulu, where he was stationed to command a division of destroyers, and died at the Mare Island Hospital on 25 August 1941.  Afterwards, Dorothy moved out of her old house and into 1604 Oakcrest Drive in Alexandria, Virginia, and then 2910 R Street, N.W. in Georgetown, D.C.
Later years
---
In 1952, with Mary Anne graduated and John going off to Russia as a naval attaché, Dorothy writes in her class book, "What is there for me to do but to take off too!  Destination undecided at present, but probably Europe first."  Her children's jobs allowed her to visit Russia, Vietnam, Finland, England, and other places.  Otherwise, she lived alone.  Dorothy enrolled at George Washington University to continue her education and also took French classes at another shool. Among her community activities were Community Chest (United Fund), Red Cross, Scouts/Campfire Girls, Navy Relief during World War II, PTA, League of Women Voters, Garden Clubs, Colonial Dames of America (Chapter III, of which she was vice-president), Planned Parenthood, women's group at her church, and the Washington Wellesley Club.  Her cultural pursuits included attending the theater and concerts, going to  museums, and traveling. Dorothy died on Wednesday, 9 August 1967, at the Bethesda Naval Hospital in Maryland.  She was 76 and had two grandchildren at the time of her death.  Memorial services were held at Christ Episcopal Church in Georgetown, 31st and O Streets, N.W., on Friday 11 August.  She was interned at Oakhill Cemetery.  Contributions at her wake given to the American Cancer Society.
Related Pages
---
Dorothy Conner at the Mixed Claims Commission
---
Contributors:
Michael Poirier, USA Wilma Slaight, Wellesley College Archives, USA Judith Tavares
References:
Ballard, Dr. Robert D. with Spencer Dunmore.  
Exploring the Lusitania
.   Warner Books, Inc.,  1995. Hickey, Des and Gus Smith.  
Seven Days to Disaster
.  G. P. Putnam's Sons, 1981. Hoehling, A. A. and Mary Hoehling.  
The Last Voyage of the Lusitania
.  Madison Books, 1956. Poirier, Michael.  "'Dorothy Conner:  Heroine of the Lusitania,"
Voyage
47, Spring 2004. Preston, Diana.  
Lusitania:  An Epic Tragedy
.  Berkley Books, 2002. Wellesley College Archives.