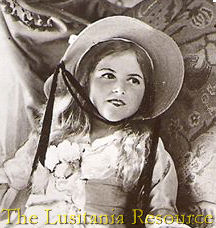 Jim Kalafus Collection. Ailsa Booth-Jones, 8, was a British subject residing in London, England, traveling aboard
Lusitania
with her parents, Edward and Millichamp Booth-Jones, and her younger brother, Percival Booth-Jones. Ailsa had won a number of prizes while on board
Lusitania
. The entire family was lost in the
Lusitania
sinking of 7 May 1915. Ailsa was born around 1907, the daughter of Edward Booth-Jones and Millichamp Jones. She was four years older than her brother Percival. The Booth-Jones family first lived on Prospect House, Strines, Marple, a suburb of Manchester, England. Edward Booth-Jones was a respected antiques dealer with shops in St. Anne's Square, Manchester, and Chester and Bond Street, London. Edward decided to concentrate on the West End business in London, and so with sadness the Booth-Jones family left Marple for London around May 1914. Edward's business continued being successful, so in the spring of 1915 he combined a business trip with a family holiday. They traveled to the United States and booked return passage to England aboard
Lusitania
 for 1 May 1915, on what later proved to be
Lusitania
's last crossing. During the
Lusitania
's last voyage, Ailsa won four prizes in various sports and games that had been organized for the children's amusement. One of these prizes included a golden brooch in the shape of a miniature
Lusitania
. Preston writes that Ailsa showed off these prizes to
Ian Holbourn
and
Avis Dolphin
(pg 184). Hickey and Smith suppose that during the voyage that Ailsa also became acquainted with
Helen Smith
. The German submarine
U-20
, under the command of Captain-lieutenant Walther Schwieger, torpedoed
Lusitania
on the afternoon of 7 May 1915. The
Lusitania
sank in 18 minutes. Ailsa and her entire family were lost in the
Lusitania
sinking. Following the disaster, an anxious relative arrived at the Imperial Hotel in Cork, Ireland, and placed the following advertisement in the
Cork Examiner
:
Wanted: any information regarding a girl of eight years, light-golden hair, blue eyes, nice complexion, very pretty, named Ailsa Booth Jones.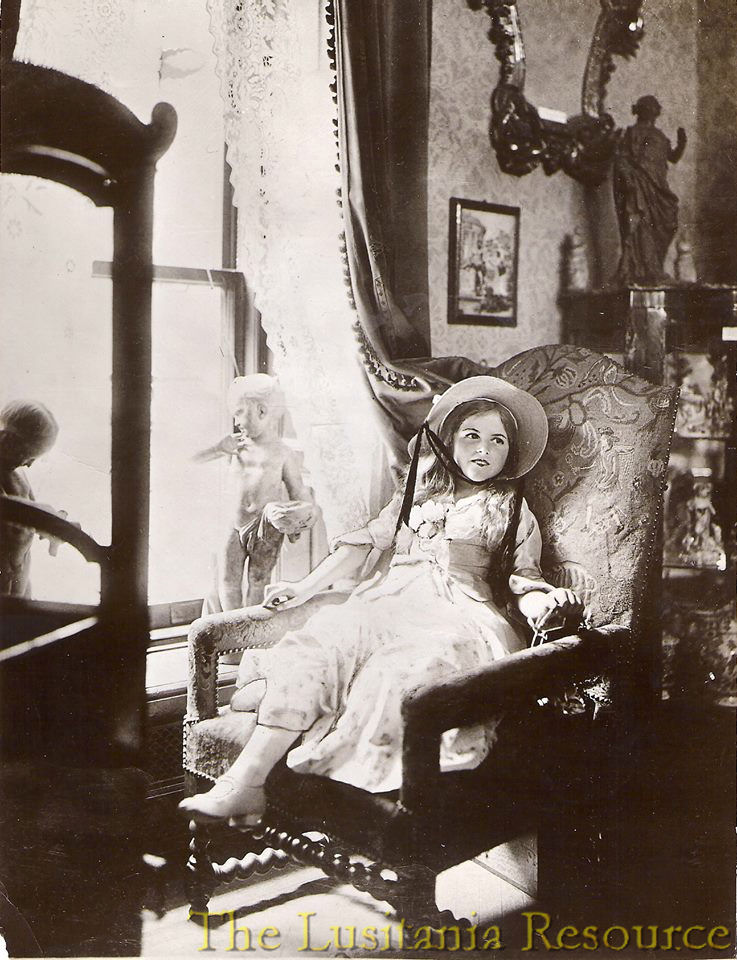 Ailsa Booth-Jones.  Image courtesy Jim Kalafus. Click for full size.
Ailsa's body was recovered, #213. She was wearing a green velvet dress, lace-up boots, and a blue jersey. The miniature golden Lusitania that she had so proudly shown off was still pinned to her jersey. Ailsa was buried in private grave #487 in the Old Church Cemetery in Queenstown (now Cobh), Ireland, with her mother Millichamp, identified as body #189.
Contributors:
Peter Clarke, UK Jim Kalafus, USA
References:
Clarke, Peter. "Marple's 
Lusitania
 Connection."
The Marple Website
. Web. 27 July 2011. <
http://www.marple-uk.com/lusitaniax.htm
>. Hickey, Des and Gus Smith.  
Seven Days to Disaster
.  G. P. Putnam's Sons, 1981. Pages 70, 271, 286. Preston, Diana.
Lusitania: An Epic Tragedy
. Berkley Books, 2002. Pages 184, 280, 298.