Rachel Freeman
Second Cabin Passenger
Saved

image credit: Harold Ruoff.
Born
Rachel Grant
c. 1885
Died
11 September 1967 (age 82?)
Age on

Lusitania

30
Traveling with
John Freeman (husband)
Citizenship
British (Canada)
Residence
Falkain, British Columbia, Canada
Spouse(s)
John Freeman (1908 - 1937), his death
Rachel Freeman, 30, was the wife of John Freeman. Her maiden name was Grant. The Freemans lived in Falkain, British Columbia, Canada. The couple had married in May of 1908.

The couple was on the Lusitania returning to England to visit relatives and on business.

When the ship was struck, John and Rachel were sitting on the upper deck of the Lusitania. He claimed that there were two torpedoes. They immediately stepped into the lounge to get out of the way of the debris. Rachel turned to John and exclaimed, "Whatever may happen to us, we shall go to Glory."

John took Rachel to a lifeboat and placed her in it and went back to their second class cabin area to fetch lifebelts.

John and Rachel Freeman lived out most of the rest of their lives in Canada until John died in England on 6 January 1937. Rachel died on 11 September 1967.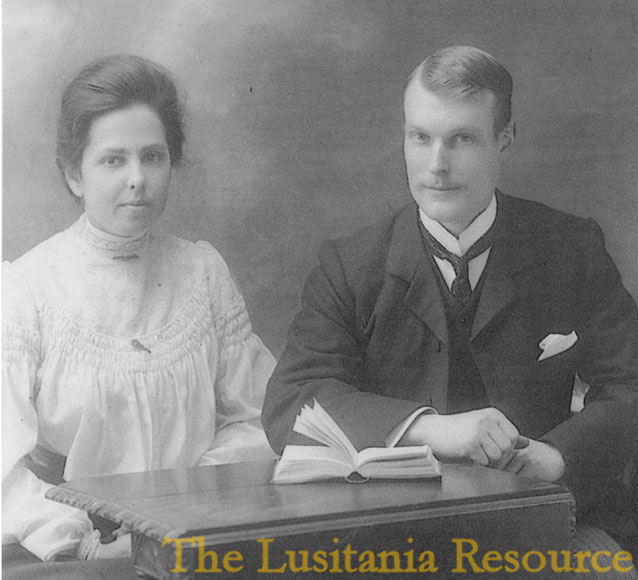 John and Rachel Freeman. Image credit: Harold Ruoff.
Related pages
---
The Prichard Letters: Letter from F. Freeman concerning his son and daughter-in-law, dated 23 October 1915
---
Contributors:
Michael Poirier
Harold Ruoff