Margaret, Lady Mackworth Saloon Passenger Saved
image:  Randy Bryan Bigham Collection.
Born
Margaret Haig Thomas 12 June 1883
Died
20 July 1958 (age 75) London, England, United Kingdom
Age on

Lusitania

32
Ticket number
46045
Cabin number
B 90
Traveling with
- David Alfred Thomas (father), - Arnold Rhys-Evans (father's secretary)
Rescued by
Bluebell
Citizenship
British (Wales)
Residence
Cardiff, Wales, United Kingdom
Other name(s)
- Lady Rhondda (1917 - 1919), - Viscountess Rhondda (1919 - her death)
Spouse(s)
Sir Humphrey Mackworth (1908 - 1922, divorced)
Margaret, Lady Mackworth (1883 - 1958), 32, was the a prominent British suffragette and only child of
David Alfred Thomas
(also known as D.A. Thomas) and Sybil Haig.  Lady Mackworth and her father, and his secretary
Arnold Rhys-Evans
, were returning to Wales on
Lusitania
after visiting D.A. Thomas' interests in Pennsylvania coal mines.  Lady Mackworth, D.A. Thomas, and Arnold Rhys-Evans all survived.
Early life and marriage
---
Margaret Mackworth was born as Margaret Haig Thomas on 12 June 1883 as the only child of
David Alfred Thomas
(commonly known as D. A. Thomas) and Sybil Haig.  As a child, Margaret was taught to speak in French and German, and grew up to be very close to her father.  Margaret was educated at Notting Hill High School, St. Leonards School of St. Andrews, and Somerville College, Oxford. In 1908, Margaret married a neighbor, Sir Humphrey Mackworth, a man twelve years her senior.  The union was a mismatch from the start.  Humphrey loved fox hunting, but Margaret thought hunting to be uncivilized and often prefered to spend her hours reading.  She found married life to be unfulfilling and her way of life too sheltered for her liking.
Feminism and involvement with the Pankhursts
---
Beginning in her childhood, Margaret had noticed that while ambition was nurtured as a virtue among young men, the same quality was looked upon as a vice among young women.  Noting this disparity, she became an ardent feminist and joined Emmeline Pankhurst's Women's Social and Political Union (WSPU) in 1908, four months after her marriage.  Margaret invited Emmeline Pankhurst to speak at the first meeting in Newport.  Emmeline, unable to attend, sent her daughter Sylvia instead.  Sir Humphrey refused her entry to the house. In joining the Pankhursts, Margaret Mackworth sought to educate herself in all facets of feminism and read as much as she could on the subject.  Many of her sources were pamphlets and news articles, but she found books on the subject to be relatively few.  Lady Mackworth was able to get her books at the Cavendish Bentinck Library, which at the time was supplying the suffragettes with books they could not procure in the ordinary way.  She did, however, find useful John Stuart Mill's
Subjection of Women
, Olive Schreiner's
Woman and Labour
, Cicely Hamilton's
Marriage as a Trade
, and George Bernard Shaw's
Quintessence of Ibsenism
.  Also among the books supplied was Havelock Ellis'
The Psychology of Sex
, a book which, in those times, would not have been able to be taken out without a signed doctor's certificate.  In an amusing incident, D. A. Thomas tried to obtain Ellis' book but became indignant when he was refused access to a book that his daughter had already read. Lady Mackworth was a reluctant supporter of the WSPU's arson campaign, and her role in trying to destroy a post box with a chemical bomb landed her in jail.  When she got to her cell, she was appalled at the dilapidation of the the prison.  Nevertheless, she refused to let her husband bail her out and promptly went on a hunger strike.  The hunger strike, as well as the jailers' growing concern for her health due to the strike, led to her early release after five days.  She then vowed, "I shall campaign for the suffrage cause until the franchise is given to women." When World War I broke out, the WSPU leadership decided to temporarily abandon its militant campaign for the vote in order to further the war effort.  Margaret Mackworth then worked closely with D. A. Thomas as personal assistant and proxy in her father's vast coal and corporate interests.  D. A. Thomas was also sent to the United States by the future prime minister David Lloyd George to arrange the supply of munitions for the British armed forces.
Lusitania
---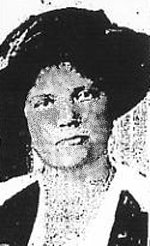 image:  

Cleveland Plain Dealer

, Sunday, 9 May 1915, Page 10.
In April of 1915, Margaret and her father traveled to the United States to look at D. A.'s interests in the Pennsylvania coal mines.  D. A.'s secretary, Arnold Rhys-Evans, tagged along.  They chose to travel on
Lusitania
for the trip home.  Margaret's saloon class cabin was B 90. Margaret was in no hurry to return to England.  Perhaps, after the excitement of New York, Margaret was not looking forward to returning to her war-torn home and loveless marriage.  She remarked, "I cannot understand it.  I just feel so low." "How can you say that, Margaret," D. A. asked, slightly surprised, "when you're traveling on the world's greatest liner?" "Let's not worry, father."  Margaret answered with a forced smile, "It's nobody's fault but mine." On board, the father and daughter befriended
Dr. Howard L. Fisher
and his sister-in-law, nurse
Dorothy Conner
.  Throughout the voyage, Dorothy kept commenting on how she wished there would be some kind of "thrill."  Margaret also agreed that the trip had been rather boring, but she preferred not to spoil D. A.'s fun, as he was rather enjoying himself. On the afternoon of 7 May, Margaret, D. A., Arnold, Dorothy, and Howard all sat down to lunch with the foghorn blaring.  Margaret remarked, "Home tomorrow!  Aren't you pleased, father?" "I would be more pleased, my dear," D. A. remarked, "if I believed that wretched siren hasn't given our whereabouts away." Margaret and D. A. left the saloon and left Howard and Dorothy to finish lunch by themselves.  The father and daughter stood waiting for the elevator with
Frederick Tootal
and
Albert Byington
.  D. A. then joked with his daughter, saying, "You know, Margaret, I think we might stay up on deck tonight.  Just to see if you get your thrill." Before Margaret could respond, they felt the torpedo rock the ship with "a dull thudding sound."  They were already partially inside the elevator, but instinctively, they stepped back, a move that would save their lives.  D. A. ran over to a porthole to see what had happened whereas Margaret went upstairs.  She then wondered, "why am I not more frightened?" and started breaking into a run.  She then thought, "Now I'm beginning to get frightened, but I must not let myself." As Margaret ran back to her room, the electricity went out and she was in the dark.  The ship was also listing heavily, and along the way to her room she collided with a stewardess.  There the two apologized and laughed about how much time they were wasting at such a time. In her room, Margaret grabbed a lifebelt for herself and she ran into her father's room (B-88) to grab his, hoping that they would meet on deck.  She ran up the companionway to A Deck portside, but did not find her father.  She did, however, run into Howard Fisher and Dorothy Conner, and asked if she could stay with them while she waited for her father.  As they waited, they watched with dismay as all order on the ship degenerated into panicked chaos. "I always thought that I shipwreck was a well-organized affair," Margaret commented. "So did I," replied Dorothy, "but I've learnt a devil of a lot in the last five minutes." The three had seen what was probably lifeboat #12 spill half of its load, and Margaret turned away, horrified.  Just then, Dr. Fisher realized that he and Dorothy, who had come up on deck directly after lunch, did not have their lifebelts. Just as Dr. Fisher went to fetch more lifebelts, word was passed that the bulkheads were closed and the danger was over.  At the same time the
Lusitania
seemed to right herself.  Margaret then shook Dorothy's hand and laughed, "I guess you've had your thrill." Dorothy then replied, "And I never want another." When Howard returned wet and telling of how fast the ship was flooding, the women were jolted back into realizing what danger they were in.  Margaret unhooked her skirt to enable her to swim in the water, even though she didn't know how. The three planned to jump from the ship, after seeing other lifeboats capsize before reaching the water.  It was bad enough that Margaret did not know how to swim, it was even worse that she was afraid of heights.  A-deck, under normal conditions, was 60 feet above the water.  She saw Howard slip though an open space on deck and Dorothy climb over the rail.  Margaret chided herself, telling herself how ridiculous it was to be afraid of jumping when her life was in such danger. Her fear of heights, however, came to naught.  The water was rising so fast that before she could jump the water had already risen to her level and swept her as well as the crowd with her off the ship.  Margaret was taken down and her wrist was caught on a rope.  She pulled free, but the rope left a premanent mark on her wrist.  She swallowed a lot of water at first, but then she shut her mouth to stop it.  She noticed that she couldn't move through the water properly and realized that she was still carrying the extra lifebelt for her father. Upon reaching the surface, she grabbed a thin piece of board, thinking that the board was keeping her afloat when the lifebelt was what was truly keeping her bouyant.  A man with a yellow mustache came alongside her and also grabbed onto the board.  He was making his way around the board to Margaret's side, but Margaret, fearing that he would upset the board or even try to use her as a floatation device, told him to move back to where he was.  After a while, she noticed that the man had disappeared. Hypothermia was taking hold of her and Margaret soon lost consciousness.  When the
Bluebell
picked her up, she was clinging onto a wicker chair.  Although the boat's captain, John Thompson, believed that she was alive, others weren't so sure.  The men laid her on the deck to avoid crowding in the cabins.  When she awoke, she found her self covered in blankets, but without clothes.  Three sailors, seeing that she had revived, promptly helped her inside to the captain's cabin where she fell asleep.  Awaking, she heard a woman, perhaps
Beatrice Witherbee
, emotionally scolding
Captain Turner
, also on board the
Bluebell
, at the lack of organization and discipline on board during the sinking, which had lead to her baby's death.  A sailor bringing Margaret a cup of tea apologized for the woman's outburst, saying, "I'm sorry, I'm afraid that lady is hysterical." Margaret's answer was, "On the contrary, that woman is the only one aboard the
Bluebell
who is not hysterical." The
Bluebell
reached Queenstown at 11 p.m.  Margaret, much too weak to step onto the gangplank, crawled ashore in a khaki army greatcoat borrowed from a soldier to her father who was waiting for news of her on the quay.  Afterwards they went to stay at the Queen's Hotel.  Dorothy, still in her fawn tweed suit, came to visit Lady Mackworth the next morning before parting ways.  Dorothy updated Margaret that Howard was safe.  Lady Mackworth and D. A. Thomas went home to Wales; Dorothy and Howard continued on to work on the battlefields of France. Margaret's brush with death left a deep impression on her.  She believed that her life had been saved to give it additional purpose and direction.  Later in life, she became a deeply religious and very devout Christian.
War service
---
In 1917, D. A. Thomas was appointed Minister of Food and given the title of Lord Rhondda.  Margaret was not overlooked, and also given a position; as Lady Rhondda she became the Director of Women's Department of the Ministry of National Service.  Her 1918 report on the Women's Royal Air Force (WRAF) was highly critical of the WRAF commandant,  Violet Douglas-Pennant, and led to Douglas-Pennant's dismissal.  She was replaced by Helen Gwynne-Vaughan.
Attempt to reform the House of Lords
---
The British government recognized the right of women over thirty to vote in 1918.  That same year in June, David Alfred Thomas was named Viscount Rhondda.  He passed away one month later. When D. A. Thomas died, Margaret attempted to take her father's seat in the House of Lords as Viscountess Rhondda, citing the 1919 Sex Disqualification (Removal) Act as her birthright.  The act stated "a person shall not be disqualified by sex or marriage from the exercise of any public function."  The committee to which her petition was referred agreed that she had the right to sit in the House of Lords.  This decision, however, alarmed many peers including Lord Chancellor Birkenhead.  Birkenhead set up another committee to reconsider the petition, constituting of himself and thirty other concerned peers.  Margaret's claim was then swiftly rejected. Quoting George Bernard Shaw, who highly respected Margaret, the House of Lords saw Lady Rhondda as a "terror."  Because of her political business acumen, "the House of Lords has risen up and said, 'If Lady Rhondda comes in here, we go away!' "  Shaw goes further to say that if she had gained entry, "there would be such a show-up of the general business ignorance and imbecility of the male sex as never was before." Margaret persisted to change the law to accommodate women.  She had her lawyer draft a bill to remove the sex bar and had Viscount Astor propose to Parliament.  Although Astor proposed the same bill almost annually from 1924 to 1930 with the bill at times coming within two votes of passing, Viscount Astor would not succeed. The issue of women in the House of Lords was revived in the 1940s, and Margaret and others launched a petition to show there existed public support for women in the House of Lords.  The first six months saw 50,000 signatures, including the principals of the women's colleges of Oxford and Cambridge.  The Lords themselves finally passed a motion for women's admission in 1949, but the Labour government under Prime Minister Attlee refused to deliver the promised legislation.
Time and Tide
---
Even though Margaret had been denied a seat in the House of Lords, she continued to further her cause in the magazine she founded in 1920,
Time and Tide
. The magazine supported left-wing and feminist causes, and was initially edited by Helen Archdale. Margaret would take over in 1926. As time went on,
Time and Tide
and Margaret moved to the right. Her magazine became an anti-Communist, conservative magazine that drifted away from the feminist struggle.  Despite any changes in her political philosophy, she did not let politics interfere with the makings of a good publication. Margaret was devoted to
Time and Tide
single-mindedly. Contributors to
Time and Tide
over the years included but were not limited to Nancy Astor, George Orwell, George Bernard Shaw, Emmeline Pankhurst, Virginia Wolf, and D. H. Lawrence.  Even though
Time and Tide
commanded international attention, the magazine never became self-supporting and it is estimated that in the thirty-eight years Margaret owned the magazine, the publication cost her over £500,000. In later years, Margaret unsuccessfully tried to find new support, a buyer who would continue the publication. By the time Margaret died suddenly in London on 20 July 1958, the magazine had exhausted her personal funds and there was not enough money to cover the major legacies of her will.  
Time and Tide
was saved temporarily from bankruptcy by friends and readers. It stopped publication in 1977.
Personal life
---
In her personal life, Margaret divorced Sir Humphrey in 1922. Sir Humphrey was a Conservative and didn't quite see eye-to-eye with his Liberal wife.  The deterioration of their relationship had actually occurred very early in their marriage. Her autobiography,
This Was My World
, which showcased her philosophy of life, was published in 1933.
Legacy
---
Slack attendance in the House of Lords during the 50's made the Lords an ineffective governing body.  Full-scale reform could not be postponed any longer.  Faced with this realization, Lord Home introduced a bill that created peerages for women.  Continuing to exclude half the population when there was a shortage of members, as Lord Hailsham put it, was "idiotic."  Four women were finally appointed to the House of Lords in 1958 -- Lady Ravensdale, Lady Swanborough, Lady Elliot, and Lady Wootton.  By then it was much too late for Margaret, Viscountess Rhondda, but her legacy had paved the way for women in generations to follow.
Contributors:
Randy Bryan Bigham Peter Kelly Senan Molony Michael Poirier
References:
Ballard, Dr. Robert D. with Spencer Dunmore.
Exploring the Lusitania
.   Warner Books, Inc.,  1995. Hickey, Des and Gus Smith.  
Seven Days to Disaster
.  G. P. Putnam's Sons, 1981. Hoehling, A. A. and Mary Hoehling.  
The Last Voyage of the Lusitania
.  Madison Books, 1956. "Margaret Haig Thomas," 
Spartacus Educational
.  Online.  <
http://www.spartacus.schoolnet.co.uk/Whaig.htm
>. Preston, Diana.  
Lusitania:  An Epic Tragedy
.  Berkley Books, 2002. Reyher, Rebecca Hourwich.  
Search and Struggle for Equality and Independence
.  Online.  <http://texts.cdlib.org/dynaxml/servlet/BookView?source=oac/oh/reyher/reyher.xml&style=oac/xsl/dynaxml/dynaxml.xsl&query=mackworth&doc.view=entire_text>. Sutherland, Duncan.  "The Admission of Women to the House of Lords," 
Centre for Advancement of Women in Politics
.  Online.  <http://www.qub.ac.uk/cawp/research/pitor.htm>.