Oscar Grab Saloon Passenger Saved
Image: US National Archives/Hanuš Petr Grab
Born
Oskar Grab 5 December 1886 Vienna, Lower Austria, Austria-Hungary (present-day Austria)
Died
9 June 1958 (age 71) Lennox Hill Hospital, New York City, New York, United States
Age on Lusitania
28
Ticket number
46161
Cabin number
E 58
Traveling with
None
Lifeboat
None
Rescued by
Unknown
Interred
Beth El Cemetery (New Union Field Cemetery), Ridgewood, Queens, New York
Occupation
Fashion executive
Citizenship
United States
Residence
New York City, New York, United States
Spouse(s)
Clara L. Runkel (1915 - 1936, her death)
Oscar F. Grab (1886 - 1958), 28, was an Austro-Hungarian immigrant, United States citizen, and fashion executive. He was a saloon passenger aboard
Lusitania
who saw the torpedo impact the ship. He saw lifeboats upset on the starboard side and jumped into the water instead of taking a chance in the lifeboats. He was rescued and survived the
Lusitania
disaster.
Family
---
Oscar Frederick Grab was born as Oskar Grab on 5 December 1886 in Vienna, Lower Austria, Austria-Hungary (present-day Austria). He was the youngest of 10 children by Friedrich Grab and Karoline Jockel. Seven children were sons: Maximilian, Ludwig, Emil, Richard, Victor, Rudolf, and Oskar. Three children were daughters: Marie, Rosa, and Emilie. Grab came from a Jewish family, and his ancestors were from Nenačovice, Bohemia in the Holy Roman Empire (later Austrian Empire, then Austria-Hungary, then Czechoslovakia, now present-day Czech Republic). His grandfather Moises/Moritz Grab moved the family to the Bohemian capital of Prague, where Oscar's father Friedrich and all of Oscar's siblings, save for his sister Emilie, were born. Friedrich was a trader in paper and paperboard in Prague. By 1884 he had moved the family to Vienna, capital of the Austro-Hungarian Empire, where he continued his profession.
Immigration to the United States
---
Max, Oscar's eldest brother, immigrated to the United States in August 1892 aboard the Red Star Liner SS
Rhynland
. Siblings Victor and Rosa followed to the US in 1895, and Oscar and his parents immigrated to the US in 1901. The family Americanized their names. Oskar became Oscar Frederick, Friedrich became Frederick, Karolina became Katharina, Rudolf became Rudolph, Marie became Mary, Emilie became Emily, and Richard adopted the middle name Howard. By 1907, all of Oscar's immediate family, except for Ludwig, who remained in Austria-Hungary, and Emil, who died young, lived in New York City, New York. They became naturalized American citizens, with Oscar becoming a U.S. Citizen in August 1914. Oscar's brother Max had established himself as a publisher by 1900, a publication manager by 1910, and by 1920 he was a designer of women's wear and founder of the Max Grab Fashion Company. Their father Frederick became an importer of fashion papers in 1910 and of cigarettes by 1920. His sister Rosa became a real estate agent. His brother Rudolph became a book salesman. Oscar himself entered the fash­ion industry in 1907 and established the dress manufacturing firm of O. F. Grab & Company.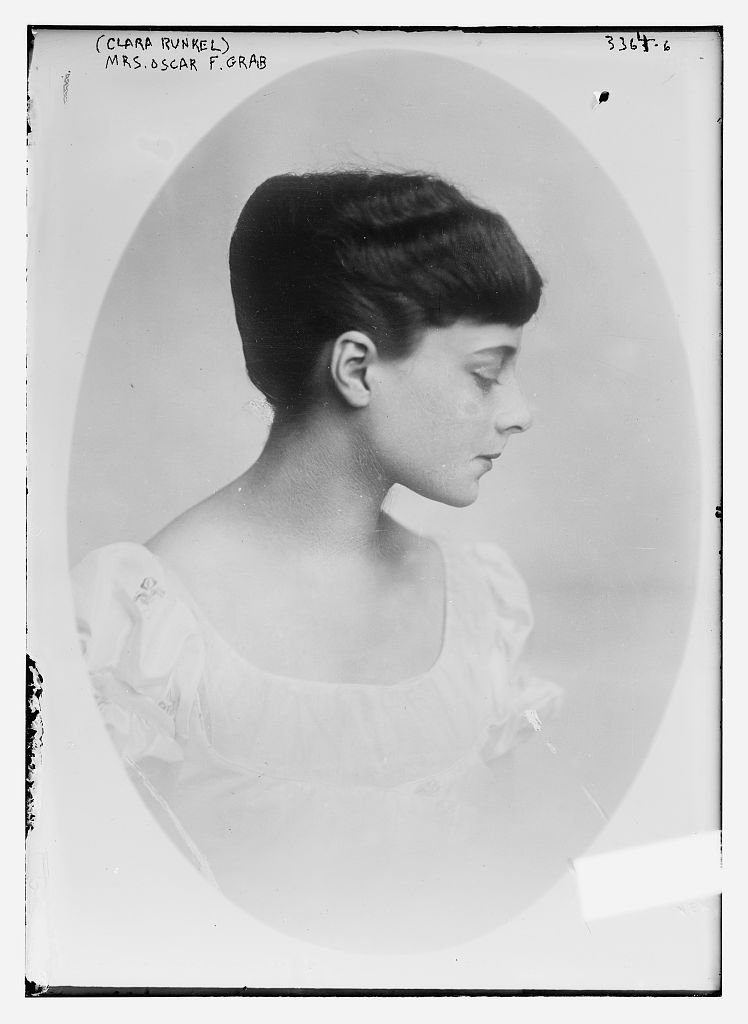 Oscar's bride, Clara Runkle, c. 1910. Image:  Library of Congress
Marriage
---
Oscar Grab married Clara "Claire" L. Runkel on 23 March 1915. Claire was the daughter of Herman Runkel and Victoria Rebecca Runkel (née Lopez) of 150 W. 79th Street. She was born on 7 May 1890 in New York City. The wedding was a small ceremony at the Ritz-Carlton, New York, under a bower of lilies. The ceremony was conducted by Reverend Dr. Joseph Silverman. Oscar's eldest brother Max served as best man. Claire's sister, Mrs. Sedgwick Levy, was the matron of honor. After their wedding, Oscar and Claire took a one-month honeymoon in Bermuda. The couple returned to New York on 19 April.
Lusitania
---
The day of his sailing on the
Lusitania
, Saturday, 1 May 1915, Oscar and Claire were driving through Central Park when Claire's brother alerted Grab of the German warning in the newspapers. He asked, "Do you feel nervous about that article in the paper this morning?" Grab noticed his mother-in-law, Victoria, nudge him in the shoulder to drop the conversation topic, so Grab did not say anything further. When Grab boarded the ship, he went to go see
Purser James McCubbin
, who assured Grab that
Lusitania
was much too fast for submarines to catch. Grab's ticket for the ship was 46161 and he stayed in cabin E-58. On the day of the disaster, Friday, 7 May, Grab was planning to read on the Boat Deck when he stopped to talk to two fellow passengers on the starboard side. One of his companions pointed out to sea and asked, "what is that over there?" Grab saw the periscope of the
U-20
, looking like "a stick out of the water". He then saw the submarine fire the torpedo: "it could be very plainly seen . . . It was like when you sit in the rear of a motorboat and you see the white foam." Grab leaned over the rail and saw the torpedo impact the ship. He burst out, "I knew it would happen!" Along the starboard side, Grab saw the crew attempt to lower the boats, only to have the rope slip through their hands. "[T]he boats fell down and one end struck the water first and dropped everybody into the water." He also saw one lifeboat flip over, where "everybody screamed. It was such a horrible sight to see these poor people drowned like rats." Deciding not to chance the lifeboats, Grab jumped over the side of the ship and swam. He was subsequently picked up and rescued. He took the ship 
St. Louis
 back home along with 
Robert Rankin
,
Charles Hardwick
, 
Arthur Mathews
, 
Richard Taylor
, and Fred Pearson's son. They arrived in New York on 7 June 1915. His case at the Mixed Claims Commission led to an award of $6,000.00 from the German Government for personal injuries and a further sum of $1,080.00 for property lost.
Later life
---
Oscar and Claire moved in with Claire's parents that October. The couple had two children, Victoria, born in 1916, and Donald born in 1923. Claire also authored a book,
Fancies of a Child by a Child
. By 1928, Oscar's fashion company, O. F. Grab & Company, was a million-dollar business that had branches in France and Belgium and was employing 250 people. That year, Grab transferred his business to 14 top employees when he left the firm to become executive vice-president of the Lefcourt-Normandie National Bank. The next year, Grab became president of the Normandie National Securities Corporation, an investment affilate of the bank. Following the stock market crash of 1929, Grab and other officers of the corporation were defendants in a stockholders' lawsuit charging losses due to improper investments. The court issued a judgment of $500,000 against Grab. From 1932 to World War II, Oscar ran a styling service for fabric houses in New York. His office was in Paris, France. Claire died on 4 April 1936 while in Florence, Italy. Claire was interred in the Runkle Family mausoleum in Beth El Cemetery, Ridgewood, Queens, New York. Oscar died on 9 June 1958 in New York City at age 71 and is also buried in Beth El Cemetery. His obituary appeared in the
New York Times
on 10 June 1958, page 33. Grab was survived by his daughter Victoria, two grandchildren, his sisters Rosa and Emily, and his brother Rudolph.
Related pages
---
Oscar Grab at the Mixed Claims Commission
Links of interest
---
The Family Tree of Friedrich alias Frederick Grab
---
Contributors
Hanuš Petr Grab, Germany Zachary Schwarz
References
"Fancies of a Child by a Child."
Books and Collectibles
. Web. 28 July 2011. <http://www.booksandcollectibles.com.au/dump/Da_Capo_Music/books-0004/61305.html> "The Family Tree of Friedrich alias Frederick Grab." Grab-Family.com Web. 29 July 2011. <
http://www.grab-family.com/Stammbaum/FTFriedrich%20Grab.htm
>. Ellis Island. Statue of Liberty-Ellis Island Foundation. 1982. Web. 4 August 2011. <
http://ellisisland.org/
>. "Claire F. Runkle Grab."  
Find-A-Grave
.  Web. 28 July 2011.  <
http://www.findagrave.com/cgi-bin/fg.cgi?page=gr&GScid=65419&GRid=72126878&
>. (Clara Runkle) Mrs. Oscar F. Grab.  Library of Congress.  1910. Web. 26 February 2012. <
http://www.flickr.com/photos/library_of_congress/6851810917/
> "Million Business to Employees."
Nashua Reporter
, Nashua, Iowa. Date unknown. Web. 29 July 2011. <
http://www.newspaperarchive.com/SiteMap/FreePdfPreview.aspx?img=1061129
>. "Oscar F. Grab, 71, Led Dress Firm."
New York Times
. 10 June 1958, page 33. "Wed in Bower of Lilies."
New York Times
. 24 March 1915. Web. 28 July 2011. <
http://query.nytimes.com/mem/archive-free/pdf?res=F5061FF8395C13738DDDAD0A94DB405B858DF1D3
>. Preston, Diana. 
Lusitania: An Epic Tragedy
, pages 101, 198-99, 228. Berkley Books, 2002.