Alfred Vanderbilt Saloon Passenger Lost
Alfred Vanderbilt aboard Olympic.

New York Times

, 8 May 1915.
Born
Alfred Gwynne Vanderbilt 20 October 1877 New York, New York, United States
Died
7 May 1915 (age 37) At sea
Age on Lusitania
37
Ticket number
46032
Cabin number
B 65, B 67, and bath (Parlour Suite)
Traveling with
- Ronald Denyer (valet) - Thomas Slidell (friend)
Occupation
Businessman
Citizenship
United States
Residence
New York, New York, United States
Spouse(s)
- Elsie French (1901 - 1908, divorced) - Margaret Emerson McKim (1911 - 1915, his death)
Alfred Gwynne Vanderbilt (1877 - 1915), 37, from New York City, New York, United States, was a millionaire sportsman who was traveling on
Lusitania
with his valet
Ronald Denyer
to a meeting of the International Horse Breeders' Association.  When
Lusitania
was torpedoed, Vanderbilt and Denyer assisted many others, especially children, to safety.  Vanderbilt made no attempt to save himself, and was last seen giving his lifebelt to second cabin passenger
Alice Middleton
.  Vanderbilt was lost in the sinking and his body was never recovered.
Family and education
---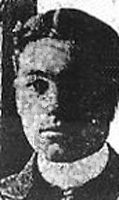 A young Vanderbilt. Image:  

Cleveland Plain Dealer

, 8 May 1915
Alfred was born in New York on 20 October 1877 to Cornelius and Alice Claypoole Gwynne Vanderbilt.  As a youth, Alfred was educated at St. Paul's School in Concord, New Hampshire, and at Yale University in New Haven, Connecticut.  While at Yale, he was a member of the Skull and Bones secret society.  All of his brothers were Yale alumni.  His father contributed to the construction of Vanderbilt Hall on the Yale campus in 1894 in memory of William Henry, Alfred's eldest brother who had died while a junior there.  Alfred graduated from Yale in 1899. When Alfred's older brother Cornelius, Jr. married Miss Grace G. Wilson against Cornelius Sr.'s wishes in 1896, Cornelius, Sr. cut off the elder brother from the bulk of the inheritance.  When Cornelius, Sr. died suddenly at age fifty-six of a cerebral hemorrhage, he still had not forgiven his elder son.  The bulk of the $72 million estate passed to Alfred Gwynne, who hurried home from a world tour.  Alfred's inheritance symbolically included the gold Congressional Medal awarded to Commodore Cornelius Vanderbilt, founder of the Vanderbilt family fortune, for his donation of the S. S.
Vanderbilt
to Union forces during the Civil War.  Most of the other siblings received $7 million.  Cornelius, Jr. only received $1 million.  The squabble over the inheritance created an irreparable rift between the once close brothers. In order to remedy the injustice done to Cornelius, Jr., Alfred offered his brother $6 million to make Cornelius' share equal to that of the other siblings.  Far from reconciling the two brothers, only more arguments resulted.  Up to the time of Alfred's death, the two were still unreconciled.
Marriages and scandal
---
On 11 January 1901, Alfred married Miss Elsie French, daughter of the wealthy Francis Ormonde French, and brother of Amos Tuck French, father of Miss Julia Estelle French who married Jack Geraghty, the son of a liveryman. They were married in the Sabriske Memorial Church, Newport, Rhode Island, by Reverend George Brinley Morgan, a cousin of Miss French, and the Rev. Charles E. Beattie, rector of the Church.  Alfred's brother Reginald Vanderbilt was best man.  A son, William Henry, was born to them on 24 November 1901. Elsie filed for divorce on 1 April 1908 for Alfred's adultery aboard his private railway car the
Wayfarer
with Mary Agnes O'Brien Ruiz, wife of the Cuban attaché in Washington.  The two had met during one of Vanderbilt's trips to London, when he had saved her life.  She had been on a horse in Rotten Row that had run away with her on it, and Vanderbilt, with much style, grabbed the reins and brought the horse to a stop.  The divorce papers were sealed, and the divorce reportedly cost Vanderbilt $10 million.  Agnes Ruiz was duly divorced by her husband.  Devastated, she committed suicide by poison in her London hotel room in 1914. While Alfred's friend
Charles Williamson
was able to testify in court to ensure that Alfred would not be found at fault for the suicide, the scandal was to follow Vanderbilt for some time afterward.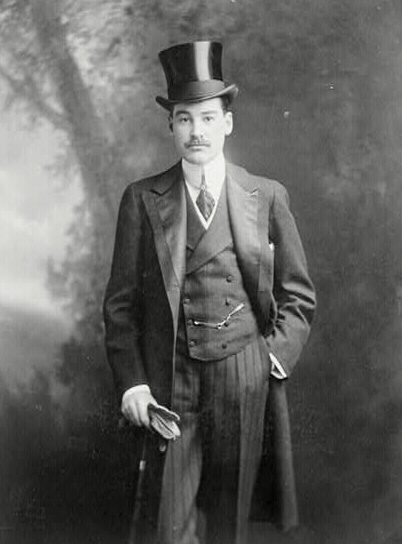 Alfred Vanderbilt.  Image courtesy Randy Bryan Bigham/Library of Congress. Click on image for full size.
Pressured by family, Alfred married again on 17 December 1911 to Margaret Emerson Smith Hollins McKim, a divorcée herself.  She had been granted a divorce from Dr. McKim in Reno, Nevada on 30 April 1910 on the grounds of "drunkeness and cruelty."  Margaret was a daughter of Captain Isaac E. Emerson of Baltimore and heiress to the Bromo-Seltzer fortune.  Dr. McKim had threatened to sue Vanderbilt for alienation of affection, but the two later settled out of court.  Alfred and Margaret were married in Reigate, 25 miles outside of London.  Margaret and Alfred both had a passion for horses, and the Vanderbilt estate in Newport had the largest private riding ring in the world.
Lusitania
---
Vanderbilt was on his yacht with friend
Thomas Slidell
when they watched
Lusitania
complete her maiden voyage to New York in September of 1907.  Alfred was a frequent traveler and some years made as many as seven crossings. Vanderbilt's purpose in traveling on the
Lusitania
in May 1915 was to direct a meeting of the International Horse Breeders' Association.  The 1914 meeting had been cancelled due to the outbreak of war, but it was decided this year that there would be no cancellation.  Alfred's other purpose for traveling abroad, as Slidell said, was to return "to England to offer a fleet of wagons and himself as driver to the Red Cross Society, for he said he felt every day that he was not doing enough."  Margaret and the two children decided to stay in New York City, in the Vanderbilt Hotel on Park Avenue.  The night before sailing, Alfred and Margaret saw the Broadway play
A Celebrated Case
, coproduced by David Belasco and fellow
Lusitania
passenger
Charles Frohman
. The morning of the sailing, a notice from the German Embassy appeared in the newspapers, warning Americans away from Allied ships.  Vanderbilt and his wife just laughed the warning off.  That same morning, a telegram arrived for Alfred, saying:  "THE LUSITANIA IS DOOMED.  DO NOT SAIL ON HER."  The note was signed simply, MORTE. When questioned by the press about the telegram, he said it was just "somebody trying to have a little fun at my expense" (Preston, 100).  Family history says that Alfred booked passage on the
Titanic
's maiden voyage and cancelled due to a premonition by his mother.  His uncle, George Vanderbilt, had booked sailing on the
Titanic
and cancelled.  George's luggage was still loaded onto the
Titanic
and went down with the ship.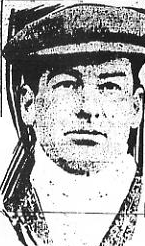 image:  

Cleveland Plain Dealer

, 8 May 1915.
On board
Lusitania
, Vanderbilt stayed in Parlour Suite B-65, B-67, and bath.  He was often in the company of Charles Frohman,
George Vernon
,
Rita Jolivet
, Thomas Slidell, and others. On the second day of the voyage, Vanderbilt received a telegram from his wife saying, "FREDDIE DIED EARLY THIS MORNING LOVE MARGARET." Frederick Martin Davies, a builder, was an old Yale friend and one of Alfred's closest.  Frederick had wanted to marry Alfred sister Gertrude in the fall of 1893 when they were in their twenties, but nothing came to pass. Later in the voyage, Vanderbilt received another telegram, this one from one British woman named May Barwell, saying, "HOPE YOU HAVE A SAFE CROSSING.  LOOK FORWARD VERY MUCH TO SEEING YOU SOON."  From then on Vanderbilt's mood improved considerably. On Thursday afernoon, 6 May, Vanderbilt stopped by Charles Frohman's suite, where Frohman was throwing a party.  Although the
Lusitania
was not due in Liverpool until Saturday morning, the private parties had been scheduled early so that passengers could pack on Friday night.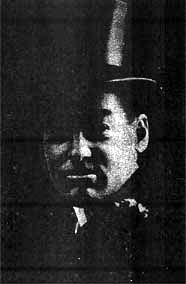 image:  

New York Times

, Sunday 16 May 1915
Vanderbilt was also in attendance at the ship's concert later that night. The concert was a benefit for Seamen's Charities, and Vanderbilt insisted on paying who was most likely
Phoebe Amory
(instead of
Charlotte Pye
, as stated in Preston's book) five dollars for one of the ten-cent programs. "There," he told her, "that's for your lovely smile." On Friday, 7 May, Vanderbilt lunched with Staff Captain James Clarke Anderson.
Heroism
---
After the ship was torpedoed, Alfred and his valet Ronald Denyer calmly assisted several women and children to safety.  Fellow passenger
Oliver Bernard
, while searching for
Stewart Mason
, almost collided with Vanderbilt in the A Deck saloon class entrance.  Oliver was surprised by Vanderbilt's composure, and Oliver would never forget the grin on the millionaire's face. Alfred was heard remarking to another passenger, "Well, they got us this time, all right." On B Deck, Second Steward
Robert Chisholm
saw Vanderbilt "vainly attempting to rescue a hysterical woman."  Chisholm shouted, "Hurry Mr. Vanderbilt, or it will be too late!" Vanderbilt did not listen and continued assisting women and children.  Thomas Slidell saw him put a lifebelt on a woman's shoulders and then walk away without saying a word.  The truth was, Alfred Gwynne Vanderbilt, the renowed sportsman and ladies man, did not know how to swim.  Even so, Alfred made no attempt to push his way through the mad crowd and into a lifeboat.  As it was, "men of his standing were not supposed to panic" (Hickey/Smith, 223). One of the last people to see Vanderbilt was
Owen Kenan
, on the port side near the verandah café. Owen jumped with Denyer at the last minute.  Denyer would not survive. Nurse
Alice Middleton
, a second cabin passenger, is thought to have accepted Vanderbilt's offer of a lifebelt.  Vanderbilt helped her put it on, but before he could finish securing it, the
Lusitania
took her final plunge and water enclosed them, separating the two.
The New York Times
, Tuesday, 11 May 1915, page 2:  Article contained a tribute to Alfred Vanderbilt purported to be by Mrs.
Ethel Lines
.  She later claimed it to be a reporter's invention, as Ethel left the
Lusitania
on a starboard boat whereas Vanderbilt was on the port side.
People will not talk of Mr. Vanderbilt in future as a millionaire sportsman and a man of pleasure. He will be remembered as the children's hero and men and women will salute his name. "When death was nearing him he showed gallantry which no words of mine can describe. He stood outside the palm saloon on the starboard side of the Lusitania with Ronald Denyer by his side. He looked around on the scene of horror and despair with pitying eyes. " 'Find all the kiddies you can, boy,' he said to his valet. The man rushed off collecting children and as he brought them to Mr. Vanderbilt the millionaire dashed to the boats with two little ones in his arms at a time. "When he could find no more children he went to the assistance of the women and placed as many as he could safely in the boats. In all his work he was gallantly assisted by Denyer, and the two continued their efforts until the very end. "I hope the young men of Britain will act with the same cool bravery for their country that Mr. Vanderbilt showed for somebody's little ones."
Alfred's wife Margaret shut herself in her room of the Vanderbilt Hotel, refusing to believe that her husband was dead.  She told her sister-in-law Gertrude, "I will not believe Alfred is dead until I get conclusive proof." Gertrude sent her brother-in-law Almeric Paget, in London, a wire:  "CAN OBTAIN NO NEWS OF ALFRED.  HAVE INSTRUCTED WEBB WARE ALFRED'S SECRETARY AND ALSO A REPRESENTATIVE OF AMERICAN EXPRESS COMPANY MAKE EVERY POSSIBLE INVESTIGATION WHICH NOW DOING."  Perhaps, although the chances were slim, that Alfred had been picked up by a fishing boat and landed in a remote Irish harbor. Margaret continued to send cables to friends in England and Ireland desperate for any news that they might have.  On Saturday afternoon, Margaret was persuaded to move into the Vanderbilt mansion on 57th Street.  Before the weekend was over a $5,000 reward was posted for the recovery of Alfred's body.  Vanderbilt's body was never found. Of Alfred's $26,375,000 estate, his eldest son William inherited five million and the Congressional Medal. Margaret received eight million in properties in England and America, and the remaining sons Alfred Gwynne and George Washington, received the rest.
Who's Who in America
, 1897-1942, described Vanderbilt on page 1,268. His death date is given as May 7, 1915 but no mention of the
Lusitania
. At the time of his funeral, his family did not want the
Lusitania
mentioned then either, in the funeral announcements, or his obituary in the newspaper.
Media portrayal
---
Alfred Vanderbilt is a major character in David Butler's 1983 novel
Lusitania
.  Unlike in actual history, the novel establishes Vanderbilt and Alice Middleton as having a shipboard romance, which leads up to his final gesture of saving her life.
Related pages
---
Alfred Vanderbilt at the Mixed Claims Commission
Links of interest
---
Alfred Vanderbilt at the English Wikipedia
---
Contributors:
Randy Bryan Bigham, USA Brian Hawley, USA Jim Kalafus, USA Peter Kelly, Ireland Peter Flagg Maxson (relative of Alfred Vanderbilt), USA Senan Molony, Ireland Michael Poirier, USA Judith Tavares
References:
Ballard, Dr. Robert and Spencer Dunmore.  
Exploring the Lusitania
.  Warner Books, 1995. Butler, David.  
Lusitania
.  Ballantine Books, 1983. Harlow, Alvin F.  
Cornelius Vanderbilt
.  Online.  <http://www.columbia.edu/~mcf31/higher/trustees/bios/vanderbilt.htm> Hickey, Des and Gus Smith.  
Seven Days to Disaster
.  G. P. Putnam's Sons, 1981. Hoehling, A. A. and Mary Hoehling.  
The Last Voyage of the Lusitania
.  Madison Books, 1956.
The New York Times
, Saturday, May 8, 1915
The New York Times
, Tuesday, 11 May 1915, page 2
The New York Times
, Sunday, 16 May 1915.
The New York Times
, Saturday, 22 May 1915, page 11 (Obituary). Preston, Diana.  
Lusitania:  An Epic Tragedy
.  Berkley Books, 2002. Ramsay, David.  
Lusitania:  Saga and Myth
.  W. W. Norton & Company, 2001.
Who's Who in America, 1897-1942