Ogden Hammond Saloon Passenger Saved

Ogden Hammond c. 1927. Image courtesy Amy Schapiro (Hugh Fenwick Collection)

Born
Ogden Haggerty Hammond 13 October 1869 Louisville, Kentucky, USA
Died
29 October 1956 (age 87) New Jersey, USA
Age on Lusitania
46
Ticket number
46099
Cabin number
D 20 and bath
Lifeboat
20
Rescued by
Flying Fish
Traveling with
Mary Hammond (wife)
Occupation
- Insurance and real estate businessman - Politician, diplomat
Citizenship
United States
Residence
- Bernardsville, New Jersey, USA - New York, New York, USA
Spouse(s)
- Mary Picton Stevens (1907 - 1915, her death) - Margaret "Daisy" McClure Howland (1917 - 1956, his death)
Ogden Hammond (1869 - 1956), 46, was a businessman and politician who lived in Bernardsville, New Jersey, USA. He was traveling on 
Lusitania
 with his wife 
Mary Hammond
, who wished to help the Red Cross establish a hospital in war-torn France. Ogden survived the sinking, his wife Mary did not. Ogden eventually remarried to Daisy Howland and became the US ambassador to Spain under President Coolidge. Hammond was also the father of New Jersey Congresswoman Millicent Fenwick.
Early life
---
Ogden Hammond was born 13 October 1869 to General John Henry Hammond and Sophia Vernon Wolfe in Louisville, Kentucky, United States. John Henry Hammond and Sophia Vernon Wolfe had married on 10 November 1864. Ogden was the second of six children, the other siblings named Mary, Sophia Vernon, John Henry, and Margaret Van Schoonhaven. The Hammond family was of Scotch-Irish descent and came to the United States in 1800. Ogden's father John served in the Civil War as chief of staff to General William Tecumseh Sherman before becoming a general himself. He commanded the 1st Brigade, 7th Division, Cavalry Corps, of the military Division of Mississippi. John Hammond became of builder of railroads and is also best known as "the father of Superior" in his role for transforming the Wisconsin swamp into a thriving city. Sophia Wolfe was the daughter of Nathaniel Wolfe, former attorney general for the state of Kentucky. She had been born on 14 June 1842 in Louisville, Kentucky, and her first American ancestor, William Vernon, settled in Newport, Rhode Island, around 1760. The Hammond family moved to Chicago, Illinois when Ogden was four and there his father served as president of the Manitoba & Southwestern Railroad and became president of a bank. The Panic of 1873 forced the bank to close. President Hayes then appointed General Hammond as Inspector of Indian Agencies in 1876.
1
Moving to St. Paul, Minnesota, the Hammond family lived in the Forepaugh-Hammond mansion, which is now a restaurant. General Hammond often took his sons Ogden and John on scouting trips to Superior, where the General became a local hero. General Hammond had plotted early land allotments, built the first important office buildings, and brought major railways to the city to better use the natural harbor at the western end of Lake Superior. With the revenue earned from the development of Superior, General Hammond was able to send Ogden and John to Philips Exeter Academy in Exeter, New Hampshire and Yale University in New Haven, Connecticut. Ogden Hammond enrolled at the Sheffield Scientific School at Yale (as did fellow 
Lusitania
 passengers Elbridge Thompson and Clinton Bernard), where he took the Select Course, and was a member of Delta Psi. On 30 April 1890, during Ogden's freshman year at Yale, General John Hammond fell ill and died in St. Paul. The Hammond estate at that time was valued at over half a million dollars. After Ogden's graduation from Yale in 1893, he moved to Superior where his mother was living and entered the real estate business. The collapse of the real estate boom gave Ogden the special task to develop an estate left by his father. He became interested in the development of Superior, and became active in the Superior political and civic life of the community like his father before him. Ogden also served as a first lieutenant of Company I, 3rd Wisconsin National Guard, and he was then elected alderman for the sixth ward of Superior, twice. Ogden also started an insurance business with his friend Phil Stratton. In 1903, he traveled to Europe with five of his friends, including John F. Talmadge (Yale, 1895), Thatcher Adams (Yale, Sheffield, 1895), and Lincoln Ellsworth (Yale, ex-Sheffield, 1903).
---
While on a visit to Bernardsville, New Jersey, a Yale friend introduced Ogden to Mary Stevens of Hoboken, New Jersey. Her family had founded the city of Hoboken, pioneered steam transportation, and founded the Stevens Institute of Technology. Ogden and Mary married on 8 April 1907. He was thirty-eight, she was just a few weeks shy of her twenty-second birthday. For their wedding trip, Ogden and Mary motored for three months in England and France. They would return to Europe in 1911, spending most of their time in Italy. For the first year of their marriage, the Ogden and Mary lived in Ogden's hometown of Superior, Wisconsin. Then they moved east where Ogden purchased a house on 30 East 70th Street in New York City, Manhattan to be exact, and an estate in Bernardsville. The Hammonds procured their forty-seven room, New Jersey "summer cottage" from a Mr. Ellsworth, who had bought the estate from Mary's Uncle Edwin Augustus Stevens, Jr., who had built the house in the late 1880's. Ogden added a swimming pool and a five-room wing, and in 1908 the Hammonds moved in just in time for the arrival of their first child, Mary. A second daughter, Millicent Vernon, was born on 25 February 1910. A son, Ogden Jr., was born to them in 1912 in New York City. Among their prized possessions was a Packard, as automobiles were novelties in those days. Ogden and Mary would often go on Sunday drives together.
Professional and political circles
---
On the East Coast, Ogden worked as an insurance broker before expanding to real estate. He became president of the Broadway Improvement Company and the Hoboken Terminal Railway Company, and he became vice-president of the Stevens family's Hoboken Land and Improvement Company. The New York Times also named Ogden as secretary and director of the Standard Plunger Elevator Company of 115 Broadway, New York. In politics, Ogden was elected to the Township Committee of Somerset County, New Jersey in 1911. He served on the Bernards[ville] Borough Council from 1912 to 1914. In 1915 Ogden, running as a Republican, was elected to a one-year term in the New Jersey assembly. At one time, he was director of the Bernardsville Bank, served on the Parish House Committee, and was a member of the Commission for Survey of Municipal Financing. Ogden and Mary Hammond became well-known in the social and political circuits. They were known to be friendly and genuinely concerned for the people.
Lusitania
---
Also in 1915, Mary Hammond was eager to aid victims of the ongoing war in Europe and help the Red Cross establish a hospital in France. Although rumors persisted for weeks up to the time before the
Lusitania
's final departure from New York, Mary would not be dissuaded from her mission. Whereas other passengers such as 
Alfred Vanderbilt
 and 
Charles Frohman
 received anonymous warnings, Mary received one that was much more personal. Mary's Aunt Elsie was a friend of German Ambassador to the United States, Count Johann von Bernstorff. Days prior to the 
Lusitania
's departure, von Bernstorff had stressed to Aunt Elsie, "Do not let anyone you know get on the 
Lusitania
." Elsie did not ask why and did not want to know. All that she knew was that von Bernstorff meant business, and with all speed Elsie made for Bernardsville to warn Mary and Ogden. Mary laughed at Elsie's pleads and said, "I'm sailing on the 
Lusitania
." After all, the 
Lusitania
 was supposed to be the fastest and safest ship afloat. That night Ogden and his brother John
2
 stayed up trying to dissuade Mary from her mission, but Mary remained obstinate. Her mind was made up and no one was going to change it for her. Giving up, John then asked Mary, "Do you have a will?" "No I haven't." Mary answered, "Why don't you draw one up for me aboard the 
Lusitania
 before she sails and I'll sign it." One wonders why Mary, who had lost her parents as a child, did not think of the possiblity that her own children could lose her in the face of the German submarine threats. Nevertheless, unable to dissuade her wife from making the crossing, Ogden too, booked passage on the 
Lusitania
, unwilling to leave her wife unattended. Their cabin would be D 20, one of the few with a private bathroom. On the morning of the 
Lusitania
's sailing, 1 May 1915, the newspapers ran a warning strategically placed by Count von Bernstorff amongst the travel advertisements. John came to see Mary and Ogden off, but his cause was not for celebrating. He was there to seek Mary's signature for the will he had drawn up for her. In the will, Mary created a trust for her children and their future children, set up with money from the Stevens estate and the Hoboken Land and Improvement Company. Mary and Ogden were in the saloon class lounge of the 
Lusitania
 when the torpedo hit. To Ogden, the vibration "felt like a blow from a great hammer striking the ship. It seemed to be well forward on the starboard side." Going out on deck to see what had happened,
Staff Captain Anderson
reassured Ogden that nothing was the matter and that he should go back to the lounge. Another jolt followed shortly afterward and the ship immediately listed to starboard. Ogden wanted to go back down to their cabin to fetch lifebelts as those on deck were already gone, but Mary pleaded with Ogden not to leave her. The two joined 
Marguerite, Lady Allan
 for a while before continuing to along the deck without lifejackets. A young man then passed them saying that Upper Deck "D" was already flooded in "a rush of water." The Hammonds then went to seek a place as high above the water as possible. Near the aft end of the superstructure on the port side where Ogden and Mary were a lifeboat, likely #20, was being loaded and a petty officer told Mary to get in. Mary refused to be parted from her husband, but when it became apparent that there was still room in the lifeboat, both Mary and Ogden stepped in. The boat was about half filled with about 35 people. As the boat was being lowered, a man at the bow davit let a rope slip as the man at the stern was still paying out slowly. The lifeboat dropped bow first and was going perpendicular, and Ogden, at the bow, grabbed the rope to halt the lifeboat's descent. Instead of stopping the lifeboat, however, the rope tore the skin off Ogden's hands and all in the boat, including Mary, were thrown sixty feet into the sea. Thirty or so people fell on top of Ogden as the boat plunged into the sea. Ogden did not think that he would come up again, but he rose and sank three and four times before he was hauled onto another boat. After he got his breath back he clung onto an oar and saw the 
Lusitania
 plunge bow first, with her "decks almost at right angles" about three-quarters of a mile from him. As the ship disappeared beneath the waves an explosion followed. Two-and-a-half hours later Ogden was picked up by the steamer 
Flying Fish
 and taken into Queenstown, Ireland. He prayed for news of Mary's survival and soon heard that a Mrs. Hammond was in a local hospital. He rushed over to her side only to discover that the woman there was a Canadian woman, 
Kathleen Hammond
. Her husband 
Frederick
 had been lost in the disaster, and she had also believed that the Mr. Hammond coming to see her was her husband. Feeling sorry for Kathleen, Ogden gave her money to buy clothes and return home. Ogden never saw Mary again. When Ogden arrived in Dublin he found out that he had a broken rib and a neck injury. The next three weeks he spent recuperating in a Dublin hospital. Ogden never discussed Mary's death, not even with his children. The children's lives would go on. To keep life running smoothly like before, Ogden's sister Peggy and sister-in-law Emily moved in to fill in the role of mother. Ogden mourned alone and threw himself into his work. Ogden gave a gift of $1,400 to Yale's Semitic department "in memory of Mary Stevens Hammond and in recognition of the distinguished services rendered to Yale University by Professor Albert T. Clay." Ogden would later present to the United Aid Society the Mary Stevens Hammond Home for the homeless and needy children of Hoboken. Judge Julius Mayer began hearings for legal claims to the loss of the 
Lusitania
 on 17 April 1918. Ogden Hammond was one of the first witnesses and he filed a claim for himself and his children. In Ogden testified to the lack of lifebelts on deck and the lack of proper lifeboat drills. Judge Mayer delivered his decision on 23 August 1918 where he absolved Captain Turner and the Cunard Line from any fault, and that reparations could be sought from the Imperial German Government at the end of the war. Reparations would not be available until 1925. The Mixed Claims Commission awarded Ogden $17,970 as a
Lusitania
 survivor. The children Mary, Millicent, and Ogden Jr. were awarded $5,000 each for the death of their mother. Another $31,143 was allocated to Mary's estate, which was already valued at more than one million dollars. The trust in Mary's will included income and principal, the latter owned by Mary's yet-unborn grandchildren so the funds would be transferable without taxes later in life. Half of the income generated by the principle went to Ogden, the other half to be equally divided amongst Mary, Millicent, and Ogden Jr. when they became twenty-one. Ogden successfully petitioned the court to use some of the income to cover the cost of child care; the remaining funds were reinvested.
Return to politics
---
Ogden was a member of the Commission to Provide Additional Accommodations for the Insane, New Jersey, and was also vice-chairman of the New Jersey State Board of Charities and Corrections. When war was declared, Ogden became chairman of the United States Food Administration for Somerset County. Ogden also led the effort to get subscriptions for an ambulance to be sent to France in the name of Yale Sheffield School's class of 1893. Many of Ogden's friends urged Ogden to run for state senate in 1917 but bowed out. He knew a judge and a mayor who were also vying for the position and wrote, "If I should enter the race alas we would have a very bitter fight and I wish to prevent that." Even so, his involvement and politics and political stature led to New Jersey governor Walter Edge to appoint Ogden to a Prison Inquiry Commission headed by Dwight Morrow, father of Anne Morrow Lindbergh and later ambassador to Mexico. Locally, Ogden was Somerset County's Republican chairman, but nationally he was recognized as a delegate to the Presidential Nominating Convention. President Woodrow Wilson also selected Ogden to chair a presidential committee formed in 1919 to reorganize the foreign service. He was also treasurer of the New Jersey State Republican Committee. Ogden was also a member of the Knickerbocker, Union, Riding, Racquet, Midday, St. Anthony, and Yale clubs of New York City. He was also a member of the Somerset Hills Country Club of Bernardsville, the Somerville Country Club, and the Essex Fox Hounds Club of Peapack, New Jersey. He was also a member of the Presbyterian Church.
Marriage to Daisy Howland
---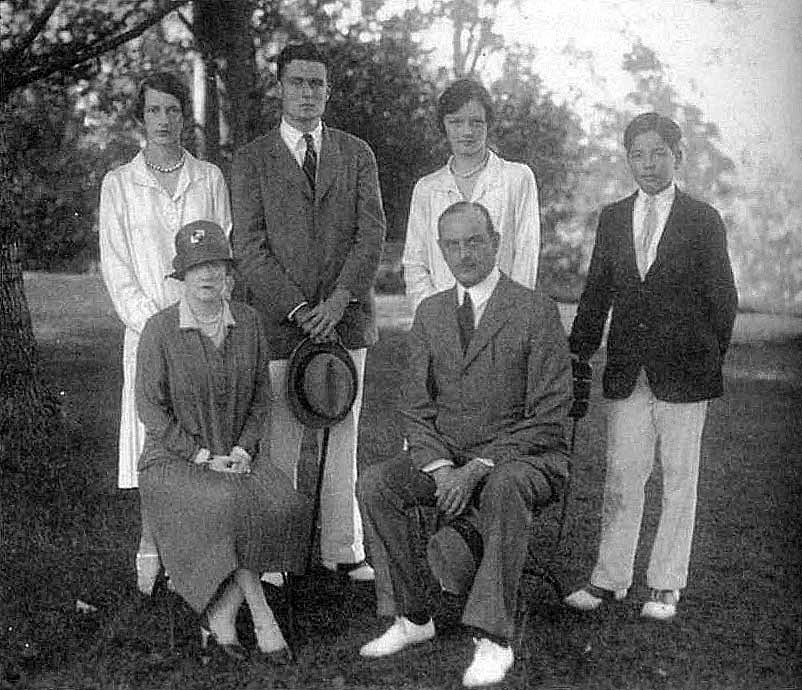 The Hammonds in Spain. Left to right, back: Millicent, McClure, Ma, and Oggie. Daisy and Ogden are seated in the front. Image courtesy Amy Schapiro/Hugh Hammond Fenwick.
In December 1917 at the wedding reception of Mary Pyne and Lieutenant Oliver Dwight Filley, Mary Pyne's parents Percy and Maud Howland announced the engagement of Maud's sister-in-law, Marguerite "Daisy" McClure Howland, to Ogden Hammond. Daisy herself was a widow with one son, McClure, also known as "Mac". Daisy had moved in with the Pynes after the death of her husband Dulaney in 1915 and rumor had it that the marriage was Maud's idea to get Daisy out of her house. Daisy and Ogden married later that December. She insisted that the Hammond children start to call her "Mother," but the Hammond children, Mary, Millicent, and Ogden Jr., did not find her nurturing as a mother should be. Daisy would lavish her attention on Mac, and to the Hammond children she only served as an authority figure. Whenever a dispute arose among the children, Ogden would defer to Daisy's judgment. He would not acknowledge that any tension existed within the family and was not interested in getting involved. For social reasons, Daisy thought it best for the Hammonds to start spending their summers in Newport, Rhode Island instead of Bernardsville. Starting in 1919 the Hammonds abandoned Bernardsville for a rented summer home only a few doors down from the Vanderbilt mansion, The Breakers.
Ambassadorship
---
With Calvin Coolidge's ascendancy to the presidency came an ambassadorship for Ogden. Edge had been pressuring Coolidge to select New Jerseyans for presidential appointments, and rumors persisted that Ogden would become ambassador to Germany; however, nothing materialized out of that rumor, and one can only speculate that Ogden's 
Lusitania
 ties may have been a factor. In late 1925, Ogden was offered the choice of ambassadorship to either Argentina or Spain. J. P. Morgan Bank was pressuring Ogden to select Argentina in order for the bank to establish stronger ties with that country. In exchange, the bank would make Ogden a partner. Daisy, however, preferred Spain because Spain had royalty. Argentina did not. Ogden deferred to Daisy's wishes. In December of that year, Daisy withdrew Mary (Ma) and Millicent from the Foxcroft School to accompany them to Spain. Mac and Ogden, Jr. (Oggie) stayed behind at St. Paul's School. As Ma was in her last year at Foxcroft, she received a diploma despite missing her last semester. Millicent, being two years younger, did not. Her formal education ended with the Hammond family's move to Spain. Ogden invited Bill Githens to be Ogden's secretary in 1928 and joined the Hammonds in Spain. Mac and Oggie would have to wait for the school year to end to join their family. Their summers, like most affluent Spaniards and the Spanish royalty, were spent at San Sebastián, a resort on the north coast. Once in San Sebastián, the dictator Primo de Rivera sealed a deal with Ogden (and Millicent as translator) to provide Spain with a national telephone system, which was done by 1927. On another trip to Cadiz, the Hammonds met up with Gertrude Whitney, founder of the Whitney Museum in New York, who was donating a statue of Christopher Columbus to the port of Huelva. Herbert Hoover was elected president in 1928 and as a matter of protocol, appointees of the previous presidential administration were to resign. The Hoover administration was sad to see Ogden go, as he was popular in Spain and Spanish-American relations had improved under his service. A very gracious and appreciative Spanish Royal Court awarded Ogden the Gold Cross of Isabella for his public service. The Hammonds returned to New York just before the stock market crash of 1929. The Hammonds did not suffer financially because of the funds Mary Stevens Hammond had set up just prior to sailing on the 
Lusitania
, but Millicent was very much ill from appendicitis, which for months had been misdiagnosed as a gallbladder problem.
Later years and children's marriages
---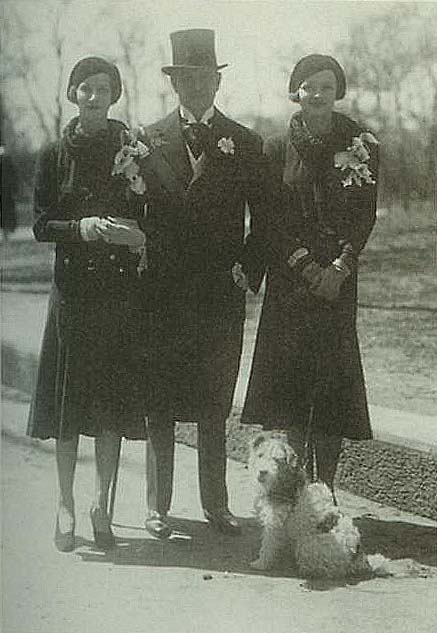 Left to right: Millicent, Ogden, and Ma on Easter Sunday, 1930. Image courtesy Amy Schapiro/Hugh Hammond Fenwick.
On 8 August 1931, Ma Hammond married Count Ghino Roberti of Italy. Pope Pius XI even bestowed a papal blessing on the couple. Daisy beamed with pride. As Ghino was an Italian diplomat, Ghino and Ma were deported from Mexico when Mussolini came to power. In the couple's haste to leave the country, Ma exchanged all her assets into gold and took the gold bracelets with her when they left. Ogden and Daisy did not approve at all of Millicent's choice of husband, Hugh McLeod Fenwick. Fenwick was married, and for Millicent divorced his wife Dorothy in 1931. Daisy was so disgusted with Millicent that Daisy had her thrown out. Ogden did nothing to stop her. Daisy was determined to sabotage the 11 June 1932 wedding. She purposely kept the ceremony small, using the death of her brother Arthur as an excuse. Then she went around unplugging the photographer's lights, so the only pictures of the wedding are lit by sunlight. Two children later, Millicent and Hugh separated in 1938 and then divorced in 1945. Ogden and Daisy did not help out with Millicent's married life and Millicent never asked for help. Oftentimes Ogden, in his chauffered car, would drive past his grandchildren on his way to his job as president of the First National Bank of New Jersey, rarely offering them a ride to school. In 1948 Ogden sold the Bernardsville mansion to Mary Stevens Baird, first cousin to Mary Stevens Hammond. Cousin Mary, in turn, sold the property to Millicent. On 29 October 1956, Ogden Hammond passed away two weeks after his eighty-seventh birthday. His friend, former New Jersey governor Walter Edge, died on the same day. After Ogden's death, the children's share in the Hammond/Stevens estate now stood at one-third each. Ogden had requested that he be buried with his father at the Oakland Cemetery in St. Paul, Minnesota. His daughters each would receive a portrait of him and his personal effects were bequeathed to Oggie. Two years later, Ma died of radiation overdose from cancer therapy in Italy. Millicent, then a writer for 
Vogue
 flew in to be by her sister's side until the end. After Ma's death, Millicent helped settle affairs. Ma and her husband Ghino had no children. Years later, he would remarry. Ogden Hammond, Jr., was educated at St. Paul's School in Concord, New Hampshire. He died during Millicent's first term as New Jersey Congresswoman. Millicent, pouring herself into social services, became ambassador to the United Nations Food and Agriculture Organization. She also became involved in the Civil Rights movement in the 1960's and became greatly involved in local and state politics in New Jersey. In 1975 Millicent Fenwick was elected to Congress at the age of 64, what the media described as a "geriatric triumph." Millicent was known for her outspoken and colorful character and although she ran for Senate she was not successful in that bid. Millicent died on 16 September 1992.
Related pages
---
Ogden and Mary Hammond at the Mixed Claims Commission
Footnotes
---
1
 John Hammond's granddaughter Millicent found missing Lewis and Clark papers in his desk. A legal battle involving ownership of the papers between the federal government and the family ensued, with the family winning out. They then promptly sold the collection to Yale University, where it is now a major part of their Lewis and Clark collection.
2
 Ogden's brother John was a big fan of music and is credited for discovering Billie Holiday, Benny Goodman, Count Basie, Bob Dylan, and Bruce Springsteen.
---
Contributors:
Christine Connolly, Yale University Archives, USA Hugh Hammond Fenwick, USA (grandson of Ogden and Mary Hammond) Senan Molony, Ireland Michael Poirier, USA Maureen Fenwick Quinn, USA (granddaughter of Ogden and Mary Hammond) Amy Schapiro, USA Judith Tavares Hildo Thiel, The Netherlands
References:
Hickey, Des and Gus Smith. 
Seven Days to Disaster
. G. P. Putnam's and Sons, 1981. Preston, Diana. 
Lusitania
: An Epic Tragedy
. Berkley Books, 2002. Schapiro, Amy. 
Millicent Fenwick: Her Way
. Rutgers University Press, 2003.
Twenty-five year record, Class of Ninety-Three, Sheffield Scientific School, Yale University.