Charles Frohman Saloon Passenger Lost
Image: Rob Betz Collection (

New York Times

, 16 May 1915)
Born
Charley Frohman 15 July 1856 Sandusky, Ohio, United States
Died
7 May 1915 (age 58) RMS Lusitania At sea
Age on Lusitania
58
Ticket number
46052
Cabin number
B 75 and bath
Traveling with
- William Stainton (valet) - Justus Miles Forman (colleague)
Body number
24
Interred
Union Field Cemetery, Ridgewood, Queens, New York
Occupation
Theater manager
Citizenship
United States
Residence
New York, New York, United States
Spouse(s)
None
Charles Frohman, 58, was an American theater manager credited for creating the Broadway star system. Among the most notable plays that he produced was James Barrie's
Peter Pan
. Frohman was traveling aboard
Lusitania
to see the European playmarkets. He was traveling with his valet,
William Stainton
, and playwright 
Justus Miles Forman
. Frohman was on deck with
George Vernon
and
Captain Alick Scott
when the German submarine
U-20
torpedoed
Lusitania
on 7 May 1915.
Rita Jolivet
soon ran up from below decks to join them. They stood together as the ship sank. Only Rita survived the disaster. Frohman's body was recovered, #24, and was buried in Queens, New York. The following biography has been revised and improved with help from Peter Scott.
Humble beginnings
---
Charles Frohman, 58, was born on 15 July 1856 in Sandusky, Ohio, United States.  Charles had an older brother by four years,  Daniel, and another brother Gustave.  When Charles was 14, the Frohmans moved to New York City, and Charles took a job as night clerk for the 
New York Graphic
.  The Graphic sent him to sell the paper in Philadephia in 1876 at the Centennial Exposition where he took charge of the newsboys.  He then moved to the 
New York Tribune
 where he worked by day and sold theater tickets at night.  The next year he joined his brother Daniel in management. In 1878 Charles joined Haverly's Calender Minstrels one of the largest Minstrel Companies in the USA. His Brother Gustav was the Manager and Charles was soon appointed Treasurer. The Company traveled to London in 1880. This was Charles' first visit to England; a place he fell in love with. From 1883 he produced shows with other producers. In 1889, Charles went to Boston and bought the rights to the play
Shenandoah
. Even though he only had fifty cents in his pocket, by the end of a great deal of wheeling and dealing he secured the rights to the play and arranged to have it put on at the Star Theatre in New York. Charles took over Proctor's 23rd Street Theatre and continued the successful run of
Shenandoah
. Along with his brother Daniel, he became a leading theatrical impresario. In 1893 he had the Empire Theatre built in New York but technically not on Broadway. In 1895, Charles, with Al Hayman, Mark Klaw, Abe Erlanger, Sam Nixon, and Fred Zimmerman formed the Theatrical Syndicate, otherwise known as the Trust. The Trust systemized booking networks throughout the United States, but also monopolized every aspect of Theatre production until the start of World War I. By 1900 Charles was the leading producer of plays in New York and London with works by leading British writers of the time, many of whom are still performed today. They included Oscar Wilde, George Bernard Shaw, J.M. Barrie, Jerome K. Jerome and many more.
The producer and the star system
---
By 1915 Charles had produced more than 700 shows, in the USA, Britain, and France and employed an average of 700 actors a year, paying salaries totalling $25,000 a week.  At the height of his power, Charles controlled five theatres in London, six in New York City, and over two hundred throughout the rest of the United States. His offices were in the Empire Theatre in New York, for more than 20 years. Charles worked in London with a number of actor and theatre managers; his first production was in 1892. His London office was in the Duke Of York Theatre, which he leased for 18 years until his death. Charles often chose which actors he would use first, then he selected a play that would showcase their abilities. This lead to his "Star System," later adopted by film companies. A Star, in Charles' terms, was to have their interests looked after and to provide them with continual employment. Among Charles' principal American Stars were Maude Adams, William Gillette, Edna May, John Drew, Ethel Barrymore and Billie Burke. In England, his two main Stars were Marie Tempest and Pauline Chase. Although Pauline was American, she was Charles' biggest Star in England and certainly his closest female friend. His enthusiasm for all things theatrical was considered by some to be "almost hypnotic". His life was spent reading scripts, arranging sets and costumes, directing and generally looking after the welfare of his actors. In fact he treated them like his children. In twenty-five years, only one actress, Mrs. Patrick Campbell disagreed with him so much that they could not work together. When she rejected Charles' criticisms of her acting, saying that she was an
artiste,
Charles answered, "Madam, your secret is safe with me." There was always criticism of his approach to producing plays because it was claimed that he put too much emphasis on the actors and not enough on the quality of the play. Some Stars were not too happy with Charles' preference for lightweight material over more serious dramas. In 1904 Charles produced
Peter Pan
which became his biggest Theatre success. Written by the author and playwright James Barrie, it was first performed at the Duke Of York Theatre, London on 27th December 1904. Although he encouraged Barrie to write it, no other producer would touch it because it was a real fairy story, containing lots of new stage effects. Charles always saw it as a role for Maude Adams, who then performed it at the Empire Theatre, New York in November 1905. Although he always had Maude in mind for the part in America, it was for the first London production that the decision was made to have a female in the lead. If Peter were played by a boy, the other children in the cast would have to be obviously younger as it was considered Peter must be older and not be a similar age to the other children. With younger children a problem would then be caused due to the laws regarding the employment of children under 14 years on the British Stage. Having a male played by a female just continued the previous 100 year British tradition of  the Principal Boy in Pantomime, who is always played by a female.
Peter Pan
is still revived at Christmas time. The play made fortunes for Adams, Barrie, and of course, Charles. In England, it also made a fortune for Pauline Chase who played the part an estimated 1,400 times in London and on tour from 1906 to 1914. Unusually for a woman at this time, she owned and drove her own Rolls Royce; regularly transporting Charles to weekends at her country home in Farnham Common, Buckinghamshire. Charles was continually worried about the future of the American stage. Late in his career, he came to realize that the Star System made audiences care more about the Star and less about the play. This risked belittling the artistic merit of the English speaking Theatre that he had worked so hard to build. While some may have considered him to be a ruthless businessman, his dedication to the Theatre consumed a great deal of his self-made fortune. Jerome K. Jerome [English author and playwright] wrote in his autobiography,
My Life and Times
, that,
"....the brothers Frohman, Charles and Dan, were good men to do business with. Their word was their bond. Charles used to say that no contract was ever drawn that a clever man could not get out of, if he wanted to. Towards the end, I never bothered him to sign anything. We would fix the terms over a cigar, and shake hands. He was a natural born sentimentalist....".
The Stars under his management had an undying loyalty to him and many loved him, as shown by their reactions to his death. Charles' lasting achievement was that he was responsible for establishing the close affinity between the London West End and Broadway. This resulted in the process of the natural exchange of all things theatrical; shows, directors, writers, actors, designers, etc. which still exists today.
A private man
---
Charles lived a very private life for his very public profession and encouraged his actors to do the same. His two main characteristics were his wit and his shyness. Despite his sweet tooth, he rarely dined at fashionable restaurants, and no one knew when he went to bed.  He was known as "the great unphotographed," paraphrasing a Victorian expression "the great unwashed," which referred to the working classes. Considering his involvement in such a public business, there are very few photographs of Charles. Not more than 10 of him are known to exist; this includes early ones in which it is difficult to confirm they are actually him.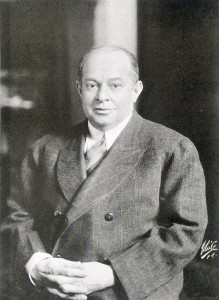 Charles Frohman. Image courtesy Peter Scott.
 His closest friends were male. He bought and shared a house in White Plains, NY, for a time, with fellow Broadway producer and confirmed bachelor, Charles Dillingham (1868 – 1934).  In later life and until his death the playwright Paul Potter, with whom he then shared this house, was closest to him. It is more than likely that he was homosexual but, because of the social mores of the time, this would not be recorded without the risk of prosecution. The comment in Daniel's Biography of Charles, page 419, perhaps says it all; "...his intimate friend and companion Paul Potter". From his earliest visits to England, Charles became an Anglophile. He loved the slow pace of life and said that there was no sneer of commercialism in the British Theatre, unlike in America. He stayed at the Savoy Hotel each year he came to London and always used  the same seat in the Grill Room in the Savoy. A plaque was placed on his seat after his death.  From the late 1890's for most weekends in England, he would stay in the small town of Marlow, Buckinghamshire, and later at Farnham Common with Pauline Chase. His brother Daniel said Charles was so shy that he would go out of his way to cross the street if he saw any of his actors in public. He would rarely go to a show on opening night and preferred to stay in his nearby hotel room or restaurant while runners gave him news as to how the audience was reacting. He suffered from rheumatism in 1911 and after a fall on his porch in his house in White Plains, in the November of that year,  he suffered from arthritis in his right knee and was in so much pain that he needed a cane, which he called his "wife," to get around. He became an invalid for all of that winter and actors came to his apartment at the Knickerbocker Hotel, where he lived while in New York City, to tend to his needs. Charles was also afraid of the dark and begged Paul Potter to tell him stories until he fell asleep. In conversation with Paul whilst he was at his lowest, Charles said "you and I have seen our period out". What comes next on the American Stage. He predicted that the Theatre of the future would be filled with "popular drama, bloody, murderous, ousting drawing-room comedy. Crook plays, shop-girl plays, slangy American farces, nude women invading the auditorium as in Paris. Fortunately," he remarked prophetically, "you and I won't live to see it."
The 1915 playmarket
---
In 1915 Charles' playmarket was severely curtailed in England because of the war and also because his health was still not good. He was uncertain what to do about the London Stage.  Many theatres were either closed or having difficulties during the early period of the war. Although things did settle down in London as the war continued because the public and soldiers on leave from France and Belgium needed entertaining. Charles always travelled to England at the early part of each year. In fact in 1915 his trip was planned later than normal because he was in Boston working on a collaboration,
A Celebrated Case
, with another Producer, David Belasco. They had fallen out over the Syndicate, 12 years before but had been reunited when  Charles was so ill. James Barrie had a Review being performed at the Duke of York Theatre in March 1915 and it was not doing very well at the box office. A  French cabaret artiste, Gaby Deslys was performing in "Rosy Rapture, the Pride of the Beauty Chorus," with music by Jerome Kern. Charles had been urged to come to England as soon as he could by his friend Barrie, who hoped that Charles might be able to apply his magic touch to the show. In production in New York at that time were
The Shadow
, starring Ethel Barrymore, and
A Celebrated Case
. Margaret and
Alfred Vanderbilt
had seen this play the night before the latter's sailing on the
Lusitania.
"I am only afraid of the I.O.U.s"
---
Charles Frohman and David Belasco. Frohman's last known Boston photo, image courtesy Peter Scott.
Early in 1915 a warning was published in leading US newspapers by the German Embassy in Washington. Having seen the warning and knowing that the
Lusitania
was a British ship, several of  Charles' friends and associates tried to dissuade him from sailing. John Drew telegrammed him, saying,
"I'll never forgive you if you get blown up by a submarine."
Charles was dismissive of their fears, but he took the precaution of dictating his program for the next season before sailing, something that was unprecedented for him. Because of the War, Charles needed a passport for the first time. The proof of identification of Charles for the passport was provided by Alf Hayman, his New York Business Manager who had known Charles for 30 years.  Alf wanted to book Charles on the American Liner
New York
which was sailing on the same day and would arrive just one day later in Liverpool. But being an Anglophile he chose to sail on the
Lusitania,
taking his valet, William Stainton with him. Even with all this uncertainty we can see examples of Charles' sharp wit in relation to the fears expressed by his closest friends and associates.  Alf's brother, Albert, a fellow producer, member of the Syndicate and friend, warned him not to go on the ship. Charles said, "Well I'm going anyway" and then he said, "Well, Al if you want to write to me, just address the letter care of the German Submarine, U 4." To another, Charles said, "When you consider all the stars I have managed, mere submarines make me smile." Paul Potter went to the quay to see Charles off; he asked, "Aren't you afraid of the U-boats, C. F.?" "No," Charles replied, "I am only afraid of the I.O.U.'s." On the day of sailing, mysterious telegrams began to arrive in the ship's Marconi room, addressed to prominent passengers. It was rumoured that one was addressed to Charles; they warned against sailing on the ship. It was realised that the telegrams came from a newspaper so were not delivered.  However the Enquiry Board said there was no evidence of warning messages to any passengers. On board Charles briefly stood with 
Captain Turner
 and Alfred Vanderbilt for the press to have a field day.  Both Turner and Vanderbilt dismissed the warnings issued by the German Embassy.  When asked why Charles wasn't sailing with Ellen Terry aboard the 
New York
, he answered by saying that actress 
Rita Jolivet
 was sailing with them on the 
Lusitania
. In addition to Rita Jolivet, also aboard
Lusitania
were actresses under his management,
Millie Baker
and
Amelia Macdona
. Ann Murdock, probably his last Star, sent a bon-voyage basket filled with flowers, fruit, and candy in the shape of a ship. In Hickey and Smith, this basket was erroneously attributed to Maude Adams. In a thank-you note that the ship's pilot delivered, Charles wrote to Ann,  "This little ship you sent is more wonderful than the big one that takes me away from you." The playwright Justus Forman was travelling to England with Charles. Forman's play,
The Hyphen
, had just failed in New York and Charles reassured the writer, "Charley will introduce you to the best theatre people in London." Transatlantic crossings at that time always had passengers from the world of the Theatre on board; all as a part of the growing interchange between the West End and Broadway. The fact that Ellen Terry, the famous actress and Isadora Duncan, the creator of modern dance, would be on the liner
New York
did not influence Charles. Among the other theatrical people travelling on the
Lusitania
was jobbing actress Rita Jolivet.  Rita knew Charles' having been in one of his shows,
Kismet
, in 1911. For most of the voyage, Charles spent his time in his cabin, B-75, following his usual routine reading new scripts, eating candy and  playing his favourite song, Irving Berlin's "Alexander's Ragtime Band," on his portable phonograph. Because of his shyness and the pain from his right knee, he took many of his meals in his suite. He would refuse many invitations from his fellow passengers to join them. The pain from his knee stopped him from doing too much walking about the ship. On Tuesday, 4 May, Charles asked William to call for
Dr. James McDermott
, as his leg pain had worsened. On 6 May, Charles entertained his theatrical friends with a party in his suite. Alfred Vanderbilt made a brief appearance, as did Captain Turner and
Staff Captain Anderson
. Charles even made sure to invite the ship's barbers, Lott Gadd and Reg Nice. Others were impressed by Charles' sense of democracy. George Vernon reminded Charles of his plans to present plays on board the
Lusitania
's sister ship,
Mauretania
. Charles  recalled, "Yes, I did dream of a mid-Atlantic Theatre, but my leading lady [Marie Doro] succumbed to
mal de mer
." Later that night, Frohman made a rare appearance at the ship's concert.
"The most beautiful adventure"
---
At lunch the next day, Friday, 7th May, Charles sat with his theatrical friends at the dining room's center table.  Afterwards, he, George Vernon, and Captain Alick Scott were on the port side Boat Deck, chatting by the Verandah Café, when the torpedo hit. The following events were reported by Rita Jolivet, both in subsequent interview and in her evidence to the Enquiry Board. She was the only survivor of the group who were together at the end. When Rita reached them, Charles was smoking a cigar, was calm and apparently undisturbed. Scott went below and returned with two lifebelts. Rita had her own, so Scott gave one to the reluctant Charles. Finally he accepted it. Referring to the Germans he said, "I didn't think they would do it." As the ship began to list, Charles said to Rita, "You had better hold on the rail and save your strength." The list became greater and here Charles spoke his most quoted line, "Why fear death? It is the most beautiful adventure." Rita recognised this as paraphrasing a line from
Peter Pan
, "to die will be an awfully big adventure." Rita was then seized by the sudden fear that Charles, who needed his cane, would not be able to manage in the water. Rita's evidence to the Enquiry Board reveals, first hand, the emotion and drama of the sinking and is the closest we can get to Charles' last moments:
Question: How did you finally get off the ship? Rita: My brother-in-law took hold of my hand, and I took hold of Mr. Frohman, and we went out through the door on to the deck, and the water swept me away from my brother-in-law and from Mr. Frohman; swept me with such force that my buttoned boots were swept off my feet. I was struck under the water. I sank down twice. When I got up again there was an upturned boat on which I put my hand and clung to…...the boat I clung to had canvas on it, and as a great many other people were clinging on to it we were sinking, and then came from under it a collapsible boat that carried away the extra people. We remained out there for three hours and a half, and were picked up by a Welsh collier.
Charles' body was recovered the following day, [#24].  The first to recognise him was
Oliver Bernard
, a theatrical designer, who saw Charles' body  in the Queenstown Impromptu Morgue. Oliver said that Charles looked peaceful, as if he never even put up a struggle against the sea. In Daniel Frohman's autobiography, written in 1935, he states,
"Sometime afterwards I was told that his death was not caused by drowning, but that, before being immersed in the water, he was killed by some heavy object that fell upon him".
Strange sighting at the Empire Theater
---
There has been more than one apocryphal tale to appear following Charles' death. The following is perhaps the strangest, leaving the reader to make of it what they will; as no reference to it appears in Daniel Frohman's biography of his brother. The night of the sinking, John Ryland, one of Charles' office staff at the Empire Theater in New York, was inspecting the building at closing time when he saw Charles sitting at his desk in his fifth-floor office.  The light was on, and Charles was looking over all of his pictures and theatre memorabilia that he had laid out on top of his desk.  Ryland was perplexed, as he had seen Charles off on the 
Lusitania
only a few days prior.  He asked why Charles was back and if there was anything he could do.  Charles shook his head, saying, "No, you can't help me, John.  Just leave me alone here for a few minutes.  Thanks and goodbye." Ryland left the room and soon returned with the house manager, two box office boys, a press agent, and Charles' office boy Peter Mason, all of them unbelieving.  The office was dark, empty, and everything was where it was supposed to be.  The men laughed at Ryland, although some were unsettled by his insistence of what he saw.  After hearing of Charles' death, Ryland swore off going back to the office again despite continuing to work at the theatre for the next twenty or so years. Another story relates to the famous popular music composer Jerome Kern. Some publications state that Kern was meant to travel with Charles [because he wrote the music for the Barrie Review] but that Kern overslept and missed the boat. There is no evidence of this in any Kern biography and  it is likely that it was a story invented by a journalist. In any event his name does not appear on the "Did not Sail" list. A third story involves a lady named Joan Grant who regarded herself as a "sensitive" with the ability to "see" the departed spirits of the dead, and who, with her husband Charles was dining at the grill room of The Savoy Hotel in London, towards the end of the Second World War, in 1944. Having been shown to an empty table, and seated with her back to a square pillar, Mrs. Grant became disturbed because she sensed the presence of a disembodied spirit in the chair. 
The Titanic Commutator
, a publication of the
Titanic
Historical Society, continues the story:
Charles Grant pointed out to his wife that there were no other tables available, suggesting that she try and ignore the spirit.  Joan was unable to do this, however.  She told her husband that the spirit was male and that he had been dead for twenty or thirty years.  She sensed too that he was somehow bound to the earthly plane because he had forgotten his real friends.  And so the spirit sat by himself in a chair while the years passed, and life flowed on in the restaurant around him.
Joan Grant then decided to help the lone spirit and:
...offered thoughts of affection and kindness to the ghost until his loneliness was dissipated.
Several departed friends of the spirit apparently then appeared and helped him to leave his earthly prison.  The report concluded:
After the Grants had finished  their dinner and arose to leave, Joan noticed a small brass plaque affixed to the column behind her chair.  It read:

"This Table was Regularly Used by Charles Frohman for Many Years up to 1915."
Frohman had been a regular customer of The Savoy Hotel for many years before his death on the Lusitania and he usually sat in the same place in the same chair, often discussing designs for theatrical sets with the famous writer of children's books, J.M. Barrie, whose plays Frohman featured in his theatres both in America and Great Britain.
Memorials
---
The shock to his family and friends of Charles' loss can not be overstated and he has never been forgotten. There are many examples of affectionate references to him. When Maude Adams, preparing for a performance of Barrie's
Quality Street
, heard of Charles' death, she collapsed. The management was prepared to call off the show, but Maude insisted that she would perform. However  she went into semi-retirement after his death. She would make occasional appearances. Maude  never married and died in 1953 at the age of eighty. On the instructions of Daniel; William Lestoq, Charles' London Business Manager and playwright, Haddon Chambers, Charles' close friend, travelled to Ireland from London to positively identify and claim his body. Charles' body arrived back in New York City on Monday, 24 May 1915. The coffin was covered with flowers which were stored in a cold room on the ship. With Haddon Chambers' flowers was a card containing the following poem:
To Dear Charles: To whom all winds come. Quiet as the sun. All waters as the shore
There is a small irony in Charles' choice of ship on the 1st May. He rejected the liner
New York
for, being a lover of all things British, he chose the
Lusitania
.  The irony occurred when it was the
New York
which transported Charles' body back home on the Liner's return journey from Liverpool. A private funeral service was held in Daniel's home at 145 West 79th Street, New York City. A public service was held at Temple Emmanu-El at 5th Avenue and 43rd Street, on Tuesday, 25 May 1915.  The services were officiated by Rev. Dr. Silverman. A number of Charles' male Stars were honorary pallbearers. The crush of  people out to see the funeral was so great, that the police had to close 5th Avenue. Simultaneously, memorial services were held in other places around the United States. Billie Burke arranged a service at a synagogue in Tacoma, Washington and Maude Adams a service at a synagogue in Los Angeles, California. Daniel Frohman formed a company, Charles Frohman Inc, mainly lead by Alf Hayman that would manage his brother's theatrical Stars and continue to produce plays. Daniel died on 26 December 1940.
On the 7th anniversary of Charles' death, in 1922, a group of his friends laid a Wreath in the Savoy Grill bearing an inscription in gothic lettering:
to the Memory of Charles Frohman placed here in his old seat by a few British and American friends Why fear death?  Death is only a beautiful adventure 7. 5. 1922                Charles Frohman
The following day, 8 May 1922, London newspaper,
The Evening Standard
ran a report on it, which stated:
A wonderful tribute to the memory of the late Charles Frohman, one of the many victims of German frightfulness in the Lusitania, was paid at the Savoy last night, when a number of his friends and fellow workers dined together and toasted his great genius. Earlier in the day, a great wreath of American Beauty roses was placed on the chair in the Savoy grill-room which Mr. Frohman occupied when in London, and where he carried through some of his most famous theatrical deals. Speeches were made last night bearing on Frohman's great efforts to promote the Anglo-American entente, to which he devoted not only much time, but money.  "His death in the Lusitania," said one friend "helped to give life to Anglo-American friendship."
It is believed that the plaque was removed during refurbishment of the Grill Room in the 1970's . A Memorial to Charles still stands on the Green at the bottom of the High Street in Marlow It was erected by Pauline Chase with his English friends and associates. Originally created as a drinking fountain it is still lovingly preserved by the Marlow Historical Society. A special commemoration is planned for the 100th anniversary on May 7th 2015. The Memorial is close to All Saints Churchyard and it was Charles' ambition to be buried there. Jerome K Jerome wrote in his autobiography:
On a sunny afternoon, one often found Charles sitting on his own grave in Marlow churchyard — or rather on the spot he hoped would one day be his grave: a pleasant six foot into four of English soil, under the great willow that overhangs the river. He was still in negotiation for it the last time that I talked to him there. He went down in the Lusitania, the year following.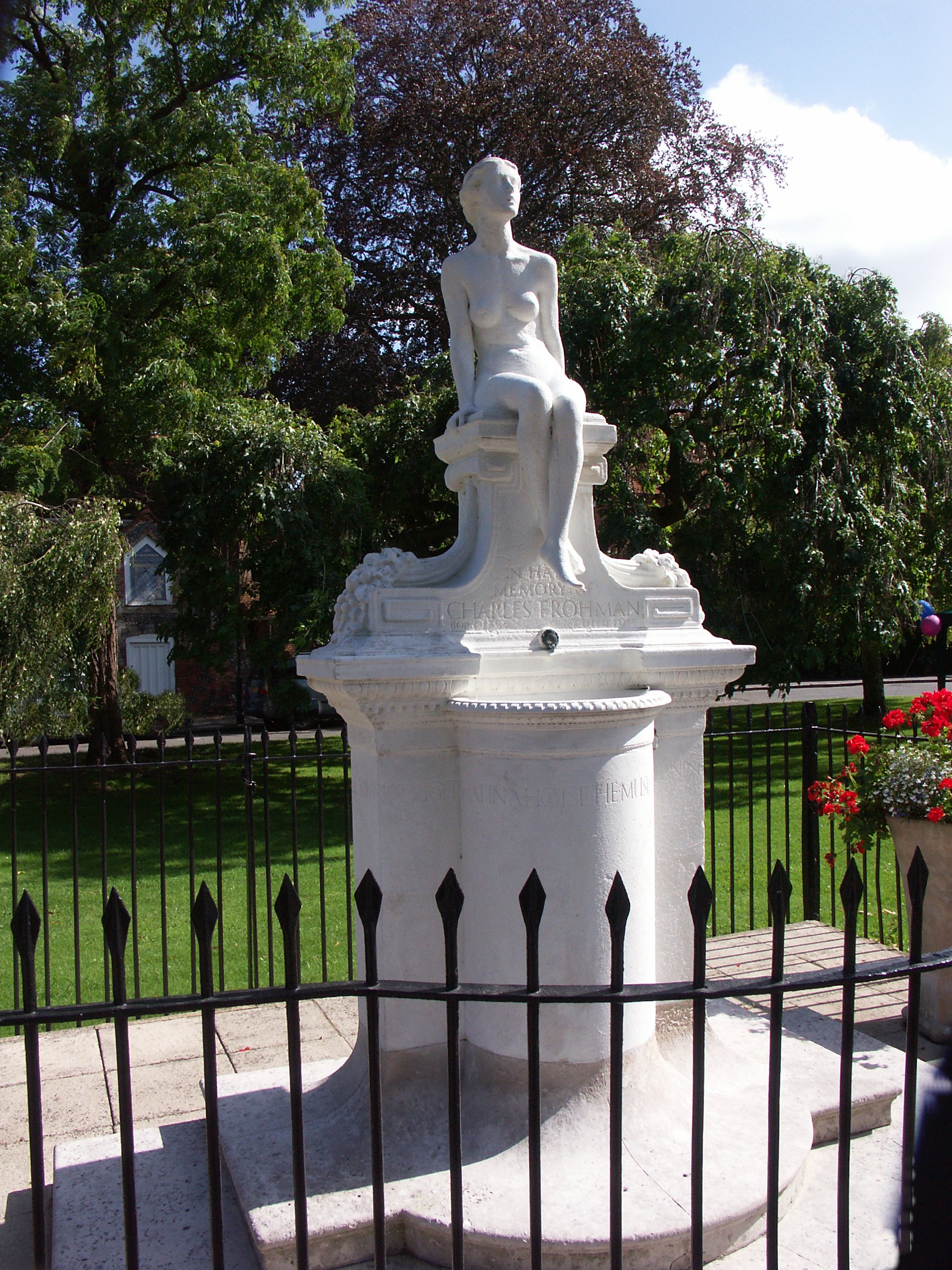 Charles Frohman Memorial in Marlow, England. Image courtesy Peter Scott.
The final irony of his death was that even if he had arranged to have a plot in the Churchyard, fate decreed that his body would be returned to New York for burial within the Jewish faith and not as Charles had wished, as an English gentleman.
Media portrayal
---
Harry Hayden portrayed Charles Frohman in the 1946 film
Till the Clouds Roll By
, a biographical film of composer Jerome Kern. In the movie
Lusitania
is shown as a two-funnel ship and the U.S. declares war immediately after the ship is sunk. William Hootkins played Frohman in the 1978 BBC mini-series
The Lost Boys
. Nehemiah Persoff played him in
Ziegfeld: The Man & His Women
also in 1978 on TV. In 2004, Dustin Hoffman portrayed Charles Frohman in the biographical film of James Barrie,
Finding Neverland
. In
Finding Neverland
, Hoffman gives Frohman a goatee, which the theater impresario never had in real life.
Related pages
---
Charles Frohman at the Mixed Claims Commission
Links of interest
---
CharlesFrohman.com
Charles Frohman at Wikipedia
Footnote
---
Editor's note:
When I was in undergrad, I met a distant relative of Charles Frohman's. His family had known little of the
Lusitania
disaster and the Broadway side of their family, but had unintentionally and coincidentally named him and his brother "Charles" and "Daniel" respectively.
Contributors:
Rob Betz Peter Kelly, Ireland Michael Poirier, USA Peter Scott, UK Judith Tavares Geoff Wood, UK
References:
Ancestry.co.uk
Barrie, Sir James M.  
The Plays of J. M. Barrie in One Volume
.  Charles Scribner's Sons, 1928. "Biography of Charles Frohman."  BookRags.com.  Online.  <
http://www.bookrags.com/biography/charles-frohman/
>.
Ellisisland.org
The Evening Standard
, 8 May 1922. Frohman, Daniel and Issac Marcosson.
Charles Frohman: Manager and Man
. Harper & Brothers, 1916. Goss, Michael and George Behe.  
Lost at Sea:  Ghost Ships and Other Mysteries
, pages 266-8.   Prometheus Books, 1994. Hickey, Des and Gus Smith.  
Seven Days to Disaster
.  G. P. Putnam's Sons, 1981. Hoehling, A. A. and Mary Hoehling.  
The Last Voyage of the Lusitania
.  Madison Books, 1956. J. M. Barrie Biographies Jerome, Jerome K.
My Life and Times
. Hodder and Stoughton, 1926.
Lusitania
Enquiry Board Report "Charles Frohman Information."  Maude Adams.  Online.  <
http://www.bookmice.net/darkchilde/maude/adams9.html
>
New York Times
Archive Peeke, Mitch, Kevin Walsh-Johnson and Steven Jones.
The Lusitania Story
. Naval Institute Press, 2002. Preston, Diana.  
Lusitania:  An Epic Tragedy
.  Berkley Books, 2002.
Titanic Commutator
Who Was Who in America
, 1897-1942, page 428. "Charles Frohman."
Wikipedia: The Free Encyclopedia
. Wikimedia Foundation. 22 July 2004. Web. 2 August 2011. <
http://en.wikipedia.org/wiki/Charles_Frohman
>.